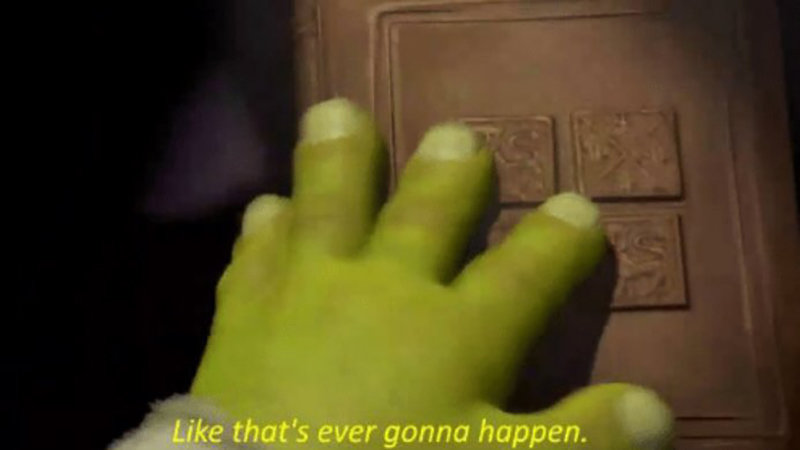 Like That's Ever Gonna Happen
This submission is currently being researched & evaluated!
You can help confirm this entry by contributing facts, media, and other evidence of notability and mutation.
About
"Like That's Ever Gonna Happen" is a memorable quote uttered by Shrek (played by Mike Myers) from the 2001 animated comedy Shrek. The quote is used alongside a still from the scene as a reaction image to an above caption or screenshot, typically to express doubt about the outcome or circumstances of the top frame. It can also be used as a catchphrase to a lesser degree, referencing the same scene from the movie.
Origin
The original clip that the meme is pulled from is seen during Shrek, released on April 22nd, 2001, specifically the opening scene where Shrek is reading a fairy tale while using the bathroom in the outhouse of his swamp. During this scene (seen below), Shrek can be heard narrating the story of the book, which mimics the movie's plot, while flipping through the pages. When he reaches the ending, he says, "She waited in the dragon's keep, in the highest room of the tallest tower, for her true love, and true love's first kiss," before saying the line, "Like that's ever gonna happen. What a load of …" while ripping out the page and slamming the book shut.
Spread
Though the exact first use of the scene being used as a meme is unknown, one of the earliest examples comes from December 14th, 2019, when Redditor[1] slytherinchosenone posted a version to the r/PrequelMemes subreddit under the title, "Your new empire?" The meme (shown below) received over 3,100 upvotes and 27 comments.

On January 29th, 2020, Redditor[2] Jacob_Andreas23 can then be seen posting a version of the meme to the r/dankmemes sub (seen below), receiving over 59,300 upvotes, 437 comments and several Reddit awards.

Redditor[3] Donovan-TSB posted another example on February 5th, 2020, to the r/ShitPostCrusaders sub. The post (shown below) was upvoted over 5,500 times and commented on 62 times.

On February 10th, 2020, the Facebook[4] page F R E S H S T O L E N M E M E S reposted a version to their page (seen below), receiving over 6,700 likes, 1,400 shares and 130 comments.

The Instagram[5] account funnygamevidz uploaded a variant to their feed on May 22nd, 2020, combining it with the Vince McMahon Reaction meme, and received over 16,500 likes (shown below).

On Twitter,[6] the reaction image is also frequently used in replies to express disbelief about an above post, seen in a tweet from user bench0de on May 22nd, 2020, receiving 233 likes (seen below).

Various Examples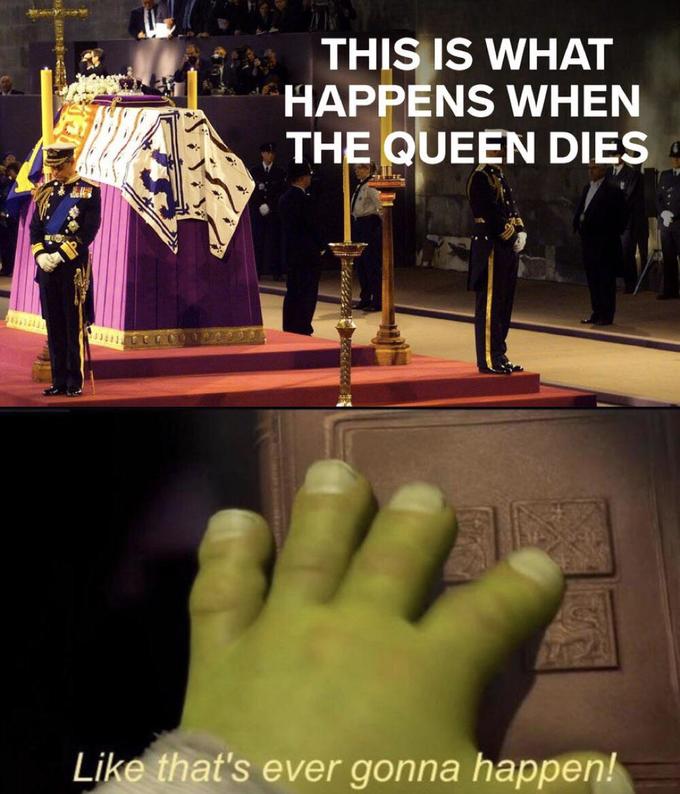 Template

Search Interest
External References