About
Shrek is the titular character from the animated film series by the same name created by DreamWorks Studios based on a book[4] by American cartoonist William Steig. Although fans for the character already existed as early as 2001 with the release of the first film, the character didn't got substantial cult-like following online until 2010 to 2012, after Shrek became a popular character in pun jokes and greentext stories. These fans commonly refer to themselves as "Brogres", in similar vein to the My Little Pony: Friendship is Magic enthusiasts known as "Bronies".
History
The computer animated film Shrek was released on May 18th, 2001.[2] There were 3 official sequels to the franchise,[1] including Shrek 2 (2004), Shrek the Third (2007) and Shrek Forever After (2010). The films feature the titular green ogre Shrek (voiced by Mike Myers) as the main protagonist, his companion Donkey (voiced by Eddie Murphy) and his love interest Fiona (voiced by Cameron Diaz). The movies are a parody of the standard children's fantasies films, specifically those produced by Disney.



Smash Mouth-Smashing Pumpkins Soundtrack Dispute
On August 16th, 2018, Exclaim[23] magazine posted a series of images from Smashing Pumpkins singer Billy Corgan's Instagram. In one of the since-deleted stories (shown below) from the page, Corgan states that Smashing Pumpkins had originally been approached to contribute a song for the closing credits of Shrek, which famously features Smash Mouth.
Corgan wrote, "SP fact: we were offered the end credit song for Shrek 1 but the offer was withdrawn and give to Smashmouth (who had hit with Monkees song)." He also said the contribution would have been the song "Untitled."


That day, the official Smash Mouth Twitter responded to the comments. They wrote, "Actually we said no and Michael Austin from Dreamworks kept calling. That went on for over a month. We assume multiple bands we're asked. If it feeds Billy's ego to think they we're first let him think that. Def would have been a darker approach. @THE_EELS are on it & others." The post (Shown below) received more than 10 retweets and 190 likes in 24 hours.

Reboot
On November 6th, 2018, Variety[25] reported that film producer Chris Meledandri would be producing reboots of the films Shrek and Puss in Boots. That day, Twitter user @faith_schaffer tweeted a link to the article, along with the message "How can you reboot an angel? How can you improve a god?" (shown below, left). Within 24 hours, the tweet received more than 5,600 likes and 2,300 retweets. Meanwhile, Twitter user @poppunk_nerd tweeted a plea for the creation of Shrek 5 instead of a reboot of the original film (shown below, right).


That day, a Twitter Moments[26] page titled "Shrek is getting a reboot by producer behind Despicable Me" was created, which highlighted various reactions to the news. Also on November 6th, videos about the reboot were uploaded to the Nerdist and Valiskibum94 YouTube channels (shown below).
That same day, the Twitter account for the band Smash Mouth replied to a tweet about the reboot with the question "What?", gathering more than 88,000 likes and 21,000 retweets in less than 24 hours.

Fandom
A number of websites have been created dedicated to the franchise and its characters. The official DreamWorks website Shrek.com[13] features character bios, downloadable media, video games and a store to purchase DVDs. The official Shrek Facebook[17] page was launched in December of 2009, and gained over 36 million likes in the next four years. Shrekchan[3] is an image board dedicated to Shrek launched on May 29th, 2012.

On January 17th, 2010, DeviantArt User Cmara uploaded a comic(shown below left) featuring Shrek and Shadow the Hedgehog, from the Sonic the Hedgehog universe, as they reunite after a fight.[20] The bizarre combination of the two characters due to multiple reasons, such as the difference in species and the universes they originate from, quickly made the duo a popular crack pairing on DeviantArt and outside, resulting in various fanworks based on the couple throughout 2010 and the years following.[21] This eventually lead to Shrek being used in other crack pairings as well.



On November 4th, 2012, Tumblr user fuckyeahmeelz made a Hey Girls post using Shrek (shown below, left).[10] On November 13th, Tumblr user mossball made a post featuring a life-size Shrek doll sitting in a car with the note "PUT THAT SHIT INTO OGREDRIVE" (shown below, middle).[11] As of June 2013, both posts managed to respectively gain more than 38,000 and 46,000 notes. The LittleShrekThings[5] Tumblr blog was relaunched on January 10th, 2013, after the previous incarnation turned into an adult media blog, and contains more than 1400 posts as of June 2013.


Brogres
Fans of Shrek are often referred to as "Brogres." On November 16th, 2012, a Facebook[15] page for "Brogres" was created, which accumulated over 1,200 likes within the next four months. The same day, MLP Forums[19] member DJ Enty submitted a "Brogre thread" to the discussion board, including a photoshopped image of Shrek with the caption "check urself before u shrek urself [sic]" in the style of Are You Frustrated images (shown below, left). On November 18th, 2012, Urban Dictionary[14] user sesky submitted an entry for the term "Brogre," defining the label as a person who is "obsessed with Shrek." On January 29th, a Facebook page[22] for the phrase "Shrek is Love, Shrek is Life" was created, which has accumulated more than 135,000 likes as of April 2014. On February 1st, 2013, a page for the term "Brogre" was created on the Shrekchan wiki.[16] On February 6th, 2013, The Huffington Post[18] reported two Shrek fans cosplayed as Shrek and Fiona at their wedding (shown below, right).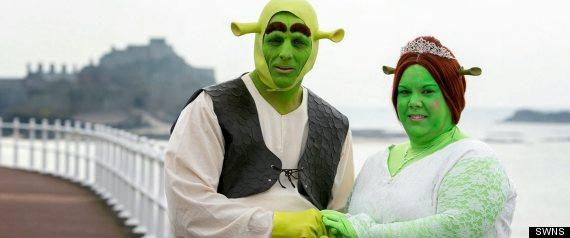 Brogres commonly make use of a large variety of pun jokes and slang phrases which are a play on popular terms and phrases associated with Shrek and the series, in similar vein to the bronyspeak vocabulary used by bronies. This vocabulary can often be found back in greentext stories and image macros featuring Shrek. These greentext stories are commonly found on Shrekchan[3] and through the Tumblr tag "#shrekchan."[12]


Heidi Klum Costume
On October 31st, 2018, Halloween, supermodel Heidi Klum and her boyfriend Tom Kaulitz dressed as Fiona and Shrek, respectively. That day, she posted a number of videos on Twitter of herself getting into costume. That day, she posted the final product in a Twitter video, which received more than 2,100 retweets and 13,000 likes in 24 hours.
— Heidi Klum (@heidiklum) November 1, 2018
That day, as photographs of the couple began appearing on social media, some joked about her boyfriend's expression in the photographs (examples below, left). Twitter[25] user @bondnickbond posted a zoomed-in photograph of Kaulitz and the caption, "My favourite part of Heidi Klum's Halloween costume this year is the utterly defeated look in her boyfriend's eyes." The post received more than 1,200 retweets and 5,400 likes in 24 hours (shown below, right).


Notable Examples
Fanart, photoshops and image macros featuring Shrek commonly make use of the vocabulary of pun jokes and slang phrases used by brogres. Additional examples for this can be found through both the DeviantArt tag for "#shrek"[8] and the Tumblr tags for "#shrek"[6] and "#shrek-jokes."[7]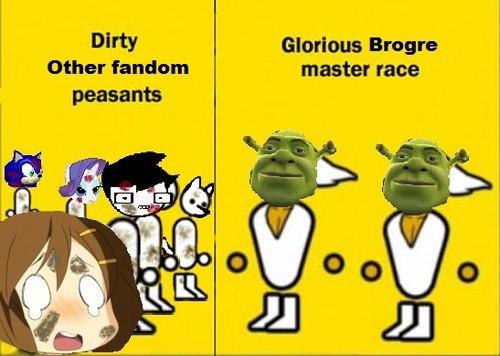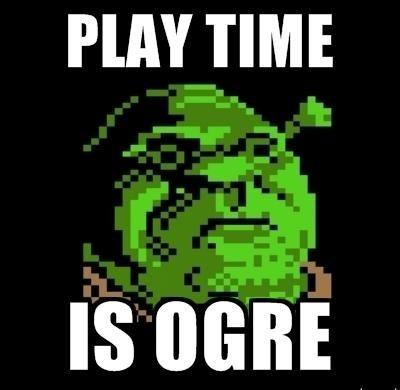 Search Interest
External References