Look How They Massacred My Boy
About
Look How They Massacred My Boy refers to a memorable quote from 1972 crime film The Godfather. In 2018, the screen capture of the scene gained popularity as an image macro illustrating grief over loss.
Origin
On March 24th, 1972, American crime film The Godfather premiered in the United States.[1] In the once scene, character Vito Corleone is shown the corpse of his son Sonny Corleone, to which he reacts with an expression of grief and by uttering "Look how they massacred my boy".
On March 3rd, 2017, Giphy[2] posted a captioned GIF of the scene.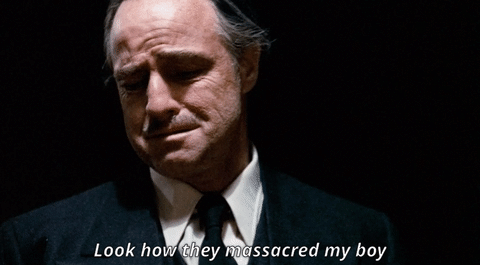 Spread
On November 11th, 2017, Steemit[3] user kid4life launched a contest, urging website users to use the still image from the scene as a meme template. On November 23rd, several winners were announced[4], with the original quote not appearing in any of the winning images.


On February 9th, 2018, Redditor[5] Naju34 posted a captioned image taken from the scene to /r/dankmemes subreddit. The post gained over 10,100 upvotes within six months.

In the following week more versions of the meme appeared in /r/PrequelMemes[6], /r/Animemes[7] and /r/dankmemes[8] subreddits, but were left largely unnoticed. On March 23rd, 2018, an unknown Reddit user[9] posted another version of the meme which received over 31,300 upvotes within six months.

Through 2018 and early 2019, the macro saw stable use across numerous subreddits, including /r/teenagers[10], /r/dankmemes[11], /r/shittyrainbow6[12] and /r/HistoryMemes[13].




Various Examples






Search Interest
External References