Lunging for the Officer's Gun
This submission is currently being researched & evaluated!
You can help confirm this entry by contributing facts, media, and other evidence of notability and mutation.
About
Lunging for the Officer's Gun refers to a series of memes about the intrusive thought of making a lunge for a police officer's service weapon, an incident that can possibly end up with the officer retaliating and killing the person instead. Spawned by a viral Snail in My Ear meme in late 2022, the meme achieved significant virality in March 2023.
Origin
On September 30th, 2022, Redditor f-as-in-frank posted a Snail in My Ear meme captioned, "Snail in my ear telling me to reach for the police officer's pistol" to the /r/shitposting[1] subreddit, where it gained over 790 upvotes in six months (seen below).

Spread
In the following weeks, the image was widely circulated online through reposts.[2] For example, on October 4th, 2022, Twitter[2] user @PeetingDisorder tweeted a joke about lunging for an officer's gun, which gained over 2,100 retweets and 26,700 likes in five months (shown below, left). On October 6th, iFunny[3] user TheRedBaron posted a screenshot of the tweet, gaining over 12,200 smiles in the same period.
On December 19th, 2022, Twitter[4] user @sulkingtime tweeted a meme that garnered over 1,400 retweets and 13,800 likes in three months and was widely shared in the following weeks (shown below, right).


On February 12th, 2023, Twitter[5] user @rundizzy wrote, "has anyone else noticed the glowing aura around cops guns lately," with user @MrToDamnFunny replying[6] with an image of a police officer's weapon emanating a glowing aura (shown below, left). The tweets gained over 70 retweets and 890 likes and 220 retweets and 3,300 likes in one month, respectively.
On March 1st, iFunny[7] user Nimitz19 posted a Jamiroquai Grab meme paired with the joke, with the post being featured and accruing over 17,300 smiles in three weeks (shown below, right).

The posts were followed by further popularization of the meme online, with several examples going viral on TikTok[8][9] in March 2023.
Various Examples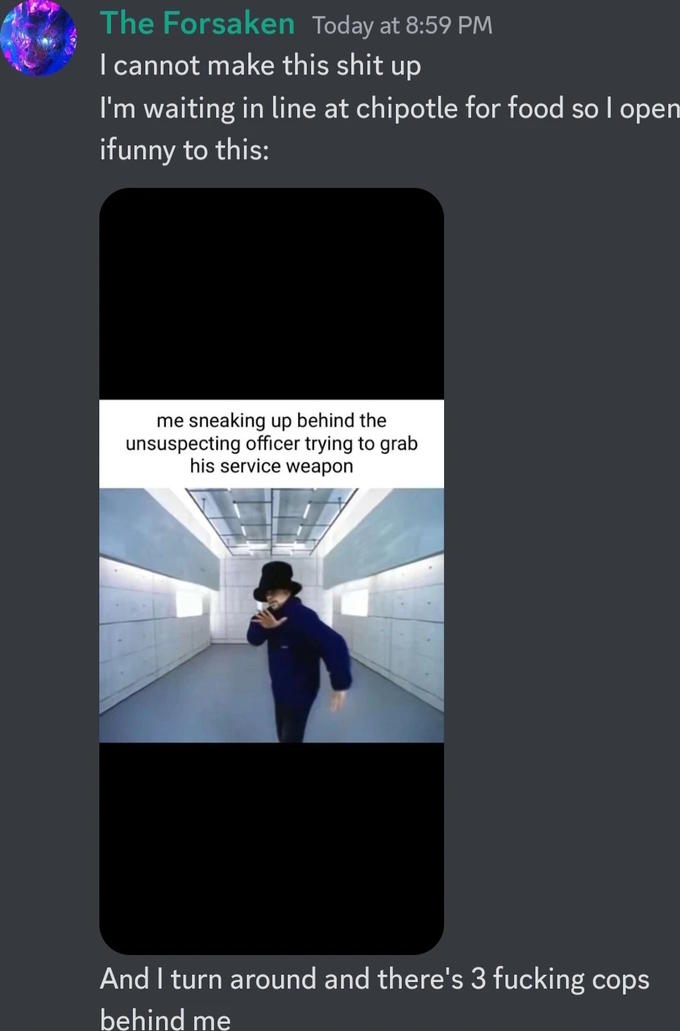 Search Interest
External References