John Pork / John Pork Is Calling
Overview
John Pork is a virtual influencer that resembles a realistic anthropomorphic pigman, depicted as a man with a human body and a pig's head. He first began posting content to Instagram in 2018 and continued to post over the following years, spreading from Instagram to TikTok. John Pork's uncanny look inspired memes across social media, including a series of memes about pork being Technoblade's real face. In March 2023, a series of memes in which it looks like John Pork Is Calling you on your cellphone went viral on TikTok.
History
On September 24th, 2018, Instagram[1] virtual influencer john.pork made their first post, a selfie of the influencer standing outside of Doune Castle, Scotland, garnering over 6,000 likes in five years (shown below, left). On October 8th, John Pork shared another selfie on Instagram[2] showing himself at Skye Island, Scotland, garnering over 11,200 likes in the same rough span of time (shown below, right).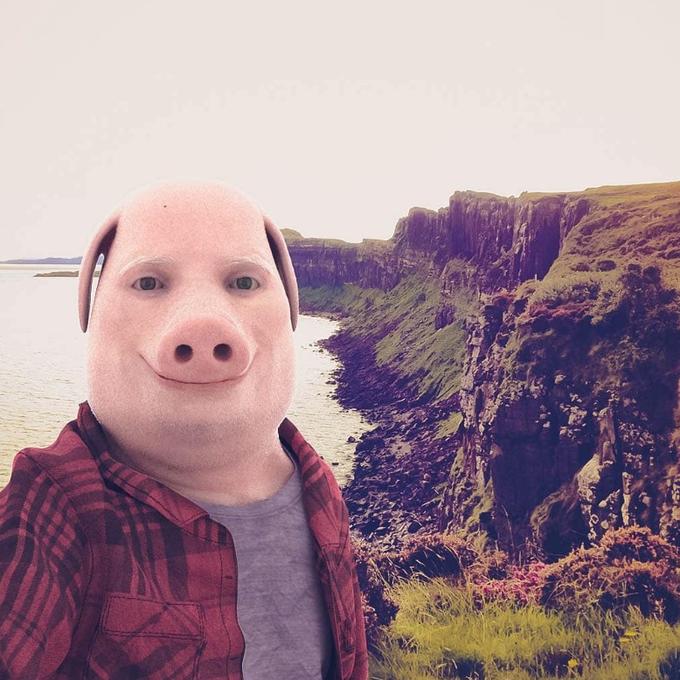 On March 4th, 2019, John.pork uploaded a video to Instagram[3] and TikTok[4] of himself dancing, announcing his return to social media, garnering over 97,000 views on the former in four years (shown below). John Pork started to become the subject of memes on Reddit[5][6] that year. On November 9th, 2020, Virtual Humans[7] published a short biography about John Pork.
John Pork continued to post semi-regularly to Instagram and TikTok throughout the 2020s. On December 24th, 2022, he posted a selfie to Instagram[8] wishing everyone happy holidays, garnering over 21,000 likes in three months (shown below).

Online Presence
John Pork is active on Instagram[9] @john.pork, with over 34,000 followers. He is also active on TikTok[10] @john.pork with over 2,500 followers.
Memes
John Pork became an increasingly prominent subject of memes starting in 2019, largely due to his uncanny look. Between 2019 and 2021, several memes were uploaded to Reddit[11][12] joking that John Pork selfies were Technoblade face reveals due to Technoblade using a pig as his avatar (examples shown below).


On March 20th, 2021, Twitter[13] user @modernpixels posted a meme that attaches a countdown to a selfie of John Pork that reads, "John Pork will be real in," garnering over 870 likes in two years (shown below).
— 𝙝𝙚𝙖𝙩𝙝𝙚𝙧 ♷ (@modernpixels) March 20, 2021
John Pork Is Calling
On March 21st, 2023, TikToker[14] @rover.joe posted an edit of a John Pork selfie using a Capcut template to overlay an incoming call graphic and sound effect over the image, garnering over 2.7 million views in three days (reupload shown below).
The virality of @rover.joe's meme inspired other TikTokers to post similar memes, including memes where other anthropomorphic characters call you (shown below, left) and memes portraying the John Pork is Calling meme as a creepypasta. On March 27th, TikToker[15] @john.porked posted a video claiming John Pork died, garnering over 6 million views in three days (shown below, right).
Search Interest
External References