This submission is currently being researched & evaluated!
You can help confirm this entry by contributing facts, media, and other evidence of notability and mutation.
About
Michael Jordan Laughing refers to a reaction image from The Last Dance of Michael Jordan laughing while looking at a tablet. After the episode of the docuseries aired, the image was quickly used in tweets with captions meant to be humorously unlikely.
Origin
On the May 10th, 2020 episode of The Last Dance, former NBA player Gary Payton said his team the Seattle SuperSonics could have won the 1996 NBA Finals if he was guarding Jordan, citing how he guarded him effectively when he was put on him in Game 4. This prompted Jordan to rear back his head in laughter (clip shown below).
Spread
After the episode aired, Twitter users quickly began using a still of Jordan laughing as a reaction image. For example, Twitter user @ditzkoff[1] referenced Garfield, gaining over 1,100 retweets and 14,000 likes (shown below, left). Twitter user @ziwe[2] joked, "me at my own tweets," gaining over 4,200 retweets and 23,000 likes (shown below, right).


Twitter also used a still of Jordan looking in bemused disbelief as a reaction image. The Fan Duel[3] Twitter account used the image as though to laugh at people who claim Steph Curry's Warriors were better than Jordan's Bulls, gaining over 300 retweets and 1,700 likes (shown below, left). User @JoeJHoyt[4] joked, "When I realize I spent more money on Taco Bell last year than gas," gaining over 100 retweets and 750 likes (shown below, right). Jokes were covered by Twitter Events[5] and Daily Dot.[6]


Various Examples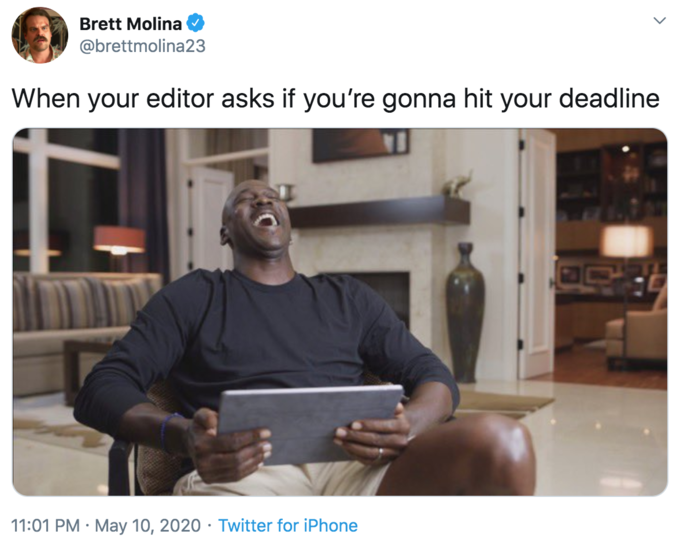 Search Interest
External References
Recent Videos
There are no videos currently available.