Mike Pence "Do Not Touch" NASA Photo
This submission is currently being researched & evaluated!
You can help confirm this entry by contributing facts, media, and other evidence of notability and mutation.
About
Mike Pence "Do Not Touch" NASA Photo refers to a photograph of Vice President of the United States Mike Pence touching a critical piece of space hardware that bears a sign reading "DO NOT TOUCH." The photo inspired numerous photoshop memes and image macros shortly after it appeared online in summer 2017.
Origin
On July 6th, 2017, Reuters photographer Mike Brown photographed Vice President Mike Pence inside the Orion cleanroom at NASA's Kennedy Space Center in Florida placing his left hand on a critical piece of space flight hardware that bore a warning label "DO NOT TOUCH." In the photograph (shown below), Kennedy Space Center Director Robert Cabana can be seen tugging Pence's jacket, perhaps in an effort to stop him, as Senator Marco Rubio stands in the background.[1]

Spread
That day, people on Twitter began sharing the image, adding captions on Pence's apparent disregard for the "do not touch" sign. Twitter user @flyosity[2] posted the image and a zoomed-in photo of the sign with the caption "C'mon dude, really." The post (shown below) received more than 10,000 retweets and 22,000 likes in 24 hours.

Throughout the day and into the next, people continued to share and retweet that photograph, adding commentary and jokes to the image. Twitter published a Moments page regarding the reaction to the picture.[8]



The following day, on July 7th, Redditor Voctory[3] posted the image to the /r/PhotoshopBattles subreddit. Throughout the day, people began posting photoshopped versions of the picture (example below). Within 24 hours, the thread had received more than 12,500 points (90% upvoted) and 400 comments.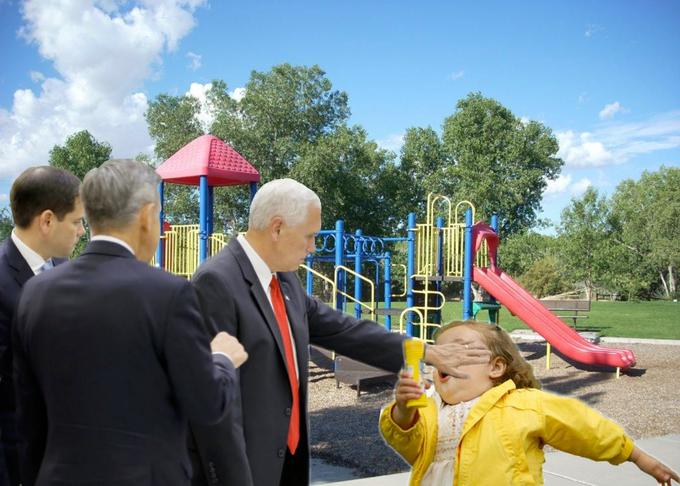 Various news outlets covered the photograph and subsequent reaction, including Gizmodo,[4] Vox,[5] USA Today,[6] NBC[7] and more.
Various Examples






Search Interest
External References
Recent Videos
There are no videos currently available.