This submission is currently being researched & evaluated!
You can help confirm this entry by contributing facts, media, and other evidence of notability and mutation.
About
Nah He Tweakin, sometimes written as Nah He Tweaking, refers to a copypasta and catchphrase initiated by a Lil Nas X comment on an Instagram post in August 2021 in regards to products that contained human blood between Lil Nas X and pro skateboarder Tony Hawk. The comment led to mass spamming of the phrase underneath many celebrity Instagram posts and on Twitter, later spreading to other sites and platforms in late August.
Origin
On August 25th, 2021, musician Lil Nas X commented on an Instagram post from the account @rap that announced Tony Hawk would be selling skateboards infused with his own blood for $500 each (shown below, left).[1] Lil Nas X commented on the post with, "nah he tweakin" (shown below, right), referencing a controversy he suffered back in March 2021 regarding the release of his Montero Satan Shoes, which were his blood-infused Nike Air Max 97s.[2] The shoes were not received well by some of the public due to his blood being in them. Lil Nas X's "nah he tweakin" comment was well-received by many however, gaining roughly 62,000 likes in less than 24 hours.


Tony Hawk is Selling Skateboards Infused With His Blood For $500 Each
nah he tweakin
The comment was also inspired, or in response to, a comment left by @rap on the post an hour beforehand reading, "Our comment section tweakin⁉️" (shown below) in reference to Instagram's comments being down earlier that day. This comment received roughly 6,000 likes in less than 24 hours.

Our comment section tweakin⁉️
Additionally, a couple of hours before the @rap Instagram post on August 25th, 2021, Lil Nas X expressed his frustrations about the Tony Hawk, "blood painted skateboards" in a tweet (shown below).[3] The tweet gained roughly 317,000 likes in less than 24 hours.

now that tony hawk has released skateboards with his blood painted on them, and there was no public outrage, are y'all ready to admit y'all were never actually upset over the blood in the shoes? and maybe u were mad for some other reason?
Spread
Within an hour of the original comment being posted on August 25th, 2021, multiple Instagram users began to spam the catchphrase back into the comment section of the @rap post, causing a chain reaction of commenters (shown below).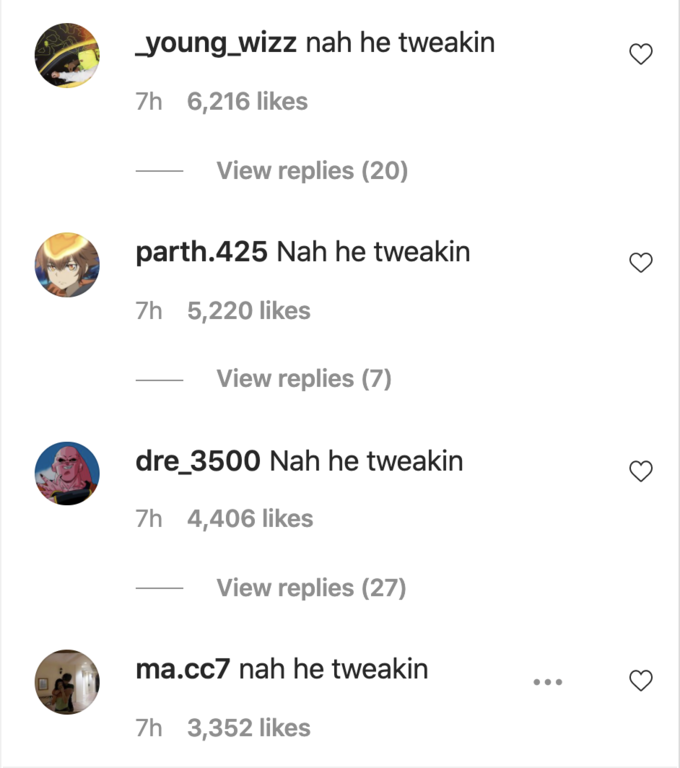 Instagram users the same day began spamming other Instagram comment sections, like that of verified celebrities and Instagram meme pages. Almost immediately, they spammed Tony Hawk's Instagram post shared on the same day (shown below).[4] Also notably, professional sports Instagram pages, like those of the NFL and NBA, received earlier onslaughts of "nah he tweakin" comments,[5] prompting many of them to be the first brand accounts on Twitter to hop on the trend.[6][7]

The catchphrase began to solidify itself into Instagram comment sections throughout the day, creating a cult-like nature around the phrase that began to draw the interest of Twitter users. Users across both platforms began to meme and tweet about it going into August 26th, 2021, causing the trend to grow a "meta" status rather quickly. The copypasta then spread to other platforms and sites around the web the following day.
Various Examples





Search Interest
External References
Recent Videos
There are no videos currently available.