About
The NES Godzilla Creepypasta is a creepypasta story about a video gamer who uncovers several disturbing characters and modified levels in a Godzilla: Monster Of Monsters[2] game cartridge for the Nintendo Entertainment System. The creepypasta is notable for incorporating a series of elaborate in-game screenshots and custom sprite art.
Story
The story is written from the perspective of Zachary, a young adult video gamer who had received several NES cartridges from a friend. After loading the Godzilla: Monster of Monsters game, he notices that there are a number of strange Kaiju (giant monsters) and features he did not recall seeing when he played the game as a child. However, his initial joy at discovering what seems to be a modified version of the game quickly turns to fear as he is encountered by the being Red (also known as the Hellbeast), who begins to torment the monsters in the game.
Origin
On July 7th, 2011, sprite artist CosbyDaf, a frequent contributor to horror website Bogleech,[3] posted the first chapter of the creepypasta story titled "Earth & Mars" to the blog NES Godzilla Creepypasta.[1] The primary antagonist of the story (Red) is thought to be inspired by a rumored Godzilla movie pitting the King Of Monsters against Satan, given that the character shares many transformations with the hypothetical Kaiju version of the Biblical figure.[4] The video game screenshots included in the story contained sprites created or modified by CosbyDaf, including many Godzilla Kaiju and several of his own creations.
Spread
On December 6th, 2011, CosbyDaf uploaded the sprites from the creepypasta stories to his DeviantArt page.[11]

On April 20th, 2012, a TV Tropes[9] page for the story was created in the "literature" category. On March 7th, 2012, CosbyDaf launched a Blogspot[10] mirror of the original creepypasta blog. On January 6th, 2013, CosbyDaf announced in a blog post[5] that two of his original Kaiju characters, Red (shown below, left) and Solomon (shown below, right), were going to be included in the tabletop game Kaiju Combat.[5]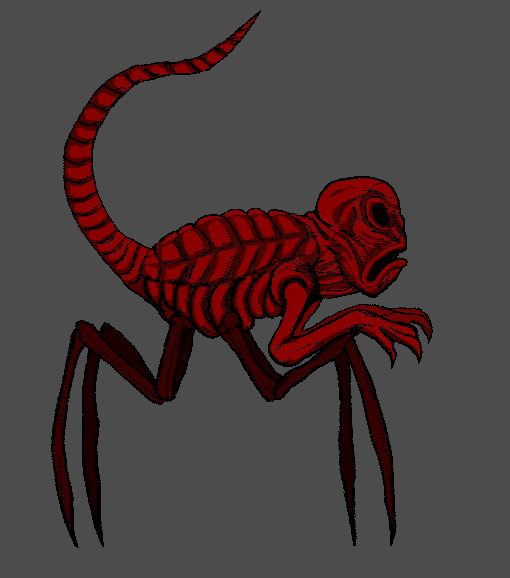 On April 11th, a page for the creepypasta was added to the Creepypasta Wiki.[8] On April 27th, YouTuber MrTyrannosaurus92 created a short parody summarizing the Creepypasta's plot (shown below, left). On June 26th, a page was created for the story on the Gozilla Wiki.[7] On September 11th, YouTuber Sakat57 created a video announcing his intention to adapt the story into a fangame (shown below, right).
On April 4th 2015, it shows an video game based on the story create by Iuri Nery which it was been work in progress.[12]
Sequel
On December 11th, 2013, CosbyDaf posted the sequel "Godzilla: Replay"[6] about another Godzilla: Monster of Monsters player who encounters a different cast of Kaiju, including monsters based on the seven deadly sins and a mysterious being known as the Warlock.
Notable Examples
Readings
Several readings of the story along with slideshows of CosbyDaf's sprites have been uploaded to YouTube, most notably by YouTubers Mr. Creepypasta (shown below, left) and Goji73 (shown below, right).
Fan Art






Search Interest
External References