This submission is currently being researched & evaluated!
You can help confirm this entry by contributing facts, media, and other evidence of notability and mutation.
About
Odell Beckham Jr's Hair refers to a series of comparison images featuring the hair of professional American football player Odell Beckham Jr, especially those created during the first game of the 2015 football season. Beckham Jr's hair is known for its color and shape which often bears similarity to other characters and products.
Origin
Odell Beckham Jr's hair has been a subject of discussion online since his first year in the NFL playing for the New York Giants. On August 28th, 2014, it was announced that he signed an endorsement deal with shampoo brand Head & Shoulder's drawing even more attention to his hair.[1] In addition, during the summer of 2015, a photograph surfaced that was rumored to picture Beckham Jr performing cunnilingus on the model Amber Rose; Beckham Jr was recognizable, in theory, by his hair (view this image in the gallery).[2] He denied that the photo was of him by posting a photo of his more current hairstyle to Instagram with the caption "Pray the real last forever man, pray the fakes get exposed," a lyric from a song by Drake.

Spread
On September 13th, 2014, the 2015 football season began with Beckham Jr on the starting bench for the New York Giants. That evening, a photograph of him on the bench, helmet removed, was tweeted by user RYANFALCONE, referencing his connection with Amber Rose.[3]

The original tweet received 56 retweets and 28 favorites, and other tweets began circulating using the same photograph, often with comparisons to a character or product that his hair resembled, including Troll Dolls and Maruchan Ramen Noodles.[4] The image comparisons were written about in Bleacher Report,[5] the Dallas Morning News,[6] and NJ.com.[7]
Various Examples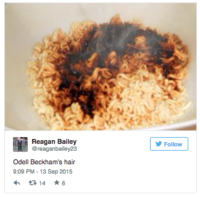 Search Interest
External References
Recent Videos
There are no videos currently available.