This submission is currently being researched & evaluated!
You can help confirm this entry by contributing facts, media, and other evidence of notability and mutation.
About
Oh Look, A Pony! Now Your Day Is Ruined! is a popular phrase used within the fandom of the Hasbro animated series My Little Pony: Friendship is Magic. It is typically used to caption images of characters from the show, which are then used as reaction images or as bait.
Origin
The original image that spawned the meme (shown below, left) was created by adding the phrase as a caption to a vectored image of the character of Twilight Sparkle taken from the show. The image in question (shown below, right) was submitted by DeviantArt user RyantheBrony on December 4th, 2011, titled "Twilight Wants a Hug".[1] The captioned variant was submitted to the MLP image hosting site Derpibooru on December 5th, 2012.[3]


Spread
Researching
The variant featuring Twilight is a popular spray image in the first-person shooter video game Team Fortress 2 by Valve Corporation. It was uploaded to GameBanana in 2012 and has been downloaded over 3,500 times and holds a rating of 9.5 out of 10 as of September 2015.[2]
Various Examples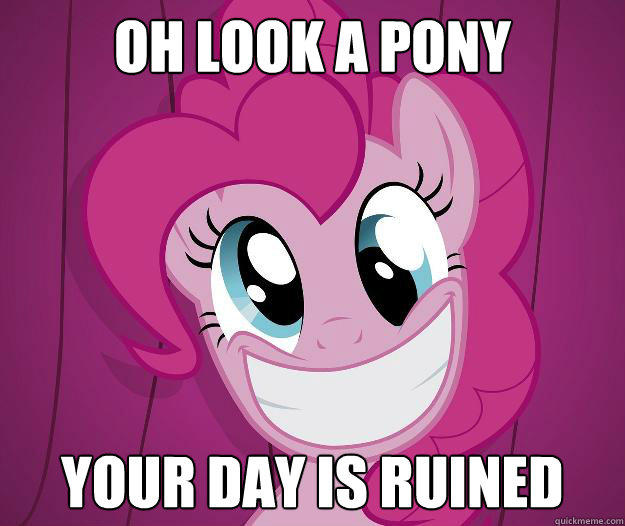 External References
Recent Videos
There are no videos currently available.