About
Andrew Hussie is a prolific creator of webcomics. The most popular of his creations is Homestuck. Hussie, despite his massive online popularity, has managed to maintain a high level of privacy; details on his personal life are scarce.
Online History
Old Webcomics/Whistles
Andrew Hussie at one point maintained a webcomic site with Cindy Marie, and his earlier comics are now archived.[1] Notably, one of his works, Whistles, was published as a graphic novel in 2007 by SLG Publishing, but it is now out of print and goes for more than $50 a copy secondhand.[2] Hussie did not produce another published graphic novel until the book versions of Problem Sleuth and Homestuck were created.
TNG Edits
Andrew Hussie, working with Jan Van dem Hemel, created numerous parody videos of Star Trek: The Next Generation. Their edits, posted to several different accounts, like Jandrew Edits [3], received millions of views. Hussie continued making and releasing TNG pariodies from 2006 to 2009.
MS Paint Adventures
MS Paint Adventures[4] is Andrew Hussie's website and home of his current and most popular project, Homestuck. MSPA began as the host for the adventure game-style comics Hussie would draw in MS Paint. One notable feature was the use of fan submitted commands; this would eventually be withdrawn in Homestuck.
Problem Sleuth
Problem Sleuth was the first of Hussie's projects on MSPA to be completed. Spanning 1700 pages, the comic was written between 2008 and 2009. Problem Sleuth was a film-noir parody set in a loose prohibition-era setting. Many of the running gags in Homestuck originated in Problem Sleuth. Problem Sleuth was eventually released in book form. [5]
Homestuck
Homestuck is by far Hussie's most popular work, and has spawned a massive fandom. Featuring myriad characters and thousands of pages of comics, Homestuck tells the story of "kids and fun," as Hussie has said. Homestuck differs from Hussie's earlier works in that it is the first to incorporate Adobe Flash elements. Homestuck also has several dozen albums of official music[6] and a company called What Pumpkin, owned by Hussie, which produces merchandise for the series.[7]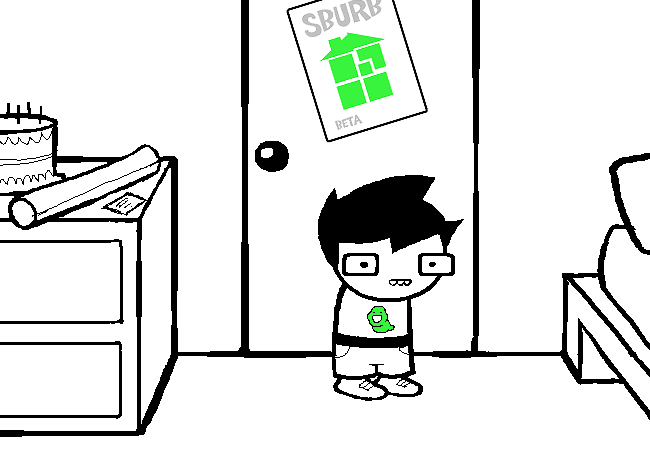 Reputation
Hussie has a reputation for trolling his readers and generally using his fanbase for his own amusement. For instance, in 2007, Hussie created a fundraiser called "Need for Steed" to allow him to buy a portrait of a football player fighting a horse on a mountaintop.[8] Hussie also received donations from fans to have a portrait of his soul commissioned, but created the supposed soul portrait himself and used the money for a meal at Olive Garden instead. [9][10][11]
Personal Life
Hussie is believed to be born in 1979, and to currently live in Western Massachusetts. He maintains public social media profiles on Twitter, where he has over 100,000 followers,[12] and Tumblr, which currently has no posts.[13]
Search Interest
External References