About
Banksy is the pseudonym of an English street artist, painter and filmmaker known for his satirical and politically motivated works in contemporary visual arts.
Online History
According to biographical sources, Banksy emerged as a freehand graffiti artist in Bristol, England during the early 1990s, working in collaboration with numerous other local artists. At the turn of the century, the street artist transitioned from freehand graffiti to the medium of stencil, which ultimately gave rise to his international prominence. On March 4th, 2000, Banksy's official website Banksy.co.uk[1] was launched. In the following years, Banksy's stencil art works began appearing in galleries, including a controversial exhibit titled "Turf War" held at a warehouse in east London featuring spray painted animals (shown below).[20]

Highlights
Some of his most widely recognized artworks include the gorilla with the pink mask (2001), the girl with the red balloon (2002), the Molotov bouquet thrower (2002), the murals on the Israeli-Palestinian barrier (2005 – 2007), the vandalized phone booth (2005) and the street maid (2006) among many others.












2013: NYC Better Out Than In
On September 28th, 2013, Banksy launched the website Banksy NY[10] to highlight works created during his October visit to New York City (NYC). On October 1st, the @banksyny Twitter[11] feed was created, which gathered upwards of 14,000 followers in the first week. The same day, the banksyny Instagram[12] feed was launched, featuring photographs of Banksy's NYC street art.

On October 6th, Banksy uploaded a video to YouTube featuring the Disney cartoon character Dumbo being shot down by by Syrian rebels with a rocket propelled grenade (shown below). The same day, Redditor NSFW_PORN_ONLY submitted the video to the /r/videos[5] subreddit. In the first 24 hours, the video garnered upwards of 1.8 million views and the Reddit post received more than 12,400 up votes.
On October 10th, Instagram user @StreetArtJamz uploaded several photographs of a Banksy rat stencil-painted on a wall next to a fallen parking sign in East New York, Brooklyn. @StreetArtJamz also noted that the artwork was being guarded by a group of men who were trying to charge sightseers as much as $20 per viewing.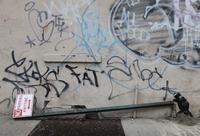 On October 13th, Banksy opened up an unmarked stall near Central Park in Manhattan and put an elderly man in charge of selling some of his original stencils for a price as low as $60, a steep bargain from the usual five to six-figures price tags in art auctions. The daylong stunt was captured on footage with a hidden camera and uploaded later that same day via his YouTube channel, where it accumulated more than 2 million views in the first 24 hours.
Botched Election Print Offer
On June 3rd, 2017, Banksy posted a message to his Instagram account (shown below), offering a free, limited edition print to anyone in Bristol North West, Bristol West, North Somerset, Thornbury, Kingswood and Filton constituencies who vote against the Conservative incumbent in the 2017 United Kingdom General Election on June 8th.[27][32] The post also contained a lawyer's note, which read, "This print is a souvenir piece of campaign material, it is in no way meant to influence the choices of the electorate, has no monetary value, is for amusement purposes only and is strictly not for resale. Terms and conditions to follow, postage not included."
To receive the free print by mail, a registered voter in those areas has to send a picture of the voting paper to Banksy. The post, within three days, has received more than 30,000 likes.

Two days later, on June 5th, Banksy posted a followup message (shown below), retracting his earlier offer. The post said, "Product Recall. I have been warned by the Electoral Commission that the free print offer will invalidate the election result. So I regret to announce this ill-conceived and legally dubious promotion has now been cancelled." The post received more than 28,000 likes within 18 hours.[28]
Several news outlets covered the stunt, including The Guardian,[29] BBC,[30] The Telegraph,[31] Mashable[33] and more.

Shredded Print Prank
On October 5th, 2018, a Banksy original titled "Girl With Balloon" was sold at auction for 860,000 pounds at Sotheby's, a large broker of decorative fine art and jewelry in London. The moment it was sold, a self-destruct mechanism built into the print's frame activated, shredding the painting.[34]
That day, Banksy posted to Instagram a photo of the moment, with the caption, "going, going, gone," gaining over 1 million likes (shown below).

The following day, Banksy posted a video to Instagram explaining how he pulled off the prank (shown below).
After the painting shredded, Joey Syer of MyArtBroker.com told The Economist[35] that the artwork, even having been shredded, may have doubled in value:
"The auction result will only propel this further and given the media attention this stunt has received, the lucky buyer would see a great return on the £1.02M they paid last night, this is now part of Art History in its shredded state and we'd estimate Banksy has added at a minimum 50% to it's value, possibly as high as being worth £2m+."
Online Presence
On June 5th, 2003, Barbelith Underground Forums[9] member The Puck started a thread asking if Banksy could be considered a "sell out." On February 5th, 2005, a Flickr[13] group dedicated to documenting Banksy's work was launched, gathering more than 25,000 photos and 21,000 members in the next nine years. On April 4th, 2006, YouTuber inkw311 uploaded a news report about Banksy's graffiti works stenciled on the security fence separating Israel from Palestine (shown below, left). In the following eight years, the video gained upwards of 830,000 views and 1,000 comments. On January 4th, 2007, YouTuber daftcello uploaded a video highlighting Banksy's record store prank in which he placed 500 copies of a Paris Hilton's debut album with custom cover art and remixes by song producer Danger Mouse (shown below, right).
On January 1st, 2008, the fan site Banksy Unmasked[3] was launched to keep track of speculations and rumors surrounding the identity of the artist. On January 14th, the website Pest Control Office[2] was launched, which serves an a handling service to determine if artworks were created by Banksy. On September 15th, Redditor ARS_ posted a photograph of Banksy's "Graffiti Removal" piece (shown below) to the /r/pics[7] subreddit. In the first five years, the post accumulated over 1,600 up votes and 230 comments.

On October 4th, 2009, Banksy was highlighted on the single topic blog Stuff White People Like.[14] On January 7th, 2010, the "Banksy Street Art" Tumblr[8] blog was launched, which highlights photographs of notable Banksy works. On November 1st, Redditor dennis submitted a photograph of a costume inspired by Banksy's "Molotov Man" graffiti piece (shown below) to the /r/pics[6] subreddit, which received more than 7,100 up votes and 330 comments prior to being archived.

Identity
Banksy's true identity has yet to be confirmed and has been the subject of much controversy over the years. On September 15th, 2006, the BBC[19] reported that Banksy real name was Robert Banks and that he was a 32-year-old from Bristol, England. On May 9th, 2007, the lifestyle magazine Complex[16] claimed to have discovered a photograph (shown below) of Banksy based on information contained within a New Yorker article.[17]

On May 9th, 2008, Animal New York[18] published an article speculating that Banksy might be England-based graffiti artist Nick Walker. On July 12th, The Daily Mail[4] published an article claiming that Banksy had been unmasked as a man named Robin Gunningham.
Banksy's Arrest Hoax
On October 20th, 2014, the satirical news site National Report[22] published an article claiming that Banksy had been arrested in London, which identified the suspect as 25-year-old Paul Horner and claimed he had been charged with "vandalism, conspiracy, racketeering and counterfeiting." Meanwhile, the National Report YouTube channel uploaded a video titled "Graffiti Artist Banksy Arrested in London; Identity Revealed," gathering upwards of 194,000 views and 280 comments in the first 24 hours (shown below).
The same day, The Independent[21] reported that the arrest was a hoax according to the street artist's publicist. Also on October 20th, the National Report article was submitted to the /r/news[23] subreddit, where several users accused the story of being fabricated. Later that same day, The Independent[21] dismissed the National Report's article as a hoax, citing an official statement from the street artist's publicist Jo Brooks. In the coming days, several news sites reported on the hoax, including The Mirror,[24]The Huffington Post[25] and International Business Times.[26]
Search Interest
External References