Warning: This page contains material that may be considered not safe for work.
About
Ben Garrison is a libertarian political cartoon artist known for creating illustrations about United States political corruption and various conspiracy theories, who has been the subject of a troll campaign in the early 2010s by users of 4chan's /pol/ (politics) board who have attempted to frame him as a Nazi sympathizer. Garrison's cartoons are also notorious for being appropriated by different groups and for portraying public figures in a manner that some commentators deem horny.
Online History
On December 15th, 2006, Garrison launched the Garrison Graphics blog on Blogspot.[3] It later migrated to his website, GrrrGraphics.com, and a Patreon.[10] Garrison supports himself through his online cartoon career. His Twitter account, suspended as of February 2023, was @grrrgraphics, while his Instagram account (under the same handle) has over 61,000 followers as of February 2023.[9]
He has been interviewed by rightwing media outlets such as Breitbart, and consistently speaks out in support of libertarian issues, and sees his cartoons as a way to "express our outrage at the growing tyranny of Big Government and the re-emergence of communism."[10]
Cartoon Defacement
On August 22nd, 2010 Garrison released a cartoon titled "The March of Tyranny" on his personal blog,[2] featuring a walking Illuminati pyramid with a Democrat left leg and a Republican right leg (shown below).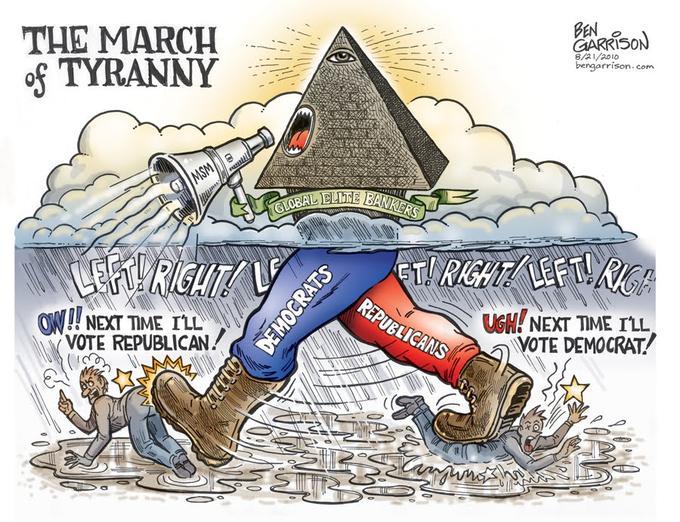 "My cartoon […] shows how the banking and corporate masters (crony capitalist fascists) control both major parties behind the scenes. They keep us distracted with left vs. right while giving us the illusion that voting for one of the other parties will solve things. It won't."
An edited variation of the comic began circulating on 4chan featuring the antisemitic Happy Merchant illustration superimposed over the pyramid (shown below).

On May 22nd, 2011, Garrison published a blog post titled "GRRR-ALERT!",[1] claiming that an "unknown cretin" was defacing his web cartoons with depictions of "offensive Jewish stereotypes." Following this, many of Garrison's cartoons were subsequently altered to depict Garrison as a Nazi (shown below).

On April 19th, 2013, a page for Garrison was launched on Encyclopedia Dramatica,[5] which refers to Garrison as a member of Stormfront and credits him with creating antisemitic and racists cartoons. On April 9th, 2014, a page for Garrison was created on the wiki site Metapedia, which notes that his cartoons have been altered into antisemitic parodies. On December 28th, 2014, the 8chan Twitter[6] feed posted a DMCA notice sent from Garrison ordering the take down of several cartoon defacements (shown below).

Legal Fund
On December 8th, 2014, Garrison launched a page on GoFundMe[8] to support his legal fund to pursue legal action about sites like 4chan and Reddit for not removing "libel" against him.
8chan Thread
On April 28th, 2015, Garrison answered questions in a thread on the /pol/ board on 8chan (shown below). That evening, Garrison published a post on his personal blog[7] confirming he had commented on the image board.

Fox 10 Prank
On the same day, YouTuber MisterMetokur uploaded a recording of a Fox News affiliate's live coverage of the Baltimore riots, in which the news anchors read several message from 4chan's /pol/ board referencing Ben Garrison, Baneposting, jet fuel can't melt steel beams: and other Internet memes (shown below).
2023 Feud With Scott Adams
On January 2nd, 2023, Dilbert cartoonist Scott Adams took issue with a cartoon posted by Garrison mocking his perceived flip-flopping on coronavirus vaccines. Adams claimed that Garrison's depiction of him as first being for COVID vaccines and only later against them amounted to "defamation," and promised to sue Garrison (seen below, top). Adams then tried to prove his anti-vaccination movement bona fides and was recalcitrant when posters encouraged him to not go forward with the defamation lawsuit, which in the United States is generally a difficult kind of lawsuit to win (seen below, bottom).[11]


On Twitter and Reddit in the following days, many rejoiced to hear about the feud between the two "very-online" rightwing cartoonists, anticipating the event would be fun to watch. For example, @mycenotaph, like many others online, expressed deep enthusiasm for an upcoming Garrison-Adams lawsuit, garnering over 100 likes in roughly a month and a half (seen below).[12]

Horny Accusations
Over the early 2020s, various cartoons Garrison has made have been accused of being overly horny by some online because of the way in which he draws the bodies and postures of prominent political figures. In particular, Garrison's portrayal of Kamala Harris has often led to "horny" accusations being leveled against the cartoonist. For example, on November 6th, 2020, Twitter user @ben_towle was among those who accused Garrison of supposedly objectifying Harris, earning just over 40 likes in roughly three years (seen below).[13]

Garrison also came under heavy fire for cartoons of Pete Buttigieg that showed the Democratic politician with an exaggeratedly large rear end — purportedly as a reference to his last name. For example, a cartoon posted by Garrison on February 16th, 2023, led to considerable commentary on social media, such as the February 16th tweet (seen below) by user @theserfstv, which called Garrison "the horniest cartoonist in the game" and earned almost 4,600 likes over the course of a day (shown below).[14]

In addition, you might like to check out our interview.
Search Interest
External References