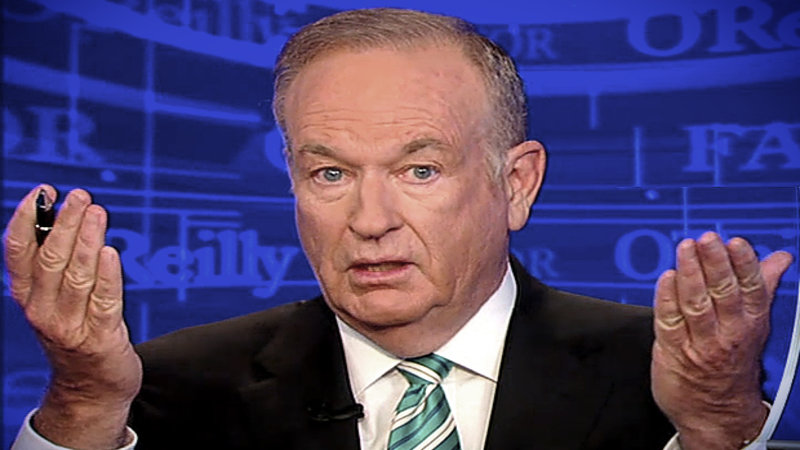 This submission is currently being researched & evaluated!
You can help confirm this entry by contributing facts, media, and other evidence of notability and mutation.
About
Bill O'Reilly is a conservative American political commentator and television personality most known for his show The O'Reilly Factor on Fox News. Though popular with conservative viewers, O'Reilly has often been criticized by liberal commentators like Jon Stewart and Keith Olbermann for his positions on various issues. He has been involved in several sexual-harassment lawsuits while on Fox News.
History
O'Reilly was born on September 10th, 1949.[1] He graduated Marist College and received a Masters in broadcast journalism from Boston University. He began his career on local news stations, where he won local Emmy awards for investigative reporting. Shortly after, he was hired by CBS and then ABC as a correspondent. In 1989, he joined tabloid talk show Inside Edition, becoming the program's anchor 3 weeks into its run. After quitting the show in 1995, he attended Harvard and gained a Masters Degree in public administration. At Harvard, he was hired by Roger Ailes to host The O'Reilly Report, later renamed The O'Reilly Factor. The show airs every weekday on Fox News at 8:00 PM EST. The O'Reilly Factor routinely is the highest rated television program among the three major 24/7 cable news networks.
Criticism
The O'Reilly Factor has been frequently criticized for it's conservative talking points that sometimes distort facts or give erroneous statistics. In 2008, website Media Matters named O'Reilly "Misinformer of the Year." In 2005, O'Reilly regularly denounced Kansas physician George Tiller, who performed late-term abortions, nicknaming him "Tiller the Baby Killer." After Tiller was murdered by an anti-abortion activist in 2009, Salon asserted that O'Reilly's rhetoric created an atmosphere of violence around Tiller. In 2007, researchers from Indiana University analyzed O'Reilly's "Talking Points Memo" segment, and using techniques developed by the Institute of Propaganda Analysis, found that O'Reilly used propaganda, frequently engaged in name calling, and consistently cast non-Americans as threats and never "in the role of victim or hero." O'Reilly is cited as the inspiration for Stephen Colbert's foolish conservative talk show host character on his satirical news program "The Colbert Report."
Reputation
Though O'Reilly often gives what are considered conservative viewpoints, O'Reilly himself is a registered independent and claims he does not identify with any ideology. He has been accused of racism. In a 2007 interview, when talking about a meal with Al Sharpton, he said:
"You know when Sharpton and I walked in, it was like… big commotion and everything. But everybody was very nice. And I couldn't get over the fact that there was no difference between Sylvia's restaurant and any other restaurant in New York City. I mean, it was exactly the same, even though it's run by blacks, primarily black patronship… "(no one was) screaming 'M'Fer, I want more iced tea…' I think that black Americans are starting to think more and more for themselves, getting away from the Sharptons and the Jacksons and people trying to lead them into a race-based culture. They're just trying to figure it out. 'Look, I can make it. If I work hard and get educated, I can make it.'"
The statement drew criticism from several political commentators. He also drew criticism from a 2010 appearance on The View in which he claimed Muslims committed the September 11th, 2001 Attacks. During the interview, his comments prompted hosts Joy Behar and Whoopi Goldberg to walk off the set.
Sexual Harassment Scandals
On October 13th, 2004, O'Reilly sued Andrea Mackris, a former O'Reilly Factor producer, for extortion. The same day, Mackris sued O'Reilly for $60 million alleging that O'Reilly had called her and sexually harassed her. According to Mackris, he also threatened that if Mackris went public with this, Fox News owner Roger Ailes would "go after" her. The suit was settled out of court, with O'Reilly paying Mackris $9 million. In April 2017, The New York Times reported that O'Reilly had settled 5 sexual harassment lawsuits, three more than the previously known public lawsuits. This caused almost 60 companies to pull their ads from the show. On April 19th, Fox News announced that they had decided to terminate their relationship with O'Reilly, and that Tucker Carlson would be taking his place.[2]
Related Memes
In May of 2008, footage surfaced of O'Reilly getting very angry on camera while trying to perfect a take on Inside Edition.
The rant became one of O'Reilly's most famous and widely parodied moments.
U Mad?
The famous U Mad? image macro comes from a segment in which rapper Cam'ron appeared on The O'Reilly Factor.
DAMON DASH: How do you hurt children by promoting to be an entrepreneur and a CEO and to do right…

(CROSSTALK)

O'REILLY: Hold it! Hold it! You're looking at a principal…

CAM'RON: Why don't you want to let him talk? You mad. You mad.

O'REILLY: You won't let me finish.

CAM'RON: Where did you start, A Current Affair, right?

O'REILLY: No, wrong.

CAM'RON: I'm going to get at you in a minute.

O'REILLY: You go ahead. You get at me.

CAM'RON: I'm going to get at you in a minute.
You Can't Explain That is an advice animal style image macro series featuring American Fox News Channel political commentator Bill O'Reilly. The captions presuppose that O'Reilly does not understand how mundane occurrences work, similar to the confusion presented in derivatives of Insane Clown Posse's song Miracles derivatives.



Search Interest
External References
Recent Videos
There are no videos currently available.