Kurzgesagt – In a Nutshell
This submission is currently being researched & evaluated!
You can help confirm this entry by contributing facts, media, and other evidence of notability and mutation.
About
Kurzgesagt – In a Nutshell is a German YouTube that produces short animated educational videos that explain various scientific, political and philosophical topics.
Online History
Founded by Philipp Dettmer,[1] Kurzgesagt launched the YouTube channel on July 9th, 2013. Two days later, the channel published a video entitled "How Evolution Works," which garnered more than 5.5 million views in less than five years.
The following year, the channel published a video entitled "Three Ways to Destroy the Universe." The post (shown below, left) received more than 9.5 million views.
In 2015, the channel change their name to "In a Nutshell," the English translation of "Kurzgeagt." One year later, they would change their name, again, to "Kurzgesagt – In a Nutshell"
That year, on September 7th, the channel published "The European Refugee Crisis and Syria Explained." As of May 2018, the post (shown below, left) received more than 12 million views.
On October 29th, 2015, they published their most popular video, as of May 2018. The post, "Addiction," received more than 16 million views in two-and-a-half years.
Fandom
On July 18th, 2013, Kurzgesagt launched the @Kurz_Gesagt Twitter [2] account. As of May 2018, the account has more than 135,000 followers.
On April 23rd 2014, they launched Patreon [4] to accept donations from viewers. As of May 2018, the page has more than 11,000 patrons, donating a combined $42,117 a month.
On August 3rd, 2014, the channel launched a Facebook [3] account, and within four years, they had amassed more than 152,000 likes and 153,000 followers.
Coffee Break Emails
On March 3rd, 2019, Kurzgesagt released a video entitled "Can You Trust Kurzgesagt Videos?" (shown below, left). The video received 3.2 million views and 349,000 likes in eight days. The video explained why the channel would be taking their videos about addiction and refugees down. Although, they were some of the most popular videos, they were being taken down because of their lack of thorough research in the subject. On March 12, YouTuber Coffee Break released a video entitled "Trust – In a Nutshell" (shown below, right). The video accumulated 824,000 views and 55,000 likes in a day. The video describes how Kurgesagt took down the videos because The Coffee Break YouTuber emailed him questions about the validity of the addiction video for his own YouTube series. Kurgesagt released a video before Coffee break could.
That same day, Philipp Dettmer introduced an AMA to /r/kurzgesagt[5]. The introduction read, "Hey everybody, Philipp here, the founder of Kurzgesagt, and the person responsible for every mistake we make. So I think the best way with being called out is to be open about anything! So ask away, I'll be online for another hour or so, and then later again! There is quite a lot happening at the same time, so please be patient with me." The post gained 11,800 points (87% upvoted) and 3,800 comments that day.
Dettmer first agreed to let Coffee Break release the full email exchange [8]. The emails revealed co-operation between the two and skepticism on Dettmer's part. The last email was unanswered by Coffee Break.
Dettmer continued to answer Redditors' questions. One user asked about Johann Hari's book (which was the basis for the addiction video). Dettmer said he read the book and collaborated with him on the video (shown below).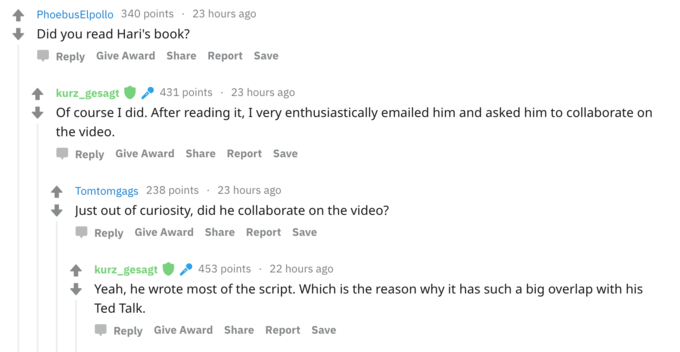 During the AMA, Coffee Break[6] followed and responded on Twitter. He was asked why he never responded to Kurzgesagt's last email to which he tweeted "I was busy releasing a new video and then got busy. I had no way of knowing I should be in a huge rush. I was about to get back with him when March 3rd hit" (shown below, left). Outraged by the backlash, Coffee Break[7] wrote many frustrated tweets. He summed up the criticism he was facing in one of the Tweets (shown below, right) which received 34 likes in a day. Many Redditors applauded Philipp Dettmer's openness in the comments of his AMA, while Twitter users continued to ask Coffee Break questions in response to the AMA.


Search Interest
External References