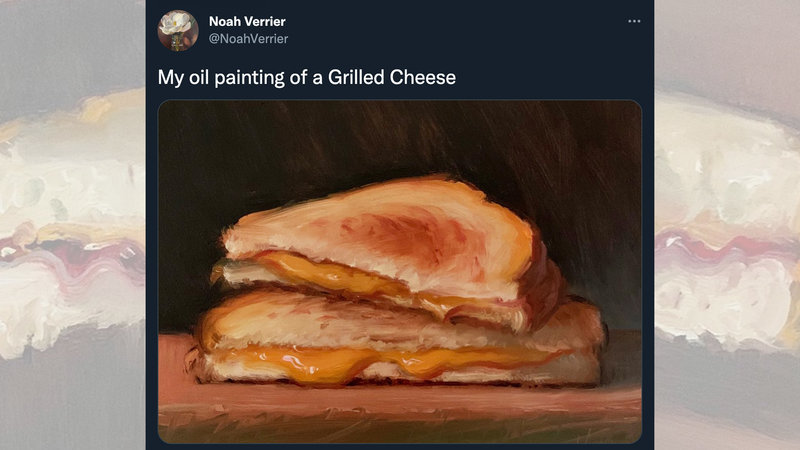 This submission is currently being researched & evaluated!
You can help confirm this entry by contributing facts, media, and other evidence of notability and mutation.
About
Noah Verrier is an artist who posts his paintings of sandwiches, such as grilled cheeses and peanut butter and jelly sandwiches, to Twitter, often using the phrasal template, "My oil painting of X." He started posting his artwork to the platform in late 2021 and went viral for his tweets going into early 2022 due to their contextless nature.
Background
Noah Verrier graduated from Florida State University (FSU) in 2004 with a BFA in painting.[1] In 2007, he was awarded the Emerging Artist of the year award by the Von Liebig Museum of fine art and the Naples National Art Festival in Florida.[1] He went back to FSU to complete his Master's Degree, graduating with an MFA in 2016.[1] He then became a professor at FSU and according to his website bio,[2] he is a former professor. He is currently a full-time artist living in Tallahassee, Florida with his wife and children (a picture of Verrier provided by his website is shown below).

Online History
Verrier posted content to Instagram[3] before any other platform, making his first post[4] on January 5th, 2013, earning 16 likes after being posted. Verrier slowly built a following on the platform, gaining roughly 88,300 followers over the course of nine years. The post of his that's received the most amount of likes during those nine years was uploaded on December 13th, 2019, receiving roughly 33,600 likes in three years. It is a painting of his called "PBJ & Jar of Milk (pink & gold)" (shown below).

Although his online presence started on Instagram, Verrier became more notable on Twitter,[5] where he joined in June 2021. However, his first accessible tweet[6] was posted on November 21st, 2021, being a painting of his called "Donut & Iced Coffee." the tweet earned 71 likes in four months (shown below).


On November 22nd, 2021, Verrier received roughly 2,100 likes in four months for a tweet[7] of his that attached a painting titled, "PBJ & Jar of Milk." (shown below, left). This spike in attention gained him followers. On January 16th, 2022, he posted a tweet of a painting depicting a mojito and slice of pizza, earning roughly 9,400 likes in two months (shown below, right).


On March 5th, 2022, Verrier posted a tweet of an oil painting of a BLT that earned roughly 226,000 likes in eleven days (shown below, left). This tweet received multiple reactions, like a quote retweet from comedian Patton Oswalt who said, "This is beautiful," earning roughly 3,700 likes in the same amount of time (shown below, right).


Through quote retweets and mass engagement, Verrier became notable on Twitter. As on March 2022, he's gained roughly 38,500 followers on the platforms.
Search Interest
External References
Recent Videos
There are no videos currently available.