This submission is currently being researched & evaluated!
You can help confirm this entry by contributing facts, media, and other evidence of notability and mutation.
About
Pitbull is the stage name of American rapper and producer Armando Christian Pérez. While he has achieved massive worldwide success, he has been criticized online for the-low quality of his lyrics, gaining an ironic following on 4chan's musical board /mu/.
Online History
Pitbull created a youtube account named "PitbullVEVO" on May 9th, 2011, which gained over 6 million subscribers in 6 years,[14] releasing its first videoclip, "Hotel Room Service", on November 14th, 2009. As June 15th, 2015, the video has over 108 million views and 23,000 comments. In June 2012, Walmart started a promotional campaign to bring Pitbull to whichever local Walmart store that gains the most new Facebook likes between June 20th and July 15th, 2012. On June 29th, a petition to send him to Kodiak, Alaska, was launched under the hashtag #ExilePitbull by the Something Awful editors Jon Hendren and David Thorpe. The petition was successful and the rapper visited Kodiak's Walmart on July 30th, 2012.
On December 30th, 2014, a thread submitted on 4chan's music board /mu/ featured a message supporting Pitbull (shown bellow).[11] During the following weeks, a series of messages "appreciating" Pitbull started appearing on the same board,[12][13] being the beginning of an ironic following for the rapper.[4]

Social Media Presence
As of June 2015, several official Pitbull social media accounts have been created, including a Facebook[3] page with more than 60,000,000 likes and a Twitter[4] feed with over 2,400,000 followers.
Squirtle Comparisons
On July 8th, 2018, Twitter[15] user @busted_mountain tweeted an image of the Pokémon character Squirtle with sunglass from the video game Pokémon GO. They edited the image to change the characters name to "Mr. Worldwide", a nickname for Pitbull. The image was captioned "Hey @pitbull is this ok." The post (shown below, left) received more than 2,500 retweets and 15,000 likes in three days.
That day, Pitbull responded to the tweet,[16] commenting on a retweet of the post with "Dale!" The post (shown below, center) received more than 86,000 retweets and 279,000 likes in three days.
Twitter user @EricAvila_ posted[18] a photoshopped image of Pitbull with Squirtle's head. The post (shown below, right) received more than 185 retweets and 2,300 likes in two days.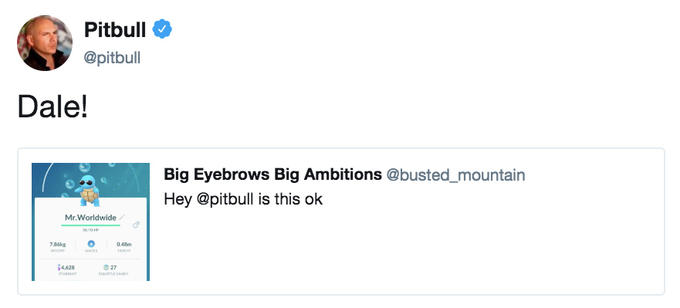 On July 10th, the official Pokémon GO Twitter[17] account responded to Pitbull's tweet by photoshopping Pitbull's face into the roster of Pokémon GO characters, replacing Squirtle's picture. The post (shown below, right) received more than 2,700 retweets and 12,000 likes in less than 24 hours.
The following day, Twitter[19] published a Moments page about the reactions to the Squirtle-Pitbull comparisons.

Related Memes
Dale
Dale is an spanish expression (meaning "let's go" on english) fairly used on some Latin American countries like Cuba, and associated to Pitbull for its overuse. On April 20th, 2012 youtuber Jonathan Mayo uploaded a video titled "Pitbull – Dale", featuring supercuts from Pitbull song videoclips where he says the line. As June 14th, 2015 the video has gained over 110,000 views. On January 28th, 2015, a thread about Pitbull featured the expression,[10] starting being used as shitposting and vertical posting measure during the following months.[6]
Miami Rap Star Pitbull
"Miami Rap Star Pitbull" is a catchphrase used as unrelated response on musical discussions, in similar vein to Nanomachines, Son, often accompanied with a picture of the artist (shown bellow).[7] The first registered instance on /mu/ can be found on a thread from April 19th, 2015 as a failed attempt of threadjacking it,[8] being used a day later as unrelated response to a post.[9]

Kodak
Kodak is an American technology company mostly known for its photographic film products, and associated to Pitbull for its infamous use on the lyrics of the song Give Me Everything, released on 2011 and featuring the artists Ne-Yo, Afrojack and Nayer. In the song, Pitbull uses the word "kodak" twice in order to make a rhyme (Yea right picture that with a kodak /Take a picture of me with a kodak), becoming a joke between his detractors and used as "proof" of his "low rhyming abilites". In June 2011, a Facebook group titled "Rhyming 'Kodak' with 'Kodak'? Absolute genius, Pitbull. Absolute genius" was created, gaining arround 150,000 likes in 4 years.[1] On December 30th, 2012 Urban Dictionary user revington submitted and entry for "Pitbull Rhyming", featuring "Rhyming a word in a song with the same word. Named after the singer Pitbull for his bad rhyming in songs.".[2]

RateYourMusic Raid
In late July of 2015, /mu/ begun to raid the site RateYourMusic, by giving the album Dale five stars, as well as reviews describing how perfect the album is. However, head admin sharifi soon removed all votes, and reviews.

Personal Life
Pitbull was born by Cuban expatriates in Miami, Florida, on 1981.
Search Interest
External References