About
Pizza Delivery Sivir refers to a series of photographs featuring Twitch streamer Zachary Scuderi (a.k.a. Sneaky on Twitch) cosplaying as the League of Legends character Sivir in a pizza delivery uniform.
Origin
On April 11th, 2018, Scuderi tweeted several photos of himself dressed as a female pizza delivery girl along with the caption "Pizza Delivery Sivir 🍕🍕🍕" (shown below). Within ten days, the tweet gained over 70,600 likes and 19,800 retweets.
Pizza Delivery Sivir 🍕🍕🍕
Photos by estherlynnhhj</a> <a href="https://t.co/uLvOA30j8R">pic.twitter.com/uLvOA30j8R</a></p>&mdash; Zach Scuderi (Sneaky) April 11, 2018
Spread
On April 12th, 2018, Redditor TheEvan97 posted one of the cosplay photos juxtaposed with special delivery instructions to "send your cutest delivery boy (shown below). Within eight days, the post gained over 1,350 points (87% upvoted) and 130 comments on /r/funny.[2]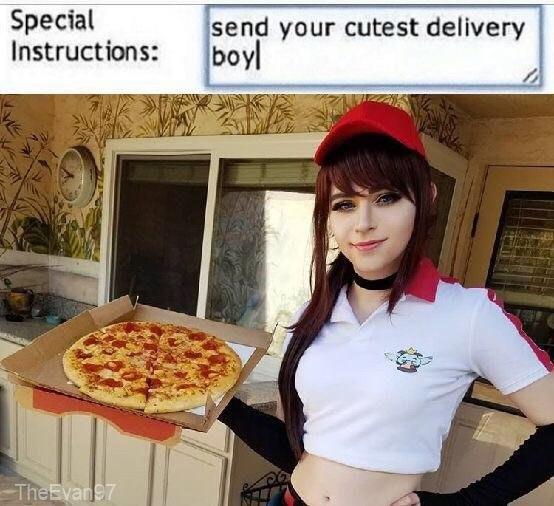 On April 14th, YouTuber RapBattle uploaded a clip of Twitch streamer Etika reacting to the Sivir cosplay photos (shown below).
On April 19th, Shadman tweeted an illustration based on the photographs (shown below). Within 24 hours, the tweet gained over 13,600 likes and 1,500 retweets.[3]

Search Interest
External References
Recent Videos
There are no videos currently available.