None Pizza With Left Beef / Special Delivery Instructions
About
None Pizza With Left Beef is a viral photograph of a Special Delivery Instructions meme, meaning photos of unusual pizza delivery requests which typically include pizza box illustrations or pizzas cut into a variety of shapes, showing a pizza with no toppings except for chunks of beef on the left side. The none pizza with left beef was originally posted to the humor blog The Sneeze, run by television producer and writer Steven Molaro, in October 2007 and went viral over the following years, inspiring further memes referencing the pizza.
Origin
On October 19th, 2007, the Internet humor blog The Sneeze[1] published an article titled "The Great Pizza Orientation Test," which featured screenshots of a custom pizza order testing to see if they would properly fulfill his requests (shown below).


Spread
Special Delivery Instructions
On January 17th, 2009, a special instructions photo was posted on the site Myconfinedspace[2] featuring a pizza cut into isosceles triangles (shown below).

On February 12th, 2010, Redditor jh99 submitted a post titled "Special Instructions" to the /r/pics[3] subreddit, which included a photo of a pizza cut into a pentagram (shown below, left). Prior to being archived, the post gained over 990 up votes and 150 comments. In the comments section,[4] Redditor nickiter submitted a photo of a pizza cut into concentric circles (shown below, right).


On January 10th, 2011, the viral content site BuzzFeed[9] posted a list of notable pizza delivery instructions photos. On June 14th, 2012, the Internet humor blog Smosh[7] highlighted 20 special instructions pizza box drawings. On July 7th, the "Pizza Instructions" Tumblr[5] blog was launched, which highlighted over 45 notable photographs of special instruction pizza orders in the first 13 months. On September 26th, the Internet humor blog The Chive[6] published a compilation of notable examples from the series. On February 14th, 2013, Redditor Xophishox submitted a post to the /r/AskReddit[8] subreddit asking pizza delivery drivers to share the weirdest delivery instructions they have received. Prior to being archived, the post accumulated upwards of 990 up votes and 1,190 comments.
Notable Examples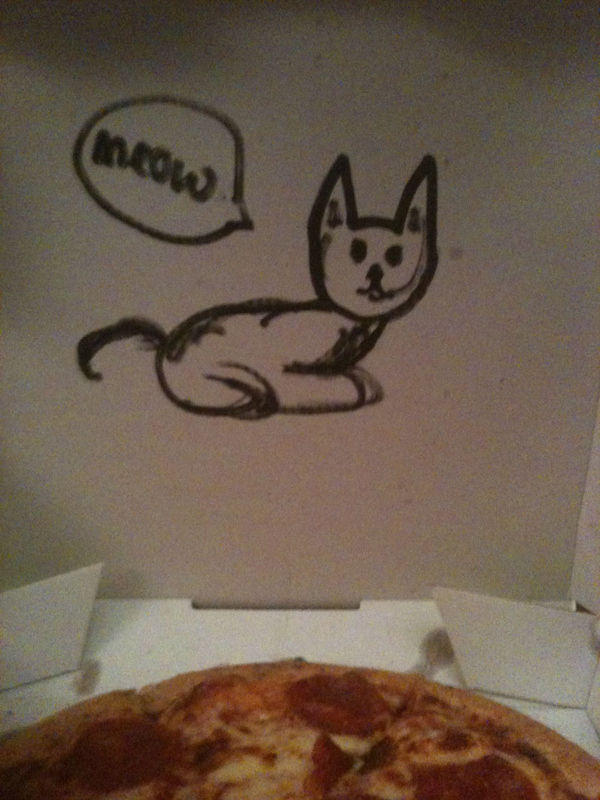 None Pizza with Left Beef
One of the most well-known variations of custom pizza topping instructions is "None Pizza with Left Beef," an order of a sauce-less, cheese-less pizza topped with beef only on the left side of the pie, which can be specified when using Domino's online delivery system. Since its introduction through The Sneeze's blog post in 2007, dozens of Tumblr bloggers[10] have ordered this bizarre creation and shared pictures online. The original order also went viral on the site, with one now-deleted repost gaining over 1.5 million notes.[11]






On April 7th, 2022, the Domino's pizza Twitter[12] page posted, "If you remember None Pizza Left Beef, it's time for an eye cream." In an October 2022 interview with Molaro by Rolling Stone[11], he claims he never ate the pizza and his wife ate the whole thing while he was uploading the photos online.
On June 29th, 2023, Twitter[13] user @WIFEMODER posted the none pizza with left beef image, writing, "i need you guys to know that the dude on tumblr who made 'none pizza left beef' went on to create Young Sheldon," garnering over 54,000 likes in five days (shown below). This is true, as Molaro is the co-creator of the series.

Search Interest
External References