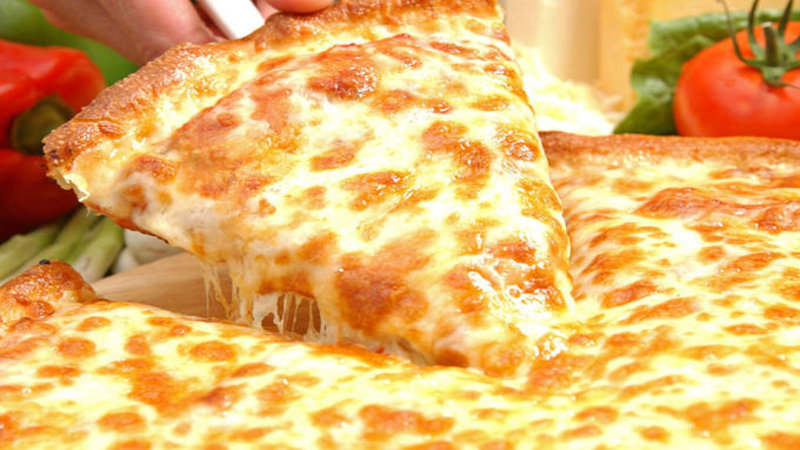 About
Pizza is an oven-baked flat bread typically topped with a tomato sauce, cheese and various toppings. Although already a widely popular food type worldwide due to its diversity, online, pizza has managed to gain a cult following similar to Bacon.
History
Foods similar to pizza have been made since the neolithic age. Although the word "pizza" was first documented in the Southern Italian town of Gaeta in 997 AD, the origins of the term are uncertain and the history of the dish has not been very well documented. The innovation that led to flat bread pizza was the use of tomato as a topping, after tomatoes were brought into Europe from the Americas in the 16th century. By the late 18th century, the dish gained popularity in the Italian town of Napels, soon becoming a tourist attraction for Napels.[1][2]
Online Presence
As of April 2014, the Facebook page[5] for pizza has over 33.4 million likes. The official page for Pizza Hut[6] has over 11.3 million likes and the official page for Dominos[7] has over 9.1 million likes. Many pizza chains allow costumers to order their pizza online such as Dominoes[8], Papa Johns[9] and Pizza Hut.[10]
Fandom
As of April 2014, there are over 120,000 fan art submissions for pizza on DeviantArt[3] and over 2,000 fan fiction submissions on Fanfiction.net.[4] Fan sites for pizza include the Fanpop[11] page for pizza. Viral content site Buzzfeed has created several posts dedicated to the pizza fandom including "What It's Like to Be Romantically Attracted to Pizza"[12] and "How Extreme Is Your Devotion to Pizza?"[13] Various types of handmade and vintage items related to pizza are also offered on the online shopping website Etsy.[14]



Related Memes
Special Delivery Instructions
Special Delivery Instructions are photos of unusual pizza delivery requests which typically include pizza box illustrations or pizzas cut into a variety of shapes.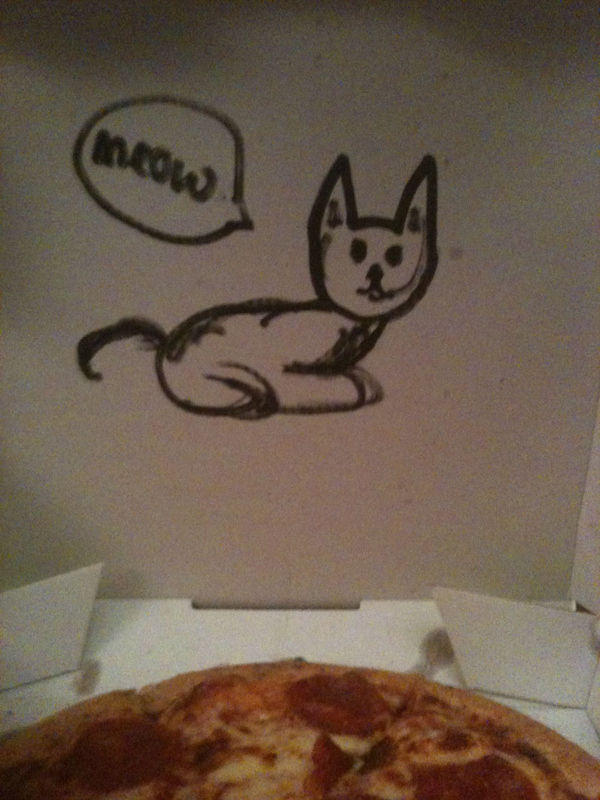 Pizza is a Vegetable
"Pizza is a Vegetable" is a satirical expression inspired by a spending bill passed by the U.S. Congress in November 2011, which bars the Department of Agriculture from changing the nutritional guidelines for public school lunches, such as raising the minimum amount of tomato paste on pizza to be counted as a serving of vegetables. The proposed bill became a target for mockery on the internet due to its bizarre nature, resulting in various parody images to be created in relation to it.

Random Acts of Pizza
Random Acts of Pizza is a sub-community on the social news website Reddit where users can ask to receive free pizza or volunteer to donate pizza to others in need under the slogan of "Restoring Faith in Humanity, One Slice at a Time." Since its creation in late 2010, the subreddit has been lauded as an example of Reddit's potential to encourage and foster altruism and generosity, and gained notable attention following the 2013 Boston Marathon Bombings when hundreds of users donated over 1,500 pizzas to the emergency centers and hospitals in the area.

Gimme Pizza
Gimme Pizza is the title of a rhyming singalong song featured in the 1995 film You're Invited to Mary Kate and Ashley's Sleepover Party (shown below, left), which features five little girls trying to create their ideal pizza by adding ridiculous toppings. The video experienced a resurgence in popularity in 2010 after a slowed down version was uploaded by YouTuber philipmserious (shown below, right), cut from a video titled "When does a dream become a nightmare?"[15] uploaded earlier that year.
P1ZZ4 GUY
P1ZZ4 GUY is an exploitable series based on a scene from the 2004 film Spider Man II during which a clueless passerby catches Peter Parker changing into his Spider-Man costume to make a pizza delivery in time, but confuses the sight as Spider-Man stealing a pizza alongside the phrase "Whoa! He stole that guy's pizza!" The short but memorable soundbite spawned over 300 derivative sites on YTMND as well as YTP movies on YouTube.

Pizza Hut Japan's "I Like Pizza" Commercial
Pizza Hut Commercial MADs / YTPMVs (Japanese: ピザガスキー, Pizagasukī; lit. "I like pizza") refer to a series of YouTube Poop Music Videos (YTPMVs) on YouTube and MAD videos on Nico Nico Douga (NND), which feature a Japanese TV commercial movie (TVCM )for an American restaurant chain and franchise Pizza Hut. It has been a slightly well-used visual resources for those parody videos on both of the video sharing services since 2010.
DiGiorno's Design-A-Pizza Kit
DiGiorno's Design-A-Pizza Kit is a promotional web application introduced by the DiGiorno brand of frozen pizzas in which users can create a custom arrangement of various toppings on a blank template of a cheese pizza pie. Upon its launch in June 2014, the website was raided by 4chan users with a series of design submissions that are visually evocative of well-known internet memes and pop culture references.



Pizza Rat
Pizza Rat is the nickname given to a rodent that became an overnight Internet sensation after it was spotted carrying down a slice of pizza down the stairs of a New York City subway platform in September 2015.

Search Interest
External References