Pufferfish Eating a Carrot
About
Pufferfish Eating a Carrot, also known as 🥕🐡 Augh and Funny Fish, refers to a viral video of a pufferfish being fed a carrot. Originally posted as a part of a video on Korean street food in July 2019, in November 2019 the clip gained popularity on iFunny, Instagram and Twitter, inspiring edits, "🥕🐡 augh" comment spam and other blowfish-related memes.
Origin
On July 25th, 2019, YouTube channel 야미보이 Yummyboy posted a video about Korean street food showing a blowfish (pufferfish) being carved.[1] According to the uploader[13] of the video, the chef feeds a carrot to the pufferfish prior to carving it to demonstrate the power of its bite. At one point, the fish regurgitates a piece of the carrot, producing an "augh" sound.
Warning: the video contains graphic content.
The clip did not see viral spread until on November 9th, 2019, Instagram user gooble.shnubgok posted a shitpost based on it, gaining over 2,800 views and 400 likes in eight days (post no longer available).[2] On the same day, iFunny user legionraidparty reposted the video, gaining over 2,200 smiles in the same period (shown below).[3]
Spread
Later on November 9th, iFunny user Forgiveness reposted the clip of the pufferfish eating the carrot to the platform, gaining over 3,200 smiles in nine days.[4] In the following days, the clip, "🥕🐡 augh" comments and pufferfish-related memes gained significant popularity on iFunny, with users referring to the fish simply as the "funny fish;" a reference an earlier blowfish meme[5] on the platform. For example, on November 12th, iFunny user frutnight posted the video of the pufferfish being killed and carved set to the Doom soundtrack, gaining over 2,200 smiles.[6] A November 14th Political Compass meme by Jacketfag received over 2,200 smiles.[7] A November 17th, Four Horsemen of the Apocalypse meme by Chungist comparing the pufferfish to the likes of Snail Eating a Cucumber and Dancing Cockroach received over 21,500 smiles in two days (shown below).[8]

Starting in mid-November 2019. the video received further spread outside of iFunny. On November 16th, 2019, Twitter user @ohnoitmatt posted the video, gaining over 7,800 retweets and 31,300 likes in three days.[9] A November 16th "STFU I'm Trying to" meme by Instagram user liloofxd.mp4 gained over 31,700 views and 10,500 likes in three days (shown below),[10] with an iFunny repost by slavz receiving over 26,400 smiles.[11] A November 17th Joker meme by Twitter user @mewtailv2 received over 2,600 retweets and 9,900 likes in one days.[12]
Various Examples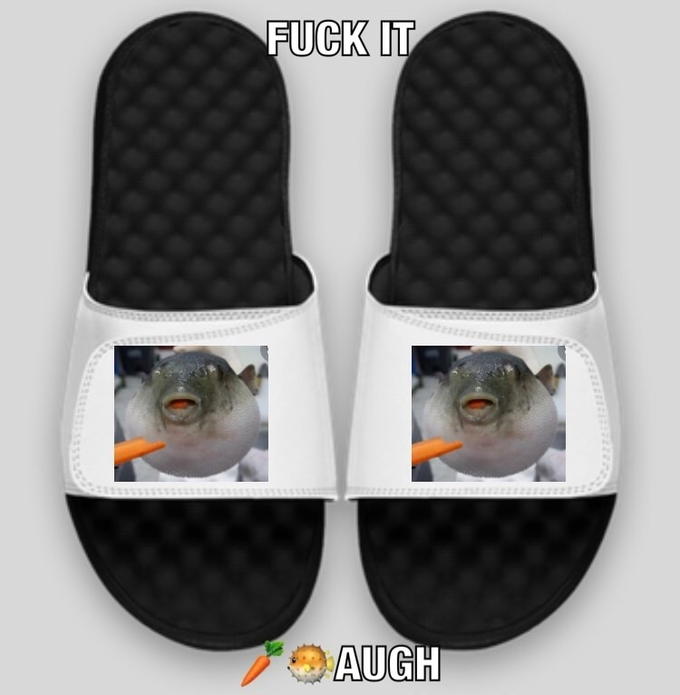 Search Interest
External References