2012 Republican Presidential Primary
This submission is currently being researched & evaluated!
You can help confirm this entry by contributing facts, media, and other evidence of notability and mutation.
This entry is a work in progress. Please request editorship!
---

Overview
The 2012 Republican Presidential Primary refers to the preliminary round of the Republican party's candidate selection process in the upcoming U.S. presidential election. The series of state caucuses and primaries began in Iowa on January 3rd, 2012 and ended in Utah on June 26th, 2012. The primaries were won by Mitt Romney, who became the GOP candidate for the presidential election.
Background
As the first major event in the process of candidate election for U.S. presidency, Iowa's party-run caucus, along with New Hampshire's state-run primary, traditionally marks the beginning of race for the nation's highest-ranking political office. In comparison to caucuses, state primary elections determine the number of delegates for each party's national convention rather than a particular person running for president. For the 2012 Republican primaries, there are 2,286 delegates; it takes 1,145 delegate votes to win.
Importance of Iowa & New Hampshire
Despite the relatively small scale of Iowa and New Hampshire constituencies, both states have played an influential role throughout presidential elections due to their front placement in the first weeks of January. As a result, the Iowa caucuses and New Hampshire primary have gained symbolic importance of taking the first election-related headlines as well as home to unexpected upsets in election history.
Notable Developments
Online Coverage
Just in time for the beginning of state caucuses and primaries in January, Google[6] launched a special Politics page to help readers get the latest updates, discuss issues and track candidates' popularity in conjunction with YouTube's official Politics channel that was launched earlier in December 2011.[7]


The Washington Post launched the Twitter account @MentionMachine[15] to provide real-time updates on the exit polls and data analysis, including a weekly counter of total number of Twitter mentions and news media mentions attributed to each candidate in the race.
January 3rd: Caucus in Iowa
Weeks prior to the Iowa caucus, former U.S. House speaker Newt Gingrich's lead in the polls quickly took a downturn while libertarian candidate Ron Paul enjoyed an upswing after launching an aggressive TV ad campaign against Gingrich's apparently flip-flops on several issues including abortion. Former Massachusetts governor Mitt Romney also fueled the criticisms against Gingrich indirectly through negative advertisements sponsored by super political action committees (PACs), according to the blog Real Clear Politics.[3]
Controversy over The Atlantic Column
On December 9th, 2011, University of Iowa professor Stephen G. Bloom published a column article on The Atlantic[4] titled "Observations From 20 Years of Iowa Life" in which he questioned the importance of Iowa's state caucus, citing the state's dominantly white, Christian population as unrepresentative of the rest of country:
Iowa's not representative of much… Still, thanks to a host of nonsensical political precedents, whoever wins the Iowa Caucuses in January will very likely have a 50 percent chance of being elected president 11 months later. Go figure.
The article was met by heavy criticisms from various conservative and traditionalist bloggers and columnists, sparking a lengthy debate with 1827 readers' comments as well as death threats from angry readers. In response to Bloom's column, YouTuber IowaFilmmakers posted a video titled "Iowa Nice" on January 2nd, 2012:
Anonymous Hacking Threats
On November 3rd, 2011, a video clip purported as an Anonymous communique titled "#OpESR – Occupy Iowa Caucuses" was uploaded onto YouTube, which called on hacktivists and Occupy movement sympathizers to "peacefully shut down" Iowa's caucuses scheduled to be held on January 3rd, 2012. According to the Daily Mail,[5] The uploader of the video was soon revealed as Clarke Davidson, former Occupy Des Moines activist who claimed a group of masked men left it outside his tent near the site of protest in early November 2011.
Ron Paul's Online Popularity
According to the social metrics analysis firm Sociagility's report[11], congressman Ron Paul is in the most favorable position among Republican candidates on Facebook with the highest level of reach based on its PRINT (Popularity, Receptiveness, Interaction, Network and Trust) index, a set of popularity and influence indicators used for analysis. A similar report was released by analytics service Socialbakers.[12]


Turnout Analysis
Originally, it was reported that the Iowa caucus ended with a win for Mitt Romney. Romney had beaten Rick Santorum by a margin of 8 votes, 30,015 to 30,007, which would make it the closest GOP primary election in U.S. history.[9] However, due to multiple precincts reporting counting errors, a recount was taken. The results of the recount were revealed on January 19th, over two weeks after the caucus, and ultimately declared Rick Santorum the winner by 34 votes, 29,839 to 29,805.[18] Ron Paul placed third with 26,036 votes. Meanwhile on Twitter, #IAcaucus emerged as a trending hashtag on the day of caucuses in Iowa.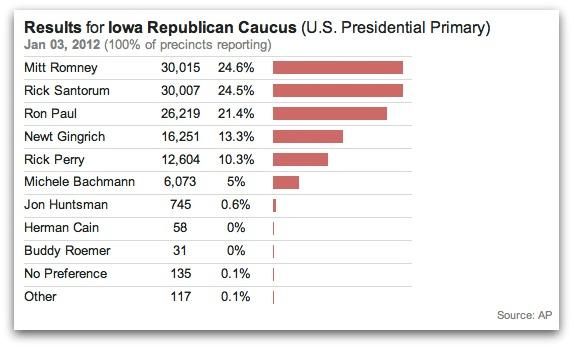 According to Mashable and GlobalPoint's analysis[13] of candidate mentions on Twitter, Rick Santorum was the most frequently mentioned candidate on the microblogging service during the day of caucus, further indicating his large supporter base in Iowa.
January 10th: New Hampshire Primary
During the weekend right before Tuesday's primary in New Hampshire, two Internet-centric presidential debates were held in joint partnerships between ABC News / Yahoo and NBC / Facebook Debate. In teaming up with Facebook, NBC drew from over 3,000 user-submitted questions and real-time questions posted by users through Facebook status updates.
Turnout Analysis
The results of New Hampshire primary projected yet another victory for Mitt Romney, who won over 39% of the total votes; Ron Paul came in second with a significant margin at 22% of the votes. Similar to the turnout in Iowa, Paul picked up nearly half of total voters under the age of 30 in New Hampshire, solidifying his strong lead among the young conservatives.

According to Edison's exit polls, an estimated 250,000 voters cast their choices in New Hampshire, up from 241,000 voters in the 2008 presidential election. In addition, Facebook analytics firm Nanigans[15] reported that the poll results in New Hampshire were closely aligned with each candidate's level of presence on the social networking site. As the primary's projected results began to emerge on Tuesday night, Ron Paul's campaign chairman Jesse Benton released a statement urging other opponents in the race to drop out and unite behind Paul's candidacy against the frontrunner Mitt Romney.
Ron Paul and Mitt Romney are the only two candidates who can run a full, national campaign, competing in state after state over the coming weeks and months. Ron Paul's fundraising numbers -- over $13 million this quarter -- also prove he will be able to compete with Mitt Romney. No other candidate can do all of these things.
Following Ron Paul's second place victory speech in New Hampshire, BuzzFeed[17] posted an article drawing attention to an exceptionally tall man whose torso had been caught on camera on numerous occasions during Paul's recent speeches on the campaign trail.



January 12th: Stephen Colbert
Stephen Colbert, host of the Comedy Central satirical television show The Colbert Report, hinted that he would be considering running for "president of the United States of South Carolina" during his show on January 12th. Afterwards, he transferred control of his political fundraising organization to the host of The Daily Show John Stewart. The following day, The Guardian[17] reported about the possible reasoning behind the action.
The move potentially paves the way for Colbert to enter the Republican presidential primary in South Carolina, his home state. Campaigning politicians are prohibited from simultaneously running super PACs, or political action committees.
January 31st: Florida Primary
In anticipation of the January 31st Florida primary election, Tumblr[22] released two infographics, the first rating the number of times each candidate appeared in posts and the second showing tags frequently associated with each candidate. The results showed Rick Perry mentions increasing sharply after his campaign ad was released on December 6th which inspired the "Rick Perry unpopular opinions" image series.


On January 31st, the American Research Group[21] posted survey results for the night's primary election in Florida. The survey showed Mitt Romney in the lead with 43%, followed by Newt Gingrich with 31%, Rick Santorum with 13%, and Ron Paul with 9%.
The same day, Mashable[19] published data collected by the social media analysis company Fizziology[20] to compare with the American Research Group poll results. The data revealed that Mitt Romney was leading in social chatter with 139,886 relevant mentioned followed by Gingrich at a close second with 137,122 mentions. While Santorum trailed behind with only 31,173 mentions, sentiment related to the former Pennsylvania representative rose significantly compared to that of the other candidates.

March 6th: Super Tuesday
researching; request editorship
#IWantRepeal Campaign
With the U.S. Supreme Court's ruling on President Obama's health care law less than a month away, National Republican Congressional Committee (NRCC) unveiled a social media campaign using the hashtag #IWantRepeal on June 7th, 2012. The campaign was launched in the form of single topic blogs on Twitter and Tumblr[23], where people could submit their signatures with the hashtag and see their names printed onto paper petitions in real time via Ustream. The group also released a quick-paced YouTube video with instructions to participate in the hashtag campaign.
At first, the hashtag campaign against the healthcare bill seemed to be taking off with valid signatures, but shortly after its launch, the political news blog Wonkette[24] published an article titled "Everyone Must Spam GOP's Anti-Healthcare Reform Livestream Thing Immediately," which apparently inspired its readers to visit the NRCC's blog and spam the printer with irreverent signatures. Soon enough, the petition came under the invasion of trolls who sought to derail its message by submitting fake signatures, which were then printed onto the paper and streamed in real time.






Among those delighted by the influx of trolls was the Obama reelection campaign's digital director Teddy Goff, who tweeted a link to the NRCC campaign blog with the following message:
Everyone on the internet needs to be watching this right now: iwantrepeal.tumblr.com/livestream

— Teddy Goff (@teddygoff) June 7, 2012
According to various witness accounts, the trolls managed to flood the printer with their submissions for approximately 10 minutes before it came to a halt with the anticlimactic signature "Bruce Dackler."
Following the conclusion of the livecast, the story was picked up by internet news sites like Wired[25], Gawker and BuzzFeed[26], as well as blogs and discussion forums such as The Democratic Underground[27], BarStoolSports Forum[28] and GameFAQ[29] among others. Later that weekend on June 9th, Mashable[30] published an article with an official response from the NRCC's digital director Gerrit Lansing, who stated that the sabotage attempt was expected to a certain level before the campaign's launch and despite its hiccup, the group expected a net gain of at least 4,000 valid e-mail addresses to their mailing list.
Candidate Search Trends
Google's Politics Insights[10] provides an up-to-date search interest comparison of all candidates:
External References