This submission is currently being researched & evaluated!
You can help confirm this entry by contributing facts, media, and other evidence of notability and mutation.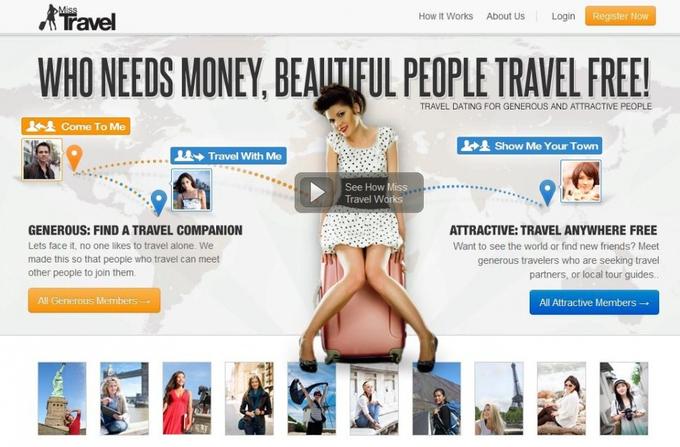 About
Miss Travel is a dating website that pairs wealthy men with attractive women who wish to travel for free. The website became a controversial subject of online debate over its legality and appropriateness upon launching in April 2012.
History
On April 10th, 2012, the Miss Travel Vimeo account uploaded a promotional video for its upcoming dating site.[1] In the video, a narrator explains that wealthy men are willing to pay to travel with attractive women around the world. The video remained dormant for nearly two weeks before receiving its first views with the site launch.
On April 24th, 2012, the website MissTravel.com was officially launched by founder and CEO Brandon Wade[6], a web entrepreneur who had previously created the controversial "sugar daddy" dating sites SeekingArrangement.com, SeekingMillionaire.com and WhatsYourPrice.com. Wade's sites typically set up young women with wealthy men, who provide money and gifts in exchange for their company. The video ignited an online discussion regarding the ethical implications of these kinds of dating services. Many compared Wade's sites to a form of legalized prostitution, while others defended the web entrepreneur's business, arguing that it did not break any laws.
News Media Coverage
On April 23rd, 2012, the tech blog Beta Beat[14] published an article about the site, but did not include the Vimeo video. The following day, the women's interest blog Jezebel[2] published an article titled "The Dating Website Where Rich People Take Pretty People on Fancy Vacations", which criticized the service for putting women in dangerous situations. On April 25th, Gawker[7] writer Neetzan Zimmerman published an article titled "Have Beauty, Will Travel: Website Matches Attractive Women With "Generous" Travel Companions", which brought attention to Miss Travel founder Brandon Wade's other "sugar daddy" dating sites. The same day, the story was covered by The Huffington Post[3], Venture Beat[4], ABC News[10], CNN[11] and MSNBC.[12]
Online Reaction
On April 24th, 2012, Redditor endscene submitted the video to the /r/videos[5] subreddit in a post titled "Are you fucking kidding me? This is real", which reached the front page receiving over 13,800 up votes within 24 hours. One of the top comments was submitted by Redditor Zuken, who joked that the service "sounds like a good way to get put in a sex traffic operation." On April 25th, the video was submitted to the Internet humor site BuzzFeed[8] by user Perez with the description "So, basically, you whore yourself out for plane tickets?" The same day, the Tosh.0 blog[9] reblogged the video and joked about the dangerous scenarios that could occur as a result of using the service.
Search Interest
External References