How To Start A Conversation With A Girl
This submission is currently being researched & evaluated!
You can help confirm this entry by contributing facts, media, and other evidence of notability and mutation.
About
How to start a conversation with a girl is an exploitable picture supposedly showing advice on how to properly greet a girl in online chats. The common "hi" greeting is always marked as wrong while the right answer contains various catchphrases, pop culture references or other memes in order to parody serious online pick up tutorials.
Origin
While it's difficult to find the first template starting the trend, meme cataloguing website Sizzle posted a picture sourced on August 22nd, 2016, titled "How to start a conversation with a girl,"[1] of a screenshot from an online chat in which "hi" is marked as a wrong answer in how to approach a girl online while the good answer is a reference to the Aaaaaa meme. However, the Facebook post Sizzle sourced to has been removed, meaning that it may have existed prior. Another image, this time referencing the Lego Star Wars videogames (shown below, right), links back to a working Facebook post[2], dating back to August 22nd as well. It may be the earliest online trace of the meme which garnered, as of January 2017, more than 1,900 likes and 1,100 shares.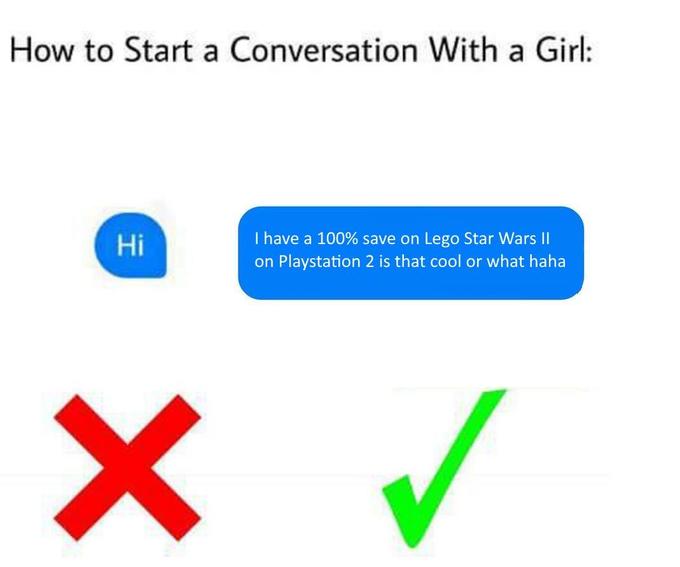 Spread
Sizzle alone lists more than 100 variations on the meme, gathered from different social media posts from Instagram, to Twitter and Facebook[3] in different languages. On August 25th, 2016, the Dank Meme Plug twitter account uploaded a derivative image referencing the Lighting McQueen's Ka-Chow meme[6], gaining more than 4,200 retweets and more than 6,300 likes as of January 2017. Several Twitter users responded to the tweet by posting alleged screenshots of their attempts at using the catchphrase in online chats.
On September 4th, the Meme Reviewer website posted an article about the meme, noting its "freshness"[4] and giving it a 7.5/10 mark.
On October 15th, Imgur user sarachi uploaded several anti-meme pictures, including How To Start A Conversation With A Girl [5](shown below). It accumulated to over 350 000 views in the next four months.

Various Examples






Search Trend
External References
Recent Videos
There are no videos currently available.