This submission is currently being researched & evaluated!
You can help confirm this entry by contributing facts, media, and other evidence of notability and mutation.
About
"Ghosting" is the practice of terminating a romantic relationship by ceasing all forms of communication and real-life interaction with another person. While the term may convey different meanings in various situations, it is most commonly used to describe the act of unilaterally breaking up with someone by being completely nonresponsive in the context of casual online dating.
Origin
On August 29th, 2006, Urban Dictionary[1] user pfidr34 submitted an entry for "ghosting," defining it as "the act of disappearing on your friends without notice."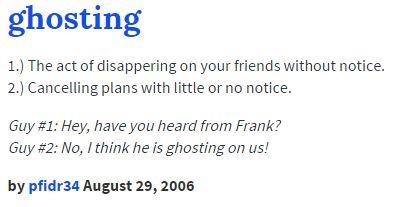 Etymology
Prior to its popular usage in the context of dating life, the term also carries several different meanings that are far more technical in nature. In the context of identity theft, ghosting is the practice of assuming the identity of a deceased person.[19] In online gaming, ghosting refers to collaborating with an accomplice using a game's observer mode to view opponents positions in order to gain a competitive edge.[20] In the context of military incarceration, the term ghosting refers to holding unregistered prisoners to conceal their identity.[21] In online community management, comment ghosting is the practice of marking comments invisible to everyone but the original poster.[22] In photography, ghosting can refer an effect that produces semi-transparent objects in a stitched panorama image. In analog television broadcasting, ghosting is the effect of a replicated image offset and superimposed on top of the original, typically caused by receiving a distorted or multipath input signal.
Spread
On November 27th, 2013, Urban Dictionary[2] user Ghostface Illa submitted an entry for "ghosting," which defined the term as "a way to break up with someone by ending all contact." On March 24th, 2014, the dating blog The Date Report[6] published an article titled "And Then I Never Heard From Him Again: The Awful Rise of Ghosting," which speculated that the advents of online matchmaking services like Tinder and OKCupid may be responsible for the growing phenomenon of "ghosting" in casual relationships. On the next day, The Daily Dot[5] published an article titled "Are dating apps to blame for 'ghosting'?" On June 26th, 2015, The New York Times[3] published an article about breaking up with a romantic partner via ghosting. On July 2nd, The Daily Dot[4] published an article defending the practice of ghosting in certain circumstances. On July 22nd, The Independent[7] published an article titled "Ghosting: what to do if you've been a victim," describing how to deal with being ignored by a love interest.
2014 YouGov Poll
On October 28th, the market research firm YouGov[23] published a poll results regarding the ghosting behavior of 1000 United States adults, revealing that over 10% have used ghosting to end a relationship. Additionally, the poll results compared the ghosting habits of men and women, finding that roughly 24% of women admitted to have ghosted while 16% of men admitted to the practice (shown below).

Search Interest
External References
Recent Videos
There are no videos currently available.