About
OkCupid is a free dating website that pairs registered members based on their compatibility score determined through a series of survey questions. The site includes a public forum, instant messaging system and an official blog analyzing statistics from various user interactions.
History
Harvard University students Chris Coyne, Christian Rudder, Sam Yagan and Max Krohn launched the literary website TheSpark[10] on January 7th, 1999. The site included a beta app called "SparkMatch", which allowed registered users to take a "Match Test" and search for and other users to contact. Their main project eventually became known as the educational study guide website SparkNotes[1], which was sold to the company iTurf Inc. in 2000 and subsequently purchased by Barnes & Noble in 2001. Following their success with SparkNotes, the founders continued to work on SparkMatch, eventually changing its name to OkCupid before launching the site on March 4th, 2004.

InterActiveCorp Acquisition
On February 2nd, 2011, the company InterActiveCorp (IAC), owners of the competing dating site Match.com, announced in a press release[15] that they had acquired OkCupid for $50 million in cash. The same day, an OkCupid blog post criticizing the dating sites Match.com and eHarmony was removed from the site. In an interview with The Observer[16], OkCupid CEO Sam Yagan claimed they were not asked by Match.com to remove the post but that it seemed like the "common sense thing to do."
Features
Anyone over the age of 18 may join the site and begin searching for other members based on various criteria including location, age, relationship status and "match %." Members can obtain the "A-list" status by paying a monthly fee, which allows them to bypass all advertising and provides several more filtering options. When browsing other user profiles, free-of-charge members' names remain visible to the profile owners, while A-list members can elect to browse anonymously.
CrazyBlindDate
On November 6th, 2007, OkCupid launched the website CrazyBlindDate[13] for users in Boston, New York City and San Francisco. The dating site used used an algorithm to match users based on simple personal questions and set up dates for them. In April of 2010, Time Out[14] reported that the site was taken down for construction.

OkTrends Blog
On July 7th, 2009, OkCupid launched the OkTrends blog, which analyzed and graphed data received from its registered users. Based on their answers to survey questions, the blog described how people from different races, ethnicities, geographic locations and socio-economic status viewed political, ethical, romantic and other issues.

Online Presence
On November 17th, 2009, the /r/OkCupid[11] subreddit was created for Redditors to share profile critiques, dating experiences and relevant media. As of July 30th, 2012, the OkCupid Facebook[18] has received over 11,000 likes and the OkCupid Twitter[19] account has gained more than 17,000 followers.
Single Topic Blogs
There are several active Tumblr blogs with themes and commentaries related to the dating site, including This is Not Ok, Cupid[7], It's Not OK, OKCupid,[23] Ok Cupid Kill Me,[8] Hell is OKCupid,[24] Terrible OKCupid Messages,[25] OK Stupid,[26]The Worst of OKCupid[27] and Fuck No Ok Cupid.[9] On February 17th, 2012, the Goths on OKCupid Tumblr[21]was launched, curating profile images of people who identify themselves with the goth subculture and its style of fashion. (shown below, left). On May 24th, the "Juggalos on OKCupid" Tumblr[22] was created, featuring OK Cupid profile photos of those identified as Insane Clown Posse fans (shown below, right).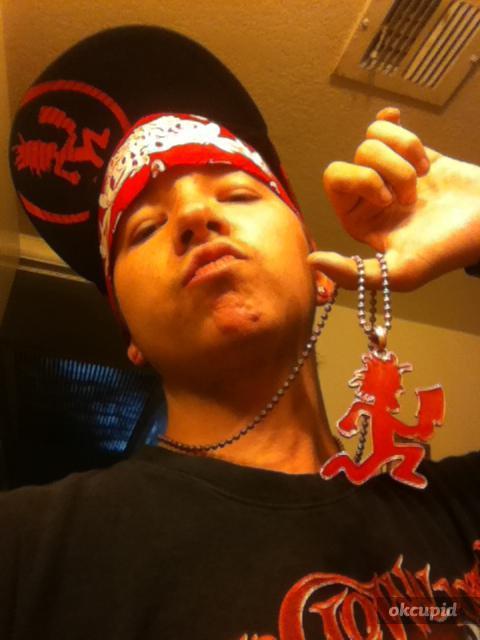 On May 31st, the Tumblr[6] blog "OkCupid Enemies" was launched to showcase photos of OkCupid members alongside screenshots of humorous quotes taken from their profile description. The first post included a photo of a man giving the camera his middle finger, captioned with an excerpt from his profile description which read, "…when I was 17 I had a seizure and died it wasn't very fun" (shown below, left). On July 24th, the "Fedoras of OkCupid" Tumblr[20] was created, which quickly gained traction for openly shaming men who wear fedoras in their dating site profile pictures (shown below, right).


Nice Guys of OKCupid
On December 16th, 2012, the "'Nice Guys' of OKCupid" Tumblr[28] was launched to expose the hypocrisy behind some of the male users who claim to be "nice guys" by juxtaposing their profile photos with contradictory and sometimes even misogynistic statements found in their self-descriptions (shown below).


On December 19th, 2012, the women's interest blog Jezebel[29] published an article titled "Meet the So-Called Nice Guys of OKCupid," which noted that some Tumblr users were misinterpreting the point of the blog and were commenting on the posts with comments like "this is literally me." The same day, the Internet humor site BuzzFeed[30] published a post titled "Nice Guys On OKCupid Are The Worst," highlighting several notable examples from the Tumblr blog. On December 20th, "Nice Guys of OKCupid" was lauded by the feminist blog Feministing[31] and NY Mag.[32]
Highlights
Alyssa Bereznak's Gizmodo Article
Alyssa Bereznak's Gizmodo Article was an article published in August of 2011 to the tech news blog Gizmodo, which featured intern Alyssa Bereznak's OkCupid date with the world champion Magic: The Gathering player Jon Finkel. In the article, Bereznak insulted Finkel for playing the card game and revealed that she would not have dated him if she were aware of the hobby beforehand. After the story was submitted to Reddit, Bereznak was inundated with attacks from various Redditors and Finkel participated in an "ask me anything" thread on the social news website.



Body Type & Attractiveness Filters
In early 2013, OKCupid implemented a new premium feature enabling its users to filter out their potential dates by body type (ranging from thin, fit and average to jacked, curvy and full figured) as well as a five-star scoring system. While the filter options had been available for premium users of the site for some time, the features began drawing attention shortly after Mashable ran an article titled "OKCupid Charges $4.95 to Filter by Body Type"[34] on October 2nd, 2013.


That same day, Mashable's report was immediately picked up by mainstream and internet news outlets alike, from Gawker[36], The Daily Dot[38] and Slate[37] to The Daily Mail[41], TIME[40] and ABC News[39], with many of them raising skepticism as to the accuracy of the crowdsourced filter system. In response to the news coverage, OKCupid's spokesperson promptly issued a statement via Mashable clarifying the company's decision to reserve the filter options for premium site users:
"We have some features reserved for paying users because things will disproportionately be driven to certain people otherwise," the spokesperson said. "If everyone could sort through attractiveness -- which is crowdsourced by users on the site -- only very attractive people would get attention."
Mozilla Firefox Boycott
On March 31st, 2014, OKCupid began displaying a full-page plea asking its Mozilla Firefox browser users to switch to another browser in a boycott protest against Javascript creator and Mozilla's newly appointed CEO Brendan Eich, who has publicly supported and donated the Proposition 8, a controversial bill that put an end to gay marriage in the state of California.

OKCupid's public shaming, which came days after several employees of the company asked the CEO to step down via Twitter, quickly spread across the tech news blogosphere while Eich came under the scrutiny of the Internet blogosphere and social media, spawning hashtags like #boycottmozilla and #boycottfirefox.


In response to the backlash, Eich issued a statement on his blog reassuring people that he will take a series of measures to create an inviting environment for everyone. Then on April 3rd, Mozilla Executive Chairwoman Mitchell Baker announced the departure of Brendan Eich from the nonprofit organization and its foundation board. Eich's resignation was largely welcomed by the tech news blogs as a small triumph for equal rights in online communities, while some conservatives on Twitter shot back with accusations of intolerance against family values.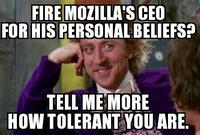 Traffic
As of July 27th, 2012, OkCupid.com has a Quantcast[3] rank of 394, an Alexa[4] rank of 211 and a Compete[5] rank of 1,828. Compete reported that the site received over 1 million unique visitors in the United States in June of 2012.

Search Interest
External References