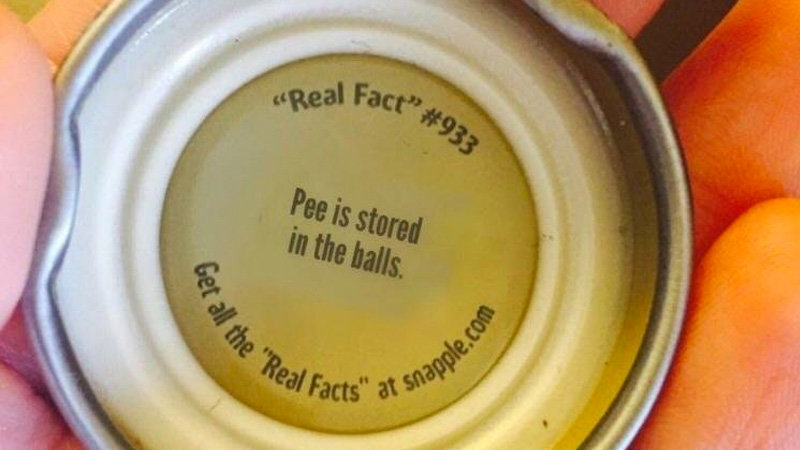 Snapple Facts "Real Fact"
This submission is currently being researched & evaluated!
You can help confirm this entry by contributing facts, media, and other evidence of notability and mutation.
About
Snapple Fact "Real Fact" refers to a series of photoshop parodies of Snapple's "real fact" bottle cap campaign. Instead of the questionably true "facts" found underneath the bottle cap of Snapple drinks, people online have replaced them with something offensive or absurd.
Origin
In 2002, Snapple introduced "real facts" underneath the bottle cap of the drink as a way to "amaze and amuse" customers.[1]
The picture featuring "Real Fact" 933 comes from the blog Zully's World.[2] The picture was published on June 16th, 2015, and the original fact (shown below) reads, "A crocodile can't stick out its tongue."

Spread
Two years later, on October 22nd, 2017, Redditor [3] RazorJakeNWO posted the same picture with the "Real Fact" edited to read, "Pee is stored in the balls" on the /r/dankmemes subreddit. The post (shown below) received more than 2,000 points (97% upvoted) and 40 comments in less than 24 hours. Shortly after, Redditor[4] esc_life shared the picture on /r/MemeEconomy [4] subreddit, where it received more than 140 points (99% upvoted) in 14 hours.

Following the popularity of RazorJakeNWO's post, other Redditors shared variations on /r/dankmemes (examples below). Additionally, Redditor LordGreyzag made a follow-up post about it's popularity on the /r/MemeEconomy[5] subreddit.
Various Examples






Search Interest
Not available.
External References
Recent Videos
There are no videos currently available.