This submission is currently being researched & evaluated!
You can help confirm this entry by contributing facts, media, and other evidence of notability and mutation.

About
Full House is an American sitcom that follows the story of a father as he raises his three daughters with the help of his best friend and his brother-in-law after the death of his wife. The series premiered on ABC on September 22nd,1987, and concluded after eight seasons on May 23rd, 1995. Helped in part by '90s nostalgia on the web and the long-running syndication of the show on cable networks, Full House continues to remain culturally relevant into the 2010s.
History
Full House was created by Jeff Franklin.[1] The series concluded its run in 1995, but ran in syndication on ABC Family from 2003 to 2013 and on Nick at Nite from 2003 to 2009.
Premise
Danny Tanner invites his best friend from childhood, Joey, and his late wife's brother, Jesse, to move in with him to help him raise his three young daughters, DJ, Stephanie, and Michelle. As the children grow up their family expands as Jesse marries and has his own two children, though his new family lives in the Tanner house as well.
Series Spinoff
April 20th, 2015, John Stamos, who played Uncle Jesse on the original Full House series, announced on the Jimmy Kimmel Show that streaming video service Netflix had signed on to produce 13 episodes of a spinoff.
According to trade publication Variety,[13] the show will be called Fuller House and will revolve around the new family of DJ Tanner, revived by the original actress Candace Cameron Bure, and her new family. Some characters, like Stephanie Tanner, Kimmy Gibbler, and Uncle Jesse will be featured. Conversations were ongoing with many actors, including the Olsen Twins and Bob Saget, over whether they would reprise their original roles in the series.
Reception
Full House was nominated for many awards during its eight season run including two Kids' Choice Awards and 23 Young Artist Awards. Its most watched season was its fifth, running from 1991 to 1992, with an average viewership of over 15 million households.
Online Presence
As of February 2014 Full House's Facebook page[2] has over 4.3 million likes.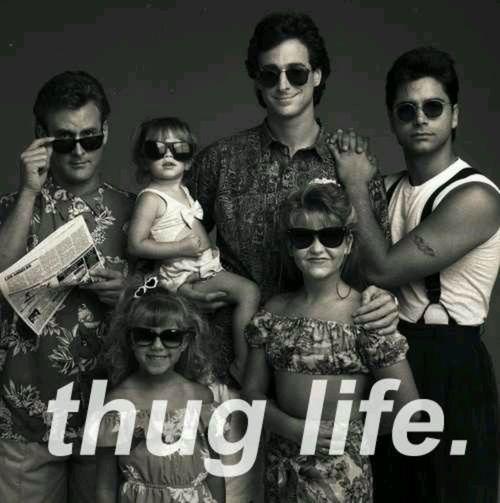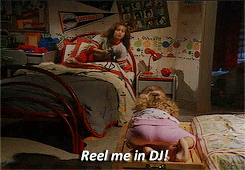 Fandom
Popular Tumblr blogs dedicated to the show include love-fullhouse[10], fyeahfullhouse[11], and afullhouse.[12]
Tom Hanks Full House Poetry
On October 23rd, 2012, Late Night With Jimmy Fallon uploaded a video of actor Tom Hanks reading a slam poem based on Full House he read on the show. As of February 2014, the video has over 2.2 million views.
Reunion Rumors
25th Anniversary Reunion
On September 22nd, 2012, the cast of Full House (except Mary-Kate and Ashley Olsen, who shared the role of the youngest daughter) met up in LA for the show's 25th Anniversary. Actress Andrea Barber, who played Kimmy, the Tanner's neighbor, tweeted a photo from the reunion featuring Candace John Stamos, Cameron Bure , Lori Loughlin, Jodie Sweetin, Scott Weinger, and Dave Coulier.[7] Many sites such as Buzzfeed[8] and People[9] reported on the reunion.
Love my Full House family. Full heart. candacecbure @bobsaget @DaveCoulier @JohnStamos @JodieTweetin @ScottWeinger pic.twitter.com/IGb8DvG3</p>&mdash; Andrea Barber (andreabarber) May 26, 2011
Jesse and the Rippers Reunion
On July 19th, 2013, the fictional band lead by John Stamos' character Jesse on Full House, Jesse and the Rippers, reunited to perform on Late Night with Jimmy Fallon. After performing a medley of songs including the Full House theme song, actress Lori Loughlin, who played Stamos' wife on the show, appeared to give him a kiss. A video of their performance was uploaded to Late Night with Jimmy Fallon's YouTube channel that day, and as of February 2014, it has over 3 millions views.
Jimmy Fallon Reunion
On January 29th, 2014, the three male leads from the show, John Stamos, Dave Coulier, and Bob Saget, appeared on Late Night With Jimmy Fallon to perform a skit dressed as their Full House characters in a recreation of the show's youngest daughter's bedroom (with Fallon filling that role). It was uploaded to the show's YouTube channel[3] that day and as of February 2014, it has over 8.2 millions views.
Related Memes
Dave Coulier a Day
On November 21st, 2011, the Tumblr blog Same Pic of Dave Coulier[4] was created. The blog features the same picture of Coulier, who played Joey, in one of the very loud sweaters he often wore on Full House uploaded every day. The Tumblr was covered in posts by Cracked[5] and Buzzfeed.[6]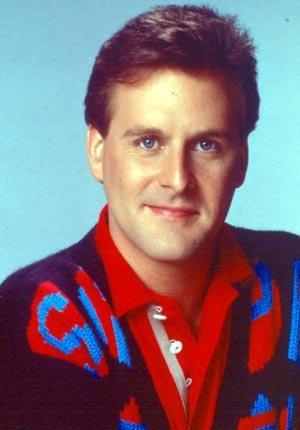 Search Interest
External References