Keeping Up with the Kardashians
This submission is currently being researched & evaluated!
You can help confirm this entry by contributing facts, media, and other evidence of notability and mutation.

About
Keeping Up with the Kardashians is a reality television show on E! Entertainment Network that focuses on the lives of three sisters: Kim Kardashian West, Khloe Kardashian, and Kourtney Kardashian. The show follows the sisters as they go about their daily lives, which include interacting with their large extended family, who include: Rob Kardashian, Kendall Jenner, Kylie Jenner, Kris Jenner, Caitlyn Jenner, Kanye West, Scott Disick, and, as time goes on, the family's youngest generation.
The show has received a large quantity of criticism for its low quality and positive depictions of shameful behavior. However, since its first airing, the series has maintained a high amount of viewership, with season premieres receiving between 1.3 million and 4.5 million viewers.
History
The Kardashians are a wealthy family from Beverley Hills, California. Robert Kardashian, the deceased father of Kim, Khloe, Kourtney, and Rob, and the husband of Kris Jenner, was a famous lawyer in Los Angeles, known for representing celebrities, including O.J. Simpson in his 1990s murder trial. As of 2015, the Kardashian family is thought to have a collective net worth of more than $100 million.[3]
In 2004, Kim Kardashian became a stylist to various celebrities, including becoming the personal shopper and stylist to Lindsey Lohan. She also became romantically involved with several celebrity men, including Nick Lachey of the boy band 98 Degrees and more famously the rapper Ray J. A home sex tape between Kardashian and Ray J leaked in 2007, and was purchased and released by Vivid Entertainment – Kardashian later settled out of court for over $5 million dollars with Vivid over the rights to the tape, but not before it had been downloaded and viewed millions of times.[2] In 2015, Vivid Entertainment claimed that the tape was the best selling celebrity sex tape of all time, and Pornhub claimed that it had been downloaded more than 93 million times.[4][5]
Soon after the release of the tape, Kim Kardashian entered talks with Ryan Seacrest and E! Entertainment Network to launch the reality television series "Keeping Up With the Kardashians."
Cast

The series began by focusing on the lives of the four children of Kris Jenner by her first marriage to Robert Kardashian: Kim Kardashian West, Rob Kardashian, Khloe Kardashian, and Kourtney Kardashian. The three sisters own a boutique called D-A-S-H, and launch several clothing lines, handbags, and fragrances throughout the series.[2]
As the series has progressed, Jenner's children by her second marriage to Caitlyn Jenner (then known as Bruce) also became characters on the show: Kendall Jenner, Kylie Jenner, Brody Jenner, and Brandon Jenner. Kendall and Kylie, who are now in their late teens, have both launched careers in modeling during their time on the show.
Caitlyn Jenner, formerly known as Bruce Jenner, is also a recurring character on the show, which has followed her transition from male to female and its effects on her family. Other recurring characters include Scott Disick, Kourtney's boyfriend, and Leah Jenner, Brandon's wife. Other members of the family occasionally include their love interests as well, notably Kim's previous marriage to Kris Humpries and Khloé's tempestuous relationship with basketball player Lamar Odom.
Impact
By placing themselves and their families in the public eye for ten consecutive seasons, the Kardashian/Jenner clan has reaped substantial financial and career benefits, including many brand sponsorships, product endorsements, and other cultural appearances.
Spinoffs
Several characters on the show have received spinoffs. These shows include the location based series Kourtney and Kim Take Miami, Kourtney and Kim Take New York, and Kourtney and Khloé Take The Hamptons. In addition Khloé & Lamar featured their episodes focusing on the pair's romance. An upcoming spinoff focuses on the women who work in the Kardashians' boutique D-A-S-H and is called Dash Dolls.
Before Caitlyn Jenner transitioned, she was the subject of a 20/20 special about the process called Bruce. In addition, E! will release an eight episode miniseries entitled I Am Cait about Caitlyn's transition.
Kim Kardashian-related memes
Paper Magazine Cover

Kim Kardashian's Paper Magazine Cover refers to a photograph of the American reality TV star posing naked for the 2014 winter issue of New York-based indie fashion magazine Paper. Upon its publication, Kardashian's racy cover photo instantly became a trending topic and prompted a slew of photoshopped parodies on Twitter, Instagram and elsewhere online.
Kim Kardashian and Kanye West's Vogue Magazine Cover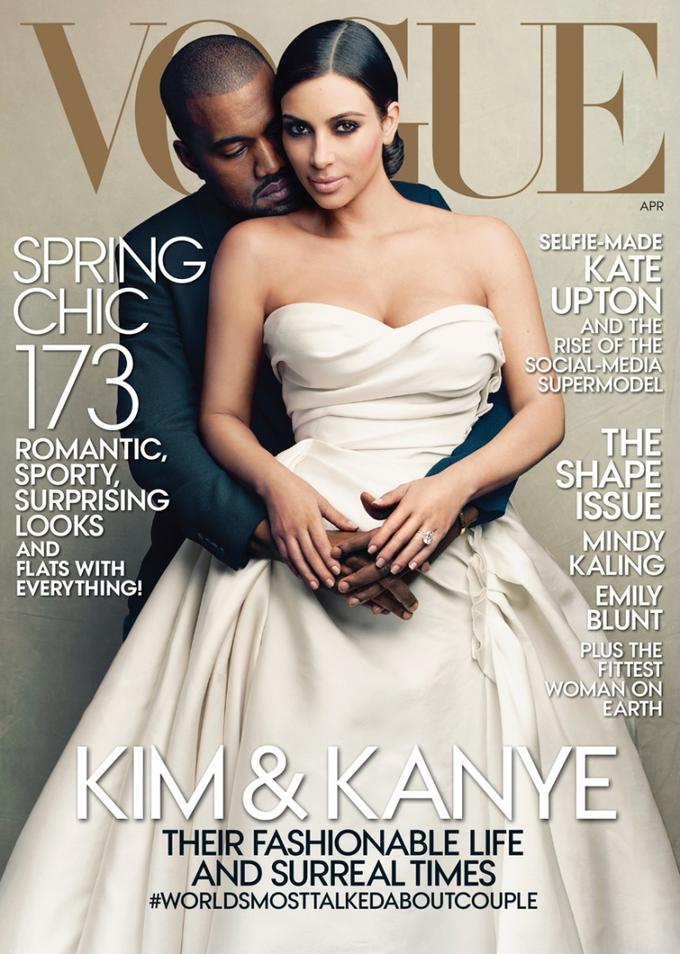 Kanye West and Kim Kardashian Vogue Cover refers to a controversial cover photo for the April edition of the fashion magazine Vogue featuring the celebrity couple Kanye West and Kim Kardashian.
Caitlyn Jenner's Vanity Fair Cover

Caitlyn Jenner's Vanity Fair Cover refers to the cover photograph for the American magazine Vanity Fair featuring Caitlyn Jenner, the transgender identity chosen by Bruce Jenner, an American Olympic-winning track-and-field athlete and as the father of Kim Kardashian). *Since its unveiling in the June 2015 issue, the cover attracted much attention due to Jenner's new look and her achievement of being the first transgender woman on the cover of Vanity Fair.
Kylie Jenner Challenge
The Kylie Jenner Challenge, also known by the hashtag #KylieJennerChallenge, is a viral trend where teenagers post videos or photos of themselves attempting to temporarily enlarge their lips by a suction technique called "the shot glass effect" in order to imitate the look of model and socialite Kylie Jenner[6]. The trend has been criticized due to the fact that the intense effect can lead to permanent disfigurement and scarring.
Search Interest
External References
[1] E! – Keeping Up with the Kardashians
[2] Wikipedia – Keeping Up with the Kardashians
[3] International Business Times – Kardashian Family Net Worth Gets A Bump; E! Reportedly Grants 'Keeping Up With The Kardashians' Stars $100 Million Deal
[4] TMZ – Ray J: Kim's Vajayjay Gave Me a Huge Payday
[5] Sploid – Kim Kardashian's sex tape is now the #1 porn video of all time