About
Kim Kardashian is an American TV personality, businesswoman, activist, model and actress who is best known for starring in the E! reality TV series Keeping Up with the Kardashians. In the entertainment news media and online, Kardashian is often cited as a prime example of a celebutante, or an individual who has attained celebrity status for no particular identifiable reason.
Career
In October 2007, Kardashian and her mother, siblings and half-sisters were hired by the American basic cable and satellite television channel E! to star in the reality television series Keeping Up with the Kardashians. As of August 2014, the show has run for a total of nine seasons with 126 episodes.
Throughout the show's run, and as it became a cultural phenomenon, Kardashian developed a variety of business ventures in industries such as cosmetics and apparel.
In 2022, a new reality show starring the Kardashian family, titled The Kardashians premiered on Hulu.
Online History
On January 8th, 2009, Kardashian created her official Facebook[3] fan page, which gained over 22.6 million likes over the next six years. In March, she launched her official Twitter[1] feed, gathering more than 22.6 million followers in the next five years. On February 20th, 2012, Kardashian created an Instagram[2] photo feed, garnering upwards of 16.9 million followers in three years. In November of 2021, Kardashian created a TikTok account with her daughter North, accumulating over 6.8 million followers.[31]
Met Gala Dress
During the April 2013 Met Gala, Kardashian wore a floral print dress which was widely mocked online for resembling a decorative sofa (shown below, left).[5] On May 10th, Redditor Curiouslizzie submitted a photograph of her boyfriend sleeping on a couch titled "Caught my boyfriend sleeping with Kim Kardashian" to the /r/funny[6] subreddit, where it accumulated more than 1,900 votes (88% upvoted) prior to being archived (shown below, right).


Meeting With President Donald Trump
On May 30th, 2018, following months of discussions with Ivanka Trump and Jared Kushner, Kim Kardashian met with United States President Donald Trump to discuss prison reform. Kardashian is advocating for the release of a Alice Johnson, a 62-year-old grandmother who has been incarcerated for the past 21 years on a non-violent drug charge.[10]
That day, President Trump tweeted,[11] "Great meeting with @KimKardashian today, talked about prison reform and sentencing." Additionally, he included a photograph of the two of them in the Oval Office. Within 24 hours, the post (shown below) received more than 34,000 retweets and 125,000 likes.

People responded to the photograph by captioning it with various jokes about the Trump administration. Twitter[12] user @ira joked about Melania Trump conspiracy theories, tweeting, "'You are Melania now.'" The post (shown below, left) received more than 3,700 retweets and 26,000 likes in less than 24 hours.
The New York Post[13] put the picture on the cover of the paper with the headline "Trump Meets Rump" and the subtitle that called Kardashian "Kim Thong Un" (shown below, center). While some found the cover funny, others found it offensive and dismissive to Kardashian's cause. Twitter[14] user @alexbrucesmith tweeted, "woman uses her considerable celebrity influence to talk directly to the president about important and vital prison reform. @nypost: yeah but did you see her bum???" The post (shown below, right) received more than 775 retweets and 3,000 likes.
That evening, Twitter[17] published a Moments page about the cover.



Kardashian tweeted that the meeting went positively. In a series of tweets,[15][16] she said, "I would like to thank President Trump for his time this afternoon. It is our hope that the President will grant clemency to Ms. Alice Marie Johnson who is serving a life sentence for a first-time, non-violent drug offense[…]We are optimistic about Ms. Johnson's future and hopeful that she --and so many like her--will get a second chance at life." Collectively, the tweets (shown below) received more than 10,000 retweets and 95,000 likes.


Criminal Justice Lawyer Aspirations
On April 10th, 2019, Vogue[18] published an article entitled "The Awakening of Kim Kardashian West" in which West reveals that "last summer, she met with the unlikely decision--one she knew would be met with an eye roll for the ages--to begin a four-year law apprenticeship, with the goal of taking the bar in 2022." In the recent past, she has met with Trump to talk prison reform and aided in the release of "Alice Marie Johnson, a 64-year-old woman who'd been in an Alabama prison on a nonviolent drug charge since 1996."
That day, Twitter users reacted in opposition to Kardashian's aspirations and mocked the news. Twitter user @itsalivstory[19] tweeted an image of a person getting into a trash barrel with the caption, "is kim kardashian really going to pass the bar before me" (shown below, left). The tweet gained 40 retweets and 260 likes in a day. Others supported her decision. Twitter user @germanrlopez[20] tweeted, "How many of the people mocking this have gotten a person freed from an unjust prison sentence, like Kim Kardashian did?" (shown below, right). The tweet garnered 1,450 retweets and 9,150 likes in a day.


Psalm Ye
On June 10th, 2019, Kim Kardashian[21] tweeted a picture of her and Kanye West's fourth child introducing him as Psalm Ye (shown below). The tweet garnered over 21,603 retweets and 334,000 likes in a day.

That day, Twitter user @tessie_the_mess[22] said, "this monday was killing me slowly but psalm ye has totally and completely brought me back to life" (shown below, left). The tweet accumulated over 200 likes in a day. The next day @KyndraFriend[23] tweeted the name into Smash Mouth's All Star saying "PSALM BODY ONCE TOLD ME THE WORLD WAS GONNA ROLL YE" (shown below, right).


Second Chance Hiring & Re-entry Event
On June 13th, Kim Kardashian posted a video of herself heading to the Second Chance Hiring & Re-entry event at the White House to her Twitter account (shown below). The tweet gained over 2,600 retweets and 24,300 likes in a day.
Second Chance Hiring & Re-entry event at the White House today pic.twitter.com/kEUgqITmIE

— Kim Kardashian West (@KimKardashian) June 13, 2019
That same day, Kardashian[24] explained in four tweets that she was going to announce her partnership with Lyft at the event. Her tweets each gained over 10,000 likes in a day (shown below).


On June 13th, @ABC tweeted a video of Kardashian speaking at the event (shown below). In her speech she describes her experience in criminal law and thanked the president for "standing behind this issue." The video gained over 3,000 likes and 820 retweets in a day.
Kim Kardashian West spoke at a White House event on felons re-entering the workforce: "These people want to work. They want the best outcome."

She thanked Pres. Trump for "standing behind this issue." https://t.co/qxkJEoRglF pic.twitter.com/4IZvth75xq

— ABC News (@ABC) June 14, 2019
After the event, Kardashian[25] and Ivanka Trump tanked each other in tweets (shown below, left). Kardashian's tweet accumulated over 26,300 likes and 2,800 retweets in a day. Twitter users, for the most part, applauded Kardashian's efforts. Twitter user @oxminaox[26] wrote, "IDC WHAT ANYONE HAS TO SAY, THIS IS ONE OF THE MOST AMAZING WAYS I'VE SEEN A CELEBRITY USE THEIR PLATFORM! THANK YOU @KimKardashian!" (shown below, right). The tweet garnered over 14,500 likes and 4,400 retweets in a day.


'Get Your Fucking Ass Up And Work'
In a March 2022 Variety magazine video interview promoting her family's new show The Kardashians, Kim Kardashian was quoted as saying, "I have the best advice for women in business: get your fucking ass up and work. It seems like nobody wants to work these days." Her sister Kourtney then said, "That's so true." The advice was seen as out-of-touch by many and inspired negative reactions and memes using it as a catchphrase online criticizing Kim for getting famous from a sex tape and having rich parents.
Reputation
Online, Kardashian is most infamously associated with reality television shows and her 2003 sex tape with singer-songwriter Ray J. On April 29th, 2012, the 3GoldenSistersTV YouTube channel uploaded a video in which three mature-aged women react to Kardashian's sex tape, gaining over 3.3 million views and 3,500 comments in the next three years (shown below). The following day, Redditor nikkileee submitted the video to the /r/videos[4] subreddit, where it gathered more than 3,600 upvotes (91% upvoted) prior to being archived.
Personal Life
Kardashian was born on October 21st, 1980 in Los Angeles, California. In 2007, a sex tape recorded in 2003 with her former boyfriend singer-songwriter Ray J was leaked. In 2011, Kardashian married basketball player Kris Humphries, but filed for divorce 72 days later. In April 2012, Kardashian began a relationship with Kanye West and had a daughter with him in June 2013. The two were married in May 2014. West and Kardashian went on to have three more children, before divorcing in 2022.[27 ] Kardashian began dating comedian Pete Davidson in 2021, in a courtship announced through a series of Instagram posts.[28 ]
Related Memes
Kanye West and Kim Kardashian Vogue Cover
Kanye West and Kim Kardashian Vogue Cover refers to a controversial cover photo for the April 2014 edition of the fashion magazine Vogue featuring Kardashian posed with her husband American rapper Kanye West.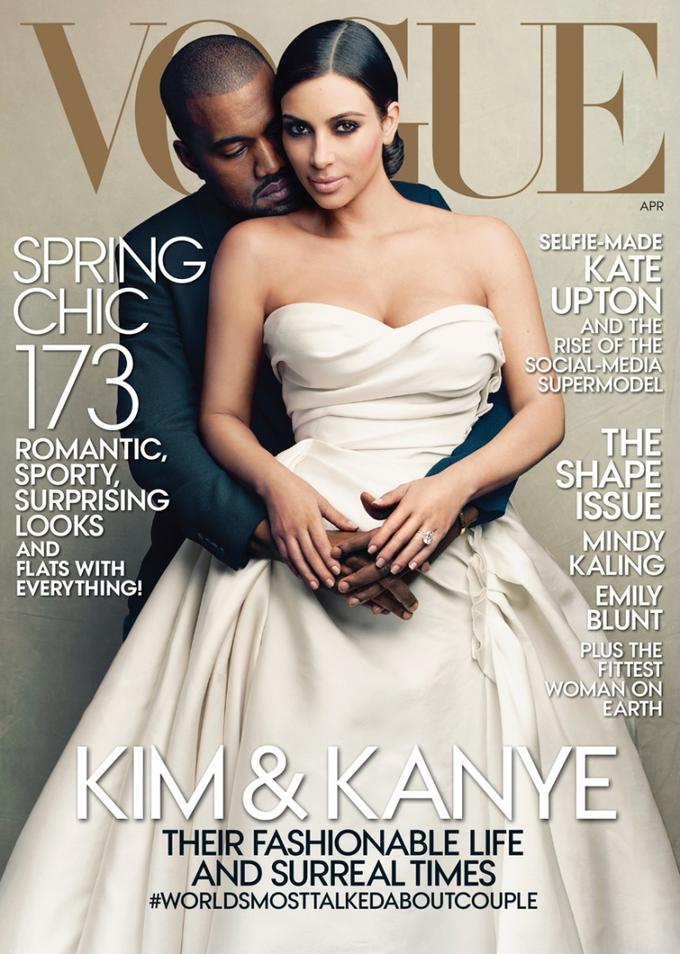 Sad Kanye
Sad Kanye is a photoshop meme based on an April 2014 Instagram photograph of West looking morose while sitting on a lawn chair in zip line gear behind Kardashian.

Kim Kardashian: Hollywood Video Game
In July 2014, a mobile game for iPhone and Android devices titled Kim Kardashian: Hollywood was released, in which the player creates an aspiring celebrity and performs tasks to increase their fame and wealth. In the first month, the game received a five-star rating on iTunes[7] with over 185,000 submitted scores and over one million Android installs.[8] The game has been criticized for requiring users to pay for "energy" in order to progress through the story.[9] Since its release, several YouTubers have uploaded gameplay and commentary videos featuring the mobile game (shown below).
Paper Magazine Cover
Kim Kardashian's Paper Magazine Cover refers to a photograph of the American reality TV star posing naked for the 2014 winter issue of New York-based indie fashion magazine Paper. Upon its publication, Kardashian's racy cover photo instantly became a trending topic and prompted a slew of photoshopped parodies on Twitter, Instagram and elsewhere online.


I'm Dropping Hints That I'm Single
I'm Dropping Hints That I'm Single refers to a screengrab from Kourtney and Kim Take New York that features two panels of Kim Kardashian. In the top panel, she is saying she's "dropping hints" that she's single, and the bottom shows her outright saying "I'm single."

Gym Kardashian
Gym Kardashian refers to a series photoshopped images of Kim Kardashian edited to make her appear extremely muscular. The images were typically paired with captions by various Twitter users after they first appeared on the social networking site in mid-February 2018.

After 2 Weeks And Multiple Health Screens
On October 27th, 2020, West posted a series of photographs on Twitter from a trip she took with close friends and family at a private island to celebrate her 40th birthday. That day, the tweet earned more than 16,000 quote tweets, 12,000 likes and 500 retweets.[29]

The text of the tweet became a copypasta as many online took to pairing it with photos and scenes from films, mocking Kardashian because they felt her comments were out-of-touch and appeared to be flaunting wealth in a distasteful manner.
Eat Poop Every Day
In a June 1, 2022 interview with the New York Times, the then-41 year old Kardashian spoke about her skincare products line, saying she would "eat poop everyday" if it would make her look younger. The lead paragraph of the Times interview:[30]
"I'll try anything," Kim Kardashian said last month during an interview in her enormous office here. It houses a photo studio, a showroom, a video room, offices for staff, her personal office, a glam room (where she gets ready for shoots), a model glam room (where models get ready for shoots), a conference room, a theater and more. "If you told me that I literally had to eat poop every single day and I would look younger, I might. I just might."
The remark was widely criticized as an example of unrealistic body standards and unhealthy beauty practices, and many produced memes making fun of Kardashian and criticizing he, including one (seen below left) Twitter user @gay4pant posted on June 3rd, 2022, receiving over 1,400 likes, and another (seen below right) Twitter user @NationofEagles posted on the same day which received almost 200 likes.


Search Interest
External References