About
Pawn Stars is an American reality TV series centered around the everyday lives of pawnbrokers at the World Famous Gold & Silver Pawn Shop, a multigenerational family-owned pawnshop in Las Vegas, Nevada. Since its premiere on the History Channel in July 2009, the show has grown into the highest-rated TV series in the network. Online, the show has spawned several in-jokes and catchphrases among the fans.
History
The pilot season of Pawn Stars was picked up for production by History Channel and premiered on July 19th, 2009. The series focuses on the everyday lives of the shop founder Richard Harrison ("The Old Man"), his son Rick Harrison and Rick's son Corey. One of the recurring segments in the series is the price evaluation and negotiation process, during which Rick frequently resorts to seeking advice from a mysterious "buddy who's an expert in" the field that is relevant to the item on the table.
Richard Harrison's Death
On June 25th, 2018, Richard Harrison, nicknamed "The Old Man" on the show, passed away due to complications from Parkinson's disease. That day, Rick Harrison posted a photograph of his father along with an announcement of his passing (shown below).[17]

That day, several posts about Harrison's death reached the front page of /r/dankmemes,[18][19][20] including photoshopped images made in his memory, including a picture featuring Harrison going to heaven with other celebrities (shown below).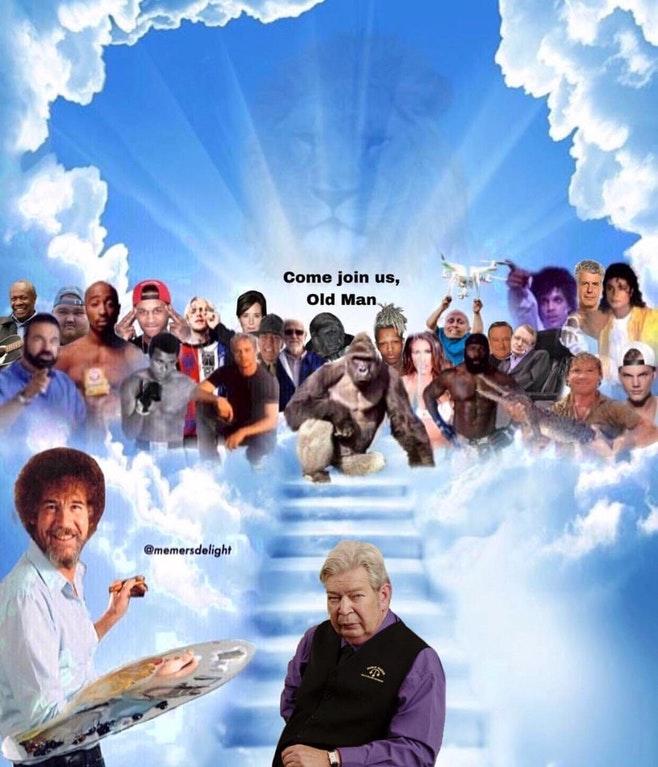 Reception
Pawn Stars was well received upon its debut, and by January 2011, it had become History Channel's highest-rated show and the second highest-rated reality TV series behind Jersey Shore. The series has a 7.3/10 on IMDB.[16]
Fandom
Image Macros
The post went on to spawn additional threads on 4chan's /b/ (random) board[13], where others began sharing advice animal-style image macros captioned with cliche negotiation tactics mainly associated with the shop owner Rick Harrison.
The image macro series mostly remained dormant until May 2010, when the "Pawn Stars" caption generator page was launched on DIYLOL[4] and Meme Generator[1], according to Google's cache history.

In the following months, the series spread across a number of notable meme hubs including FARK forum[10] and FunnyJunk[7] in June and IGN board[12] in July. In addition to the "Pawn Stars" series, similar advice animal series labeled "Rick Harrison" and "Pawn Star Rick" also surfaced on Meme Generator.[3][15]



Throughout 2011, discussion threads about "Pawn Stars" image macros continued to surface on BodyBuilding Forum[6] and internet humor sites like Memebase[5], Tumblr[9] and Buzzfeed.[8] Several verbatim quotes from the episodes have been used as captions in the image macros, most notably "I'm really interested in this item, but I don't know enough about it," "There's no market for stuff like that" and "I've got a buddy who's an expert in this and I'd like to have him take a look at it."
4chan Prank Call
On October 4th, 2011, an anonymous user on 4chan[14] posted an image of Pawn Stars cast members with the shop's phone number, instructing others to "prank call Pawn Stars and ask for Battletoads and post results" as replies. The thread was well received by other anonymous users and generated hundreds of responses detailing their phone conversations.

Related Memes
"I've Got a Buddy Who's an Expert"
"I've Got a Buddy Who's an Expert" is a quote often said by Rick Harrison, the co-owner of the pawnshop and one of the main characters in the show, to call for a third-party appraisal of an item by a guest specialist during the price negotiation of an item. Due to its frequent appearance on the show, Harrison's quote has been parodied by the fans of the show.
Rick Harrison Copypasta
The meme began on 4chan's /b/ board[11] on February 25th, 2010, when an anonymous user posted the opening monologue of the show:
"I'm Rick Harrison and this is my pawn shop. I work here with my old man and my son, Big Hoss, and in 23 years I've learned one thing. You never know what is gonna come through that door."
Search Interest
External References