This entry contains content that may be considered sensitive to some viewers.
This submission is currently being researched & evaluated!
You can help confirm this entry by contributing facts, media, and other evidence of notability and mutation.

About
Pulp Fiction is a 1994 film written and directed by Quentin Tarantino. The film stars John Travolta, Samuel L. Jackson, Uma Thurman, Harvey Keitel, Tim Roth, Christopher Walken and Bruce Willis.
History
On March 1992, Quentin Tarantino wrote the script in Amsterdam along with Roger Avary. The film had a budget of $8.5 million and has earned $214 million worldwide. The film is the first independent film to gross more than $200 million.[1]


During filming, Uma Thurman and Quentin Tarantino would have conversations about their favorite movies. Tarantino mentioned an idea he had for a film. The film later became Kill Bill.
Reception
Upon the premiere on May 12, 1994, at the Cannes Film Festival, the film receives positive reception with the critics as it won Best Picture. The film was nominated for seven Oscars, including Best Picture, Tarantino and Roger Avary won for Best Original Screenplay. It is highly regarded as one of the best films of all time as it ranks #9 on Empire's Magazine's 500 greatest movies of all time.[1] The film won the 1994 Palme d'Or. The film currently has a 94% on Rotten Tomatoes.[2]
Media References
The Simpsons
On April 14th, 1996, The Simpsons aired an episode titled "22 Short Films About Springfield", in which it parodies the format style of Pulp Fiction which incorporates anthology episodes or mini-stories.[3]
On February 17th, 2013, the Simpsons references the film again in an episode titled "Hardly Kirk-ing". The episode referenced the iconic dance with Vincent Vega (John Travolta) and Mia Wallace (Uma Thurman).[4]



House TV Series
on February 21, 2011, the American medical drama TV series House aired their 13th episode of season 7 titled "Two Stories", which parodies the apartment scene in the film.[5]
Related Memes
Confused Travolta
Confused Travolta is an animated GIF series featuring a cutout of actor John Travolta into other base images of various contexts. On November, 2012, an Imgur user posted this Gif.

Here are some examples.


Search Interest
Say What Again
Say What Again is a popular line from the film delivered by Samuel L. Jackson. The phrase is often use to reply to someone who overuse the word What. The catchphrase grown it's popularity as people start to post pictures of Jules Winnfield from the film with the caption Say What Again.

various parodies and uses.



Meme Generator
On Jun 12 2012, Meme Generator has created the "Say What Again" meme in their site for people to make their own versions of it. Here are the few examples found on the site. There are over 6,000 images created using this meme.




Does He Look Like a Bitch?
Does He Look Like a Bitch? is also a popular quote/ine from the film delivered also by Samuel L. Jackson. The line is said where Brett (Frank Whaley) is being asked by Jules Winnfield (Samuel L. Jackson) if Marsellus Wallace (Ving Rhames) looks like a bitch.


Dead Nigger Storage
Dead Nigger Storage is a famous and controversial line from the film delivered by Quentin Tarantino himself. This is a scene where Jimmie (Quentin Tarantino) is talking to Jules Winnfield (Samuel L. Jackson) and Vincent Vega (John Travolta) about a dead black african-american stored in his garage.

Examples.



On March 2, 2012, Innagadadavida has uploaded a Youtube video that parodies the quote in the episode "I Had An Accident" of Spongebob Squarepants. The video has over 3 million views.

Gun Point
This is an iconic image from the film with Jules Winnfield (Samuel L. Jackson) and Vincent Vega (John Travolta) points and shoots their gun to one of Brett's (Frank Whaley) Colleagues.

Here are some of the parodies seen on the internet. Sources are QuickMeme, Pinterest, Tumblr, Flickr, Imgur, 9gag.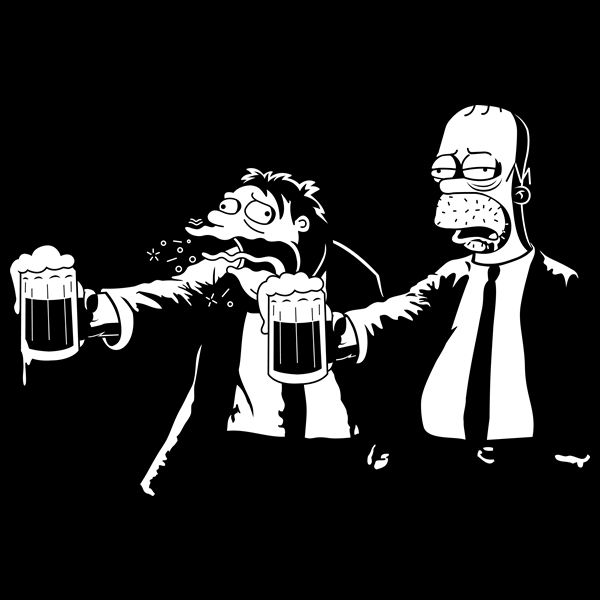 Online Presence
Viral Videos
On March 22 2012, How It Should Have Ended uploaded a Youtube video titled "How Pulp Fiction Should Have Ended", the video has over 3 million views. On April 21 2014, CineFix uploaded a Youtube video titled "9 Pulp Fiction Facts For Die-Hard Tarantino Fans", the video has over 2 million views.
Briefcase Theory
In the film, Jules Winnfield and Vincent Vega are sent out to retrieve a briefcase by Marsellus Wallace. As Vincent opens the briefcase, it appears to be glowing. The film does not show or mention the content of the briefcase, resulting people creating theories of what the briefcase may content.

Marsellus Wallace's Soul
The most notable Theory is that it contain's Marsellus Wallace's soul. On October, 2003, Texags posted a forum post about the theory.




"Remember the first time you were introduced to Marsellus Wallace. The first shot of him was of the back of his head, complete with band-aid. Then, remember the combination of the lock on the briefcase was 666. Then, remember that whenever anyone opened the briefcase, it glowed, and they were in amazement at how beautiful it was; they were speechless. Now, bring in some Bible knowledge, and remember that when the devil takes your soul, he takes it from the back of your head.

Yep, you guessed it. What is the most beautiful thing about a person: his soul. Marsellus Wallace had sold his soul to the devil, and was trying to buy it back. The three kids in the beginning of the movie were the devil's helpers. And remember that when the kid at the end came out of the bathroom with a "hand cannon," Jules and Vincent were not harmed by the bullets. "God came down and stopped the bullets" because they were saving a soul. It was divine intervention."
Elvis's Gold Suit
Some have theorized that it might be Elvis's Gold Suit from True Romance.
On December 23rd, 2012, an Anonymous user posted on 4chan came up with a Theory.[6]




"The briefcase is Rock and Roll. Marsellus represents the origin of rock music in America (blues, motown, soul, etc) Jules is Chuck Berry and Vincent is Elvis. They go to get the briefcase back from the nerdy white guys trying to steal it. Maybe they represent greedy record producers that profited off of Black music and screwed over many Black musicians.
The reason the guy that unloads a gun at them is unable to hit them is because legends of music can never die and will be around forever. Jules realizes this and realizes that he is fighting a pointless fight.".
The Diamonds from Reservoir Dogs
Some have theorized that the briefcase contains the diamonds in Quentin Tarantino's other film Reservoir Dogs. According to Roger Avary, the briefcase is filled with diamonds in the original script but Tarantino changed that idea.
External References
External References
[5] Rotten Tomatoes – Pulp Fiction
[6] Deviant Art – Pulp Fiction search page