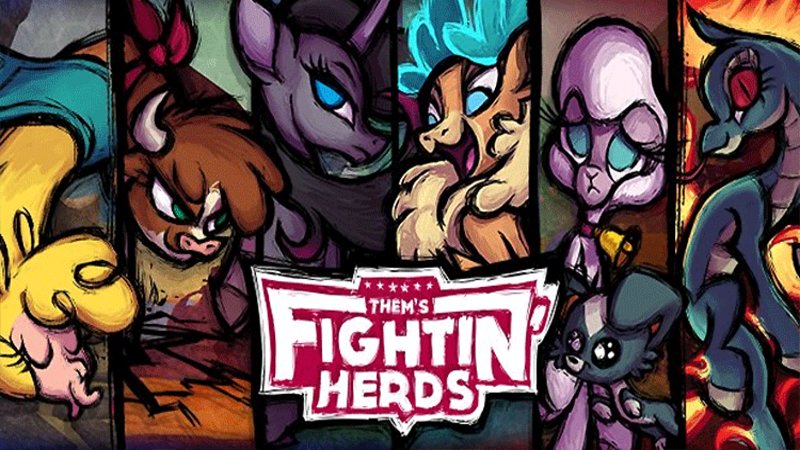 This submission is currently being researched & evaluated!
You can help confirm this entry by contributing facts, media, and other evidence of notability and mutation.
About
Them's Fightin' Herds is an upcoming two-dimensional fighting game developed by Mane6 with assistance from Lauren Faust. The game is the spiritual successor to the Fighting Is Magic project, which was cancelled due to the development team receiving a cease and desist order from Hasbro.
History
The project began as Fighting Is Magic, a fan-made fighting game based on the characters and settings of the animated television series My Little Pony: Friendship Is Magic. Development of the game began in the spring of 2011 by a team called Mane6. On February 8th, 2013, it was announced that Mane6 had received a cease and desist letter from Hasbro, owners of the My Little Pony franchise, effectively ending work on the project.
The following day, Friendship is Magic's creator Lauren Faust offered over Twitter[3] to assist the Mane6 in creating an entirely original set of characters.
| | |
| --- | --- |
| <a href="https://twitter.com/manesix">manesix</a> want some original characters to make a new game with?</p>&mdash; Lauren Faust (Fyre_flye) February 9, 2013 | <a href="https://twitter.com/sweetiebotatdd">sweetiebotatdd</a> @<a href="https://twitter.com/manesix">manesix</a> Not MLP OCs, something totally new.</p>&mdash; Lauren Faust (Fyre_flye) February 9, 2013 |
Indiegogo Campaign
On August 28th, the Mane6 blog[8] announced in a post titled "The Big One" that they had sorted out the legal issues surrounding the project, and that an Indiegogo campaign would soon be launched in order to crowdfund the game. On September 21st, the page for the game was launched on Indiegogo. On September 22nd, Destructoid announced that the project had reached 23% of its funding goal "before the end of the first day".[9] The campaign was also covered by niche blogs and news sites such as Wired,[10] pixeldynamo,[11] and Equestria Daily.[12]
On October 19th, blogs such as Fighting Games Online[14] and Shoryuken[13] reported[15] that the project had met its original $436,000 goal several days early, and that additional funding would go toward reaching the "stretch goals".
Donations toward the Indiegogo project closed on October 21st. The /r/mylittlepony subreddit featured a post on October 22nd announcing that funding for the project had surpassed the last of the stretch goals.[17]
The feminist geek culture blog Mary Sue published an interview with Lauren Faust and the Mane6 development team on October 19th.[16]
Early-access Release
On February 5th, 2018, the official trailer for the game was uploaded to YouTube (shown below). That day, an update was published to the Them's Fightin' Herds Indiegogo page, announcing a partnership with the Humble Bundle digital video games store. On February 22nd, the game was released for Microsoft Windows systems on Steam[18] and the Humble Bundle store.[19]
Release
Them's Fightin' Herds officially released on April 30th, 2020.[21] The release only included the first chapter of story mode, but all characters were available for competitive play. The game opened to a very positive reception, with a Steam user-score of "Very Positive" based on 1,200 reviews.[22] IGN[23] gave the game an 8/10.
EVO Announcement
On May 14th, 2020, online fighting tournament EVO announced that Them's Fightin' Herds would be included in an open online tournament.[24] It was also notable that EVO elected to not include Super Smash Brothers Ultimate in the tournament, likely due to online performance issues. Them's Fightin' Herds has a very good online performance in comparison.[25] Online, the inclusion of Them's Fightin' Herds over Smash divided fans. Twitter user @CafeColdBrew[26] made a direct comparison betewen the two games (shown below, left). User @yungsnaku[27] called the lineup "trash" (shown below, right).


Media
Fan Art






Official and Fan Videos
Reception
The game has a dedicated subreddit, /r/ThemsFightinHerds, which has 920 subscribers as of December 2015,[2] as well as a Facebook fan page with 50 likes.[4] The official Mane6 Facebook page has 2,760 likes,[5] while the Mane6 Twitter page has over 13,300 followers.[7] The Indiegogo[20] campaign for the game received $586,346 in funding from 10,516 donors.
External References