My Little Pony: Fighting Is Magic

About
My Little Pony: Fighting Is Magic was a two-dimensional crossover fighting game project featuring the characters of the television program My Little Pony: Friendship Is Magic and the mechanics from the Street Fighter[1] video game series. Designed by a team of nine bronies known as Mane6,[2] the production of the game came to a sudden halt in February 2013 due to a cease and desist order from Hasbro. It has since been unofficially completed in the form of a Tribute Edition by fans, and remade into a game with original characters named "Them's Fightin' Herds".
Origin
Development of the game began in the spring of 2011, in the time between the first and second seasons of My Little Pony: Friendship is Magic, after one of the lead developers Anukan uploaded four mock screenshots for a Street Fighter-style fighting game featuring several MLP characters to the now-defunct image-sharing site Ponibooru.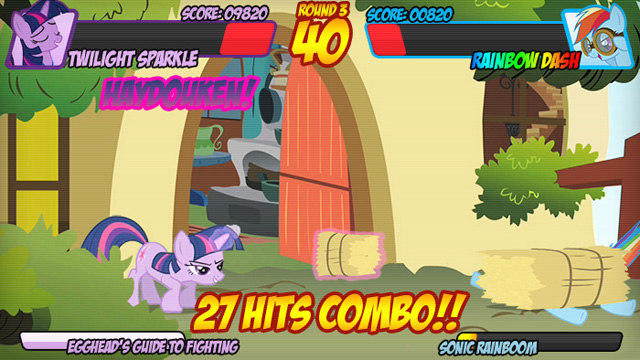 After the screenshots made their way to the MLP-specific image board Ponychan, a user known as Nappy contacted Anukan about actualizing the project, and soon four other community members, Jay Wright, Lucas Ellinghaus, James Workman and Prominence, were on board. On May 31st, 2011, an official thread for the game was started on the Ponychan /collab/ (Collaborative Projects) board[8], which announced its goal to develop 17 total playable characters as well as online play.

Gameplay
The game mechanics proposed for the title were similar to those used in Street Fighter, with each character featuring a unique move set based on their personality in the show; for example, Twilight Sparkle's attacks focused on books while Fluttershy's attacks focused on animals. Each character also had a dedicated stage with unique music created specifically for the scene, such as Twilight Sparkle's library and Fluttershy's cottage.[5][6]
Spread
Throughout the summer of 2011, various discussion threads surrounding the project appeared on a number of gaming and MLP fandom communities, including the Equestria Forums[11], Dustloop[12], Equestria Gaming[15], G4[16] and IT World.[17] On June 19th, 2011, the first trailer for the game was released, earning nearly a million views[9] before being taken offline in February 2012. On August 13, 2011, a subreddit dedicated to the game was created at /r/FightingIsMagic[24]. The group continued to periodically update fans with their progress on their YouTube channel[3], however, as of February 2013, all of these videos have been removed.






In August 2011, an unofficial fan page for the game was established on Facebook[18], gaining more than 2,600 fans as of February 2013. A wiki[13] about the game launched in August 2012 and there is also a TV Tropes[14] entry chronicling details about the game. Though all of their official videos have been since removed, there are more than 17,000 search results for "Fighting is Magic" on YouTube[22], featuring the music from the game as well as recorded livestreams of beta playthroughs.
Leak
On August 2, 2012, Equestria Daily reported[23] that a testing build of Fighting is Magic had been leaked after its use in a QA session. That day, footage of the leaked game was posted to YouTube, and on August 3 the torrented file was made available on the Pirate Bay. Mane6 released an official statement on their website, removed as of February 19, 2013, saying, "The unfinished version of Fighting is Magic is, needless to say, unsupported. We won't answer any questions relative to it, we won't give technical support to it, we won't discuss mechanics or graphic details from it, given its status as a leaked, unfinished, internal testing build, which happened to be leaked just right before a major update was pushed to our now closed QA test program."
Evolution Championship Series
In January 2013, it was announced[4] that Fighting is Magic was to be showcased in an exhibition at the Evolution Championship Series (EVO), an annual fighting game tournament held in the United States, later that year. The staff also learned that the game was in the running to be part of one of the eight official tournaments at the event. A donation drive to raise money for the Breast Cancer Research Fund was established to determine the eighth tournament title was won by Super Smash Brothers: Melee, despite Fighting is Magic raising more than $5000. However, by the end of the tournament battle, Fighting is Magic was removed from the contest so it could be highlighted in the Indie Games Showcase,[10] while an exhibition tournament would be held if the game won the overall drive. The attention from EVO lead to an in-depth look at the game's creation and future on Gamespot.[9]
Cease and Desist
On February 8th, 2013, it was announced[7] that Mane6 had received a cease and desist letter from Hasbro, owners of the My Little Pony franchise. They were ordered to discontinue development as well as remove all My Little Pony-related content from the game, effectively terminating the project. Mane6 announced their intention to attempt negotiation with Hasbro, although the project remains indefinitely suspended as of February 18th, 2013. The day the cease and desist was issued, Friendship is Magic's creator Lauren Faust reached out to the Mane6 over Twitter, offering completely new original characters for them to make a game with. The following week, news of the legal issues appeared on Destructoid[19], Kotaku[20] and VG24/7[21].
| | |
| --- | --- |
| <a href="https://twitter.com/manesix">manesix</a> want some original characters to make a new game with?</p>&mdash; Lauren Faust (Fyre_flye) February 9, 2013 | <a href="https://twitter.com/sweetiebotatdd">sweetiebotatdd</a> @<a href="https://twitter.com/manesix">manesix</a> Not MLP OCs, something totally new.</p>&mdash; Lauren Faust (Fyre_flye) February 9, 2013 |
On March 1, 2013, Mane6 announced[25] on their website that they were ceasing attempted negotiation with Hasbro, but that Lauren Faust would indeed be helping to finish the game. While the mechanics and style would remain the same, Faust would assist by providing original character designs unrelated to the My Little Pony franchise.
Hey Fighting Is Magic fans! You may find this a wee bit interesting: mane6.com/2013/03/m6v2.h… <a href="https://twitter.com/manesix">manesix</a></p>&mdash; Lauren Faust (Fyre_flye) March 2, 2013
Tribute Edition
In February 2014, a second developer team released a Tribute Edition using data from the original version of the game. Equestria Daily reported[26] that the project was worked on "under the radar", most likely to avoid scrutiny from Hasbro. The release of the game was announced with a video by the project's creators.
Them's Fightin' Herds
On August 28th, 2015, Mane 6 announced[27] the upcoming launch of a crowdfunding campaign for their Them's Fightin' Herds, the remake of Fighting is Magic using original characters, in a blog post titled "The Big One". The game's announcement was reported by Equestria Daily[28] and Siliconera,[29] and lead to the creation of entries for it on TV Tropes[30] and Wikipedia.[31] On September 4th, the Mane 6's Youtube account released a short series of videos introducing the game.
Search Interest
External References