This submission is currently being researched & evaluated!
You can help confirm this entry by contributing facts, media, and other evidence of notability and mutation.
About
The X-Files is an American science fiction drama TV series created by Chris Carter and starring David Duchovny and Gillian Anderson. The show follows the story of Dana Scully and Fox Mulder, two special agents assigned to the fictitious X-Files unit within the Federal Bureau of Investigation (FBI), as they investigate a series of unsolved cases involving paranormal phenomena, and at times, extraterrestrial activities.
Premise
The show follows FBI Special Agent Fox Mulder (portrayed by David Duchovny) and Agent Dana Scully (portrayed Gillian Anderson) as they solve a subset of unsolved FBI cases known as the "X-Files." Mulder gravitates towards cases that involve supernatural elements or possible alien involvement. Scully puts more faith in scientific evidence and often doubts Mulder's belief that a case involves the supernatural. Mulder and Scully begin the series as friends, but become a couple as the series progresses.
History
The first episode of The X-Files aired on Fox on September 10th, 1993, and the season finale aired on May 19th, 2002, after nine seasons and 202 episodes. The franchise also had two spin-off feature length films, The X-Files: Fight the Future (1998) and The X-Files: I Want to Believe (2008).



Miniseries Revival
On March 24th, 2015, Fox announced its plan[27] to produce a special miniseries as a continuation of the original series, set fourteen years after the FBI's closure of the fictitious "X-Files" unit, under the helm of the show's creator Chris Carter with both David Duchovny and Gillian Anderson reprising their roles as FBI special agents Fox Mulder and Dana Scully. The news of the show's revival quickly spread on Twitter, which prompted nearly 110,000 mentions of X-Files in the following 48 hours, according to Topsy.[26]


On January 24th, 2016, the six-episode miniseries premiered amidst high anticipation among the critics and fans, which reportedly drew an estimated 13.5 million viewers across the United States, according to an early report from Nielsen.[26] However, in contrast to the viewership, the series premiere was met with mixed reviews from the critics, with Metacritic indicating an aggregate score of 58/100 based on 27 reviews and Rotten Tomatoes giving it a 51% approval rating with an average score of 6.4 out of 10 based on 35 reviews.
Reception
The show earned a score of 8.8 on IMDB[1] and a score of 70 on MetaCritic.[2] The series premiere brought in over 12 million viewers[19], while the series finale brought in over 13 million viewers. The franchises first spin-off film The X-Files: Fight the Future earned a rating of 65% on Rotten Tomatoes[21] while The X-Files: I Want to Believer earned a rating of 32% on Rotten Tomatoes[22].
Accolades
Over the course of nine seasons The X-Files won five Golden Globes, including three Best TV Series (Drama) in 1995, 1997, and 1998, Best Performance by an Actor in a TV-Series (Drama) for David Duchovny and Best Performance by an Actress in a TV-Series (Drama) for Gillian Anderson, both in 1997.
Online Presence
As of March 2014, The X Files Facebook[4] page has over 1.2 million likes. All nine seasons are available to watch online for Hulu Plus[3] subscribers and Netflix subscribers. Fans can also access episode guides and character sketches at the X Files Wiki[5].
Fandom
In addition to its branded social media presence, there are several fan sites for the show including X-Files news[6], X-Files Universe[9], and The X-Files Timeline.[10]
Fan Art
Popular Tumblr tags fans use to tag their content include #xfiles[11] and #Iwanttobelieve.[12] Fan run Tumblr blogs include iheartthexfiles[13], fuckyeahmulderscully[14], and 4theloveofthexfiles.[15] Fans also gather to discuss the show on the Reddit[16] thread /r/xfiles, which has over 6,000 subscribers as of March 2014. As of March 2014, there are over 11,000 submissions for the show on DeviantArt[8] and over 8,400 submissions on Fanfiction.net.[7]



Third Film Rumors
On October 12th, 2013, X-Files stars Duchovny and Anderson participated in a panel at The Paley Center for Media[23] in New York City to celebrate the 20th anniversary of the show's premiere. The stars expressed an interest in the possibility of a third film with Anderson saying:
""If it takes fan encouragement to get Fox interested in that then I guess that's what it would be."
Show creator Chris Carter clarified:
"All the principals are on board. Gillian and I want to do it, so it's really up to Twentieth Century Fox at this point."
In an interview with Empire Magazine[25] published on August 23rd, 2013, Carter revealed he already had some ideas in mind for a third movie, should they be allowed to film it, saying,
"I have an idea for a third movie in my head. The colonisation date has passed and that is something we wouldn't ignore. For the second movie, we only had the budget for a standalone story, but we want to go back to the mythology."
In an interview with IGN[24] published on January 19th, 2014, Anderson expressed continued interest in a third movie, but said it most likely wouldn't happen until 2016.
Related Memes
"I Want To Believe"
"I Want to Believe" is a catchphrase with originated from The X Files and is associated with images depicting paranormal objects or phenomena, especially the ones alleged to have extraterrestrial origins such as pictures of UFO or aliens.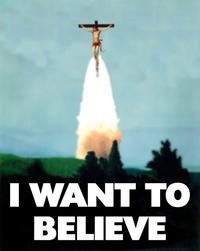 The X-Files Theme
The X-Files Theme is an instrumental track recorded by American composer Mark Snow that became widely known as the opening theme of the eponymous TV series X-Files. Aside from its commercial success, particularly in France where it became the number one single in 1996, the theme has been sampled and remixed for a wide range of videos that contain suspenseful content or conspiracy theories on the Internet, as well as montage parodies with visual references to The Illuminati.
"Still Does The Job"
"Still Does The Job" is an image macro series featuring various fictional characters from TV shows, films and video games and captions highlighting their dedication to professionalism despite the conflict of interest with their personal beliefs. The meme, which began as an image macro based on a promotional image of Dana Scully and the caption praising the fictional character's self-disciplined work ethics, pokes fun Kentucky's state county clerk Kim Davis who became a subject of controversy in September 2015 after repeatedly refusing to issue licenses for same-sex marriages on the basis of her religious faith.

Search Interest
External References