This submission is currently being researched & evaluated!
You can help confirm this entry by contributing facts, media, and other evidence of notability and mutation.
About
Still Does The Job is an image macro series featuring various fictional characters from TV shows, films and video games and captions highlighting their dedication to professionalism despite the conflict of interest with their personal beliefs. The series is meant to poke fun at the Kentucky state county clerk Kim Davis who became a subject of controversy in September 2015 after repeatedly refusing to issue licenses for same-sex marriages on the basis of her religious faith in Apostolic Christianity.
Origin
On September 9th, 2015, San Francisco-based graphic designer Shaun Osburn[1] and his partner Michael tweeted an image macro based on the X-Files protagonist Dana Scully with the caption praising the character's work ethics in the style of Good Guy Greg, along with a note to the actress Gillian Anderson asking for her reaction (shown below).


Background
In June 2015, Kim Davis, the county clerk of Rowan County, Kentucky, began denying marriage licenses to same-sex couples in defiance against the United States Supreme Court's landmark ruling in the case of Obergefell v. Hodges from earlier that month which determined that the Constitution requires all states to recognize gay marriage as a valid union. In response, four couples who were denied their marriage license filed a federal lawsuit against Davis. On August 12th, Judge David L. Bunning of United States District Court for Eastern Kentucky ruled that Davis must issue licenses to all couples. On September 3rd, Following a period of deliberation, she was held in contempt of court and jailed before her subordinates began issuing the licenses for same-sex couples. On September 8th, after five days of detainment, Davis was released from the Carter County Detention Center under the stipulation that she does not interfere with her deputies issuing marriage licenses to all legally eligible couples.
Spread
In less than 24 hours, Shaun's post received more than 240 retweets and 480 favorites, as well as a shoutout response from the actress' official Twitter account.[11]

Upon its re-submission to /r/funny[3], the post reached the front page and garnered more than 5,100 points overall (94% upvotes). Throughout the day, several derivative image macro jokes highlighting other fictional characters' dedication to professionalism followed suit on Imgur[2] (shown below). On September 10th, Vocativ[4] picked up on the emerging image macro series in an article titled "This Is The Kim Davis Meme We've All Been Waiting For." In the following days, numerous internet news and humor sites, as well as LGBT magazines, ran compilations of notable examples from the series, including Cheezburger[5], Reverb Press[6], Pink News[7], Reason[8], New Now Next[9] and Advocate.[10]
Various Examples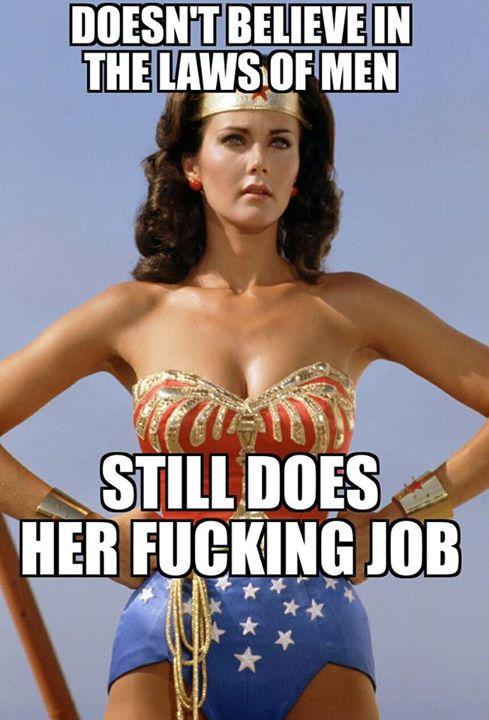 Search Interest
[not available]
External References
Recent Videos
There are no videos currently available.