About
Suburban Hardass is an advice animal image macro series featuring a photograph of a boy wearing an open button-down shirt over an exposed white tank top. The captions typically portray the character as a privileged teenager attempting to emulate various urban stereotypes.
Origin
On October 23rd, 2010, the photo blog People WTF[3] published a post titled "A Wigger Kid With His Self-Timer Camera Killing Time", which highlighted two photographs of a teenage boy posing in front of the camera (shown below).


On June 24th, 2012, Redditor huisme submitted an image macro to the /r/AdviceAnimals[2] with the caption "'I run this fucking town!' / Grounded for swearing", which reached the front page receiving over 6,400 up votes and 75 comments within one month.

Precursors
The Suburban Hardass character bears many similarities to other wannabe "gangster" stereotype memes, which often involve young males attempting to appear cavalier and intimidating. These characteristics can be found in the Scumbag Steve advice animal (shown below, left), featuring captions related to unethical and hedonistic behaviors, and the Internet Tough Guy pejorative term, which is used to describe boastful and aggressive internet commenters (shown below, right).


In addition, the series contains many elements pertaining to a coming-of-age identity crisis associated with privileged youth. This theme is also present in the Idiot Nerd Girl (shown below, left), portraying a teenage girl pretending to be a nerd, and the College Liberal advice animal (shown below, right), which showcases stereotypes associated with naive and hypocritical left-wing university students.


Spread
On July 12th, 2012, @SuburbanHardasz[10] Twitter account and the "Suburban Hardass" Facebook[5] page were created. On August 14th, Redditor arandomwhiteguy37 submitted an image macro with the caption "'I had to go off the grid for awhile" / Was grounded for the last month" (shown below) in a post to the /r/AdviceAnimals[8] subreddit, receiving over 9,000 up votes and 160 comments within 24 hours.

On June 28th, the Tumblr blog Runt of the Web[9] highlighted several notable examples from the series in a post titled "Suburban Hardass Meme." The meme has continued to spread on Tumblr under the tag "#suburban hardass."[7] As of August 15th, 2012, the Suburban Hardass Quickmeme[1] page has accumulated over 950 submissions.
Notable Examples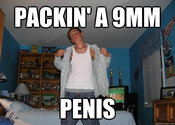 Search Interest
Not available.
External References