About
THE BABY is a catchphrase referring to the Metroid larva that appears in numerous titles from the science fiction action-adventure video game series Metroid,. Online, the catchphrase is typically iterated in the forms of comment spams and shitposts by Metroid fans to poke fun at its repeated utterance by Samus Aran in Metroid: Other M, wherein the main protagonist is portrayed as an emotionally fragile and insecure character in stark contrast to her strong and confident persona from the previous titles.
Origin
On August 31st, 2010, Metroid: Other M, the twelfth release in Nintendo's action-adventure video game franchise Metroid, was released in North America and in Japan and Australia on September 3rd. In the game, which takes place on the Galactic Federation Bottle Ship in a setting between Super Metroid and Metroid Fusion, the protagonist Samus Aran investigates a derelict space station along with a Galactic Federation platoon, which includes her former commanding officer, Adam Malkovich.
Upon its release, Metroid: Other M received generally positive reviews on its gameplay from critics and mixed reactions from the fans, many players expressed disappointment at the lacking quality of character development and dialogue screenplay in the game, especially the revamped personality of the protagonist Samus, whose character was widely perceived as overly submissive and weak, a drastic departure from her "lone wolf bounty hunter" character developed in the previous titles. In the midst of the backlash, "the baby" as uttered by Samus numerous times in the opening sequence, soon came to encapsulate the fans' sentiment.


Spread
On May 14th, 2011, an anonymous poster replied to a discussion thread about a hypothetical battle between Birdy and Samus on 4chan's /m/ (mecha) board[2], which begins with an implied preface that reads ">>the baby the baby the baby." The poster concludes that Birdy would defeat Samus, citing her shortcomings in mobility and agileness (shown below).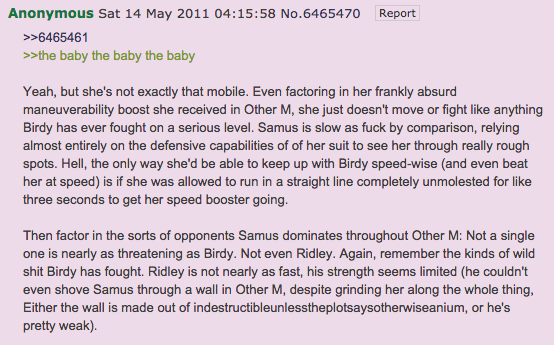 On July 19th, 2012, a GameFAQs user started a thread[3] asking how many times "the baby" was mentioned throughout the game. On July 31th, Super Best Friends Play started a series of video reactions to the Metroid: Other M cutscene dialogues (shown below, left) , highlighting the catchphrase status of "the baby". On August 6th, YouTuber Michael McGlade uploaded a video titled "Metroid Other M : THE BABIES," featuring a supercut montage of every mention of "the baby" by Samus in the opening dialogue (below, right).
Notable Examples
The spamming of the phrase has since spread to Other M-related discussion threads in other boards on 4chan, namely on /v/ (video games) and /vg/ (general video games), as well as spawning some genuine fan art tributes to Samos and the larval Metroid on Tumblr[4], DeviantART[5] and Pinterest.[6]






Search Interest
External References