This submission is currently being researched & evaluated!
You can help confirm this entry by contributing facts, media, and other evidence of notability and mutation.
About
The Breakfast Question or How Would You Have Felt If You Hadn't Eaten Breakfast? is a bait question that references a 4chan story of a grad student who allegedly performed IQ research on convicts at San Quentin State Prison. During the research, individuals with low IQ struggled to simulate the hypothetical situation in their minds, instead answering that they did have breakfast. Online, the question has been used in internet arguments as a conspicuous way to indicate that one's opponent is unintelligent, while the posts have often been referenced in memes.
Origin
On June 15th, 2021, an anonymous 4chan user posted a screenshot of an email purportedly sent by Chicago Mayor Lori Lightfoot in which she repeated single sentences several times to emphasize her points.[1] The post ignited a /pol/ debate about intelligence, with one anonymous user claiming to have been a graduate student sharing a story of a time they were part of an IQ research group and performed experiments on convicts at San Quentin State Prison. In a series of five posts,[2][3][4][5][6] the user shared stories of individuals with IQ levels below 90 and 80 failing to perform mental tasks involving hypotheticals, recursion and passage of time (posts shown below, click to enlarge). The first post (shown below, top left) submitted by the user described individuals with IQ levels below 90 being unable to imagine how a hypothetical situation involving them not having breakfast and lunch yesterday would have affected them, instead responding that they had breakfast that day.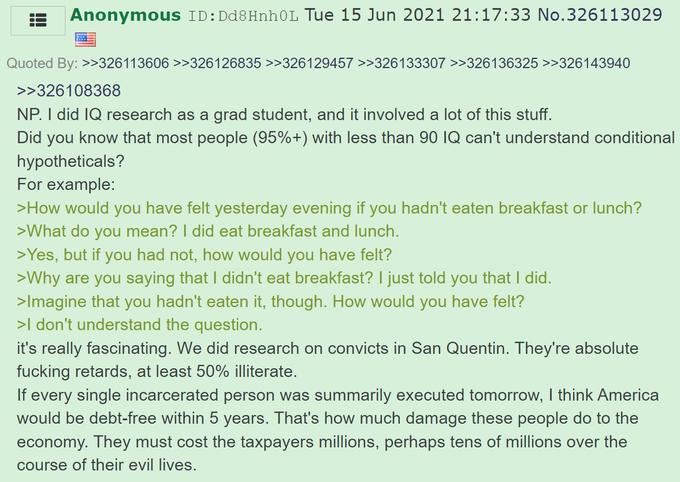 Spread
On June 26th, 2021, a dedicated thread[7] about the story was then created in /pol/ to discuss details of it further.
On July 19th, 2021, and January 16th, 2022, an unknown Redditor and another with the username Ant1pal posted screenshots of the posts in the /r/4chan[8] and /r/greentext [9] subreddits, where they gained over 1,700 upvotes and 28,900 upvotes, respectively, in roughly a year.
The posts have also been referenced in memes since at least early January 2022. On January 10th, 2023, Twitter[10] user @EndingBigly posted a Freedom of Speech meme that gained over 270 retweets and 3,200 likes in three weeks (shown below, left). On January 21st, Twitter[11] user @catholicspaceem posted a George Floyd meme that accumulated over 110 retweets and 1,200 likes in two weeks (shown below, right).


On January 24th, 2023, Twitter[12] user @thuleanrevenant posted a screenshot of a conversation between Twitter users @schiz0moder and @KalebWilliams00 in which the second user replies to the question "How would you have felt had you not eaten breakfast yesterday morning?" by stating that they did have breakfast, commenting, "The memes write themselves." The post gained over 530 retweets and 6,400 likes on Twitter in one week (shown below).

The post then triggered a surge in memes referencing the 4chan posts in late January 2023.
Various Examples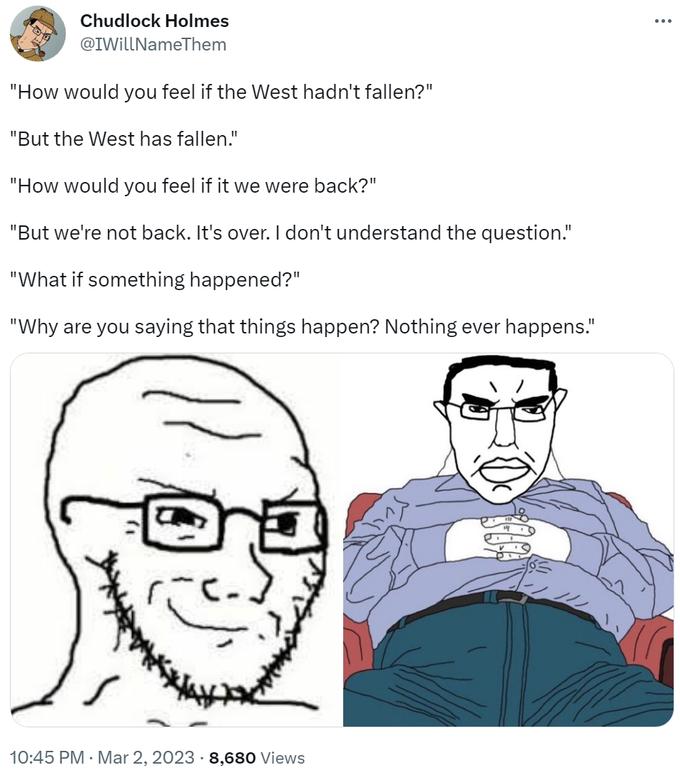 Search Interest
External References