This submission is currently being researched & evaluated!
You can help confirm this entry by contributing facts, media, and other evidence of notability and mutation.
About
The Twink of Death is an online nickname given to Danny Wein, an American political activist, who became infamous on LGBTQ+ Twitter for backing failed presidential candidates in the 2020 Democratic presidential primary.
Origin
On December 4th, 2019, Twitter[1] user @dccised tweeted four pictures of Wein wearing an "I voted" sticker, a Beto O'Rourke 2020 campaign t-shirt, holding a Kamala Harris 2020 presidential campaign poster and a Pete Buttigieg 2020 campaign t-shirt, respectively. They captioned the photographs, "Rule of threes. This twink of death is coming for Pete next." The post received more than 35,000 likes and 4,300 retweets in less than six months (shown below).

Spread
Following the post, people began making jokes about how Wein's endorsement of a candidate dooms them. For example, Twitter[2] user @victor_bigotes wrote, "Lighting a candle to the Twink of Death. Bye Pete" (shown below, left).
In March 2020, following Buttigieg's exit from the presidential race, discussion of Wein began to re-emerge. Twitter[3] user @cool_yeah_ok tweeted, "it took longer than expected but the twink of death prophesy finally came true." The tweet received more than 2,300 likes and 185 retweets in less than one week (shown below, center).
That day, comedian Jaboukie Young-White tweeted,[4] "does anyone have leads on where our twink king is going next???? the people need to know. he's the political punxsutawney phil." The tweet received more than 46,000 likes and 3,800 retweets in less than one week (shown below, right).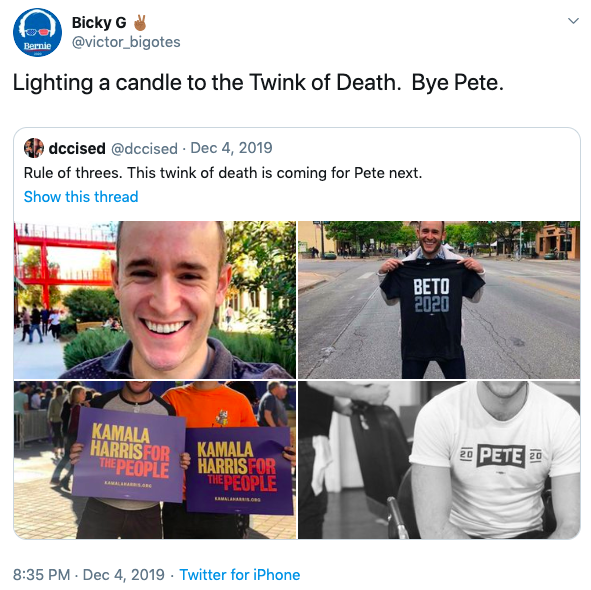 Young-White later tweeted a response from Wein, offering a statement on who they would be endorsing next. The statement reads, "Moving forward, I believe both Biden and Warren would make fantastic presidents capable of bringing our country together. And while Bernie isn't my guy, I'm still inspired to see his support." The post received more than 3,700 likes and 145 retweets in less than one week (shown below).[4]

On March 5th, Mel Magazine[5] published a report on and interview with Wein. On his memedom, Wein said:
Whether due to my curse -- or the complexity of coalition politics -- their departures from the race take nothing away from the immensely bright futures they each have in the party.

I think it's a futile effort to be offended by a meme, so I've enjoyed it! It helps that the tone has been fun and playful.
Various Examples
Twink of death ripping up his Pete merch pic.twitter.com/T7NudAyZDM

— Paul McCallion (@OrangePaulp) March 2, 2020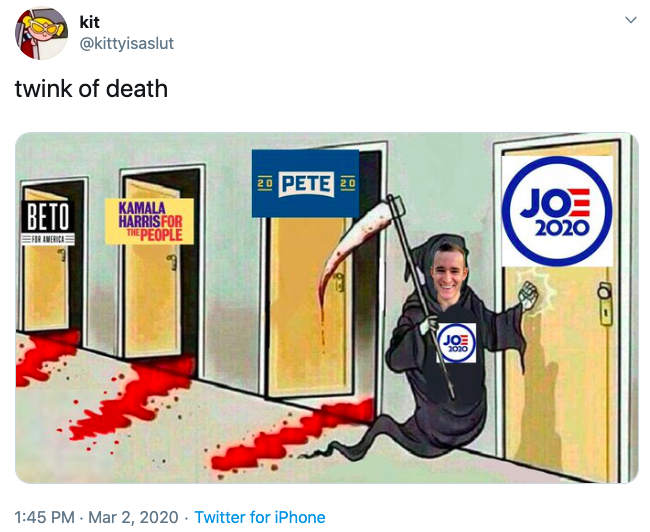 Search Interest
External References
Recent Videos
There are no videos currently available.