The Whale Passing a Blunt
This submission is currently being researched & evaluated!
You can help confirm this entry by contributing facts, media, and other evidence of notability and mutation.
About
The Whale Passing a Blunt refers to a Photoshopped screencap from the movie The Whale showing the character Charlie, played by Brendan Fraser, passing a weed blunt to the meme's viewer as smoke emits into the air. The Photoshopped hand is the same hand from the ¿Quieres? meme. The original still from the film shows Charlie pointing at the camera during an emotional crying scene. The image was initially shared to Twitter in early 2023, spreading to memes across social media platforms.
Origin
Sometime on or before February 5th, 2023, Twitter[1] user @vylpill posted a tweet (since deleted) that is the likely origin of the the Whale passing a blunt meme due to replies that indicate its time and contents, as well as a post to VK[2] on February 6th that links the tweet. The image received an unknown amount of likes and six replies (shown below).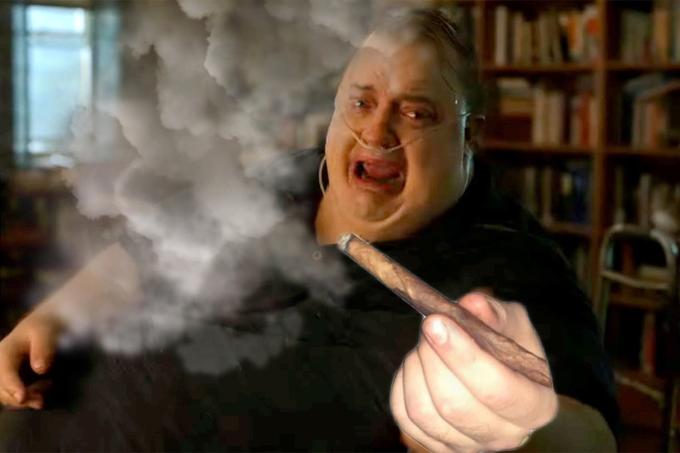 In the movie's original scene, Fraser is crying and yelling, "I need to know that I have done one thing right with my life" (YouTube upload shown below).
Spread
At around 12 p.m. EST on February 5th, 2023, a 4chan user posted the image of the Whale passing a blunt meme to /tv/, [3] captioning it, "I NEED TO KNOW THAT I'VE ROLLED ONE FAT DOINK IN MY LIFE," and receiving numerous replies (shown below, left). On February 6th, 2023, Twitter[4] user @ShitpostGate tweeted the image, gaining roughly 15,900 likes in one month (shown below, right).


Going into March 2023, the image became notorious across social media. For instance, on March 20th, 2023, TikToker[5] @liyargh posted a video that stitched the original scene from the whale with the "passing a blunt" image, earning roughly 702,800 plays and 155,600 likes in one day (shown below).
Various Examples



Search Interest
Unavailable.
External References