Think of an Apple In Your Head / Apple Visualization Exercise
This submission is currently being researched & evaluated!
You can help confirm this entry by contributing facts, media, and other evidence of notability and mutation.
About
Think of an Apple In Your Head or the Apple Visualization Exercise is a mental visualization exercise that can reveal if someone has aphantasia, defined as the inability to create mental images. The exercise asks participants to picture an apple in their head and share what they see. It went viral on Twitter in 2020 and again in early 2023, inspiring reactions and memes about visualizing apples.
Origin
On May 4th, 2016, The Neurocritic Blogspot[1] blog published an article about aphantasia, the inability to visualize things in your head, writing, "When you hear the word 'apple,' do you picture a Red Delicious apple or a green Granny Smith? Or neither, because you can't conjure up a visual image of an apple (or of anything else, for that matter)?" On August 13th, 2019, a Redditor posted a visualization exercise to /r/Aphantasia[2] asking users to imagine a ball on a table and describe what they see, garnering over 3,100 upvotes in four years.
On February 6th, 2020, Twitter[3] user @softvoid posted a drawing of five different heads, four with apples inside of them at various stages of clarity, the first apple is completely clear, the fourth a basic outline of an apple and the fifth head completely empty. The user writes, "This is still blowing my mind lol Close your eyes and imagine an apple. What do you see? I'm a 5," garnering over 55,100 likes and 9,600 retweets in three years and inspired viral discussions about aphantasia and the "apple test," including inspiring articles by Junkee[4] and MindBodyGreen.[5]

Spread
On February 3rd, 2023, Twitter[6] user @stinkykatie posted the same apple visualization chart, writing, "if you close your eyes and try to picture a red apple, which one do you see? I see number 1 in full color, as vivid and detailed as a 4k video," garnering over 18,400 likes and 14,000 quote-tweets in a week. The tweet inspired genuine replies as well as memes. For example, on that day, Twitter[7] user @Jason00688106 commented a mannequin pointing meme under the post, garnering over 36,000 likes in a week (shown below).

Later that day, Twitter[8] user @_glocks quote-tweeted a meme to the post, garnering over 23,000 likes in a week (shown below).
this is what i see when i close my eyes and think of an apple. I didn't get this overnight, it took me years of training https://t.co/TaRN450LN7 pic.twitter.com/8hojyVqRDj

— Jams 🍓🍇🍈🥝 (@_glocks) February 3, 2023
On February 4th, Twitter[9] user @pk_kenzie posted a meme that garnered over 15,000 likes in six days (shown below, left). On February 6th, Twitter[10] user @WassNonnam posted a Wojak meme referencing the test, garnering over 93,000 likes in four days (shown below, right).


On February 10th, 2023, Twitter[11] artist @keithjohnstack posted a Leslie and Brianne comic about the test, garnering over 2,000 likes in under 24 hours (shown below).
— KEITH STACK (@keithjohnstack) February 10, 2023
Various Examples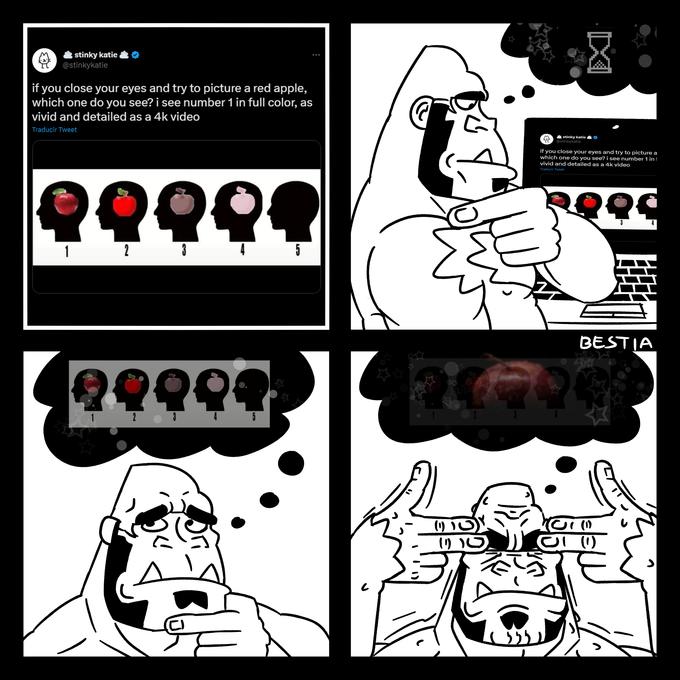 Search Interest
External References
Recent Videos
There are no videos currently available.