Attack on Titan / Shingeki No Kyojin
About
Attack on Titan (Japanese: 進撃の巨人, Shingeki no Kyojin ; lit. "Advancing Giants") is a manga series created by Japanese author Hajime Isayama and an anime series produced by anime studios Wit Studio and MAPPA. Set in a post-apocalyptic, fortified society in an alternate history, the story follows Eren Yeager, his adopted sister Mikasa Ackerman and their friend Armin Arlert, who all enlist in the military to join the humanity's epic battle for survival against a of gigantic, destructive humanoids known as the Titans.
History
In an interview with the Nihon TV program Zip![22], Isayama said that the idea for the Titans came from an encounter he had with a drunk customer while working at an internet cafe. Unable to understand or communicate with him, Isayama said he was inspired by his utter inability to communicate with a fellow human who spoke the same language, leading him to conclude that "the most familiar and scary in the world is actually the humanity."
In September 2009, the original manga series ran on the Bessatsu Shōnen Magazine and later published as a standalone book on March 17th, 2010. The popularity of the series soon paved the way for an anime series adaptation to be produced by Production I.G and directed by Tetsurō Araki, who is most well known for his work on series such as High School of the Dead and Death Note. The anime series premiered on April 6th, 2013 and the final episode aired on September 28th, 2013 (first season trailer shown below).
In addition to the manga and anime series, a live-action film adaptation was released, as well as several visual novels for PlayStation 3.
Season Two
On December 24th, 2016, Attack on Titan released a sneak peak of footage from season two of the anime adaptation.
On February 6th, 2017, Funimation[23] confirmed that the second season of Attack on Titan would premiere on April 1st. IGN[24] reported that it will be 12 episodes, half the length of season 1. On April 1st, the first episode of the second season streamed on Crunchyroll, Funimation, and Hulu.
Seasons Three and Four
On July 23th, 2018, episode one of season three of the anime adaptation of the series, the last season produced by WIT Studio, premiered (trailer shown below, left). Season four of the anime adaptation was produced by MAPPA, with the season split in two parts and two specials, with first episode premiering on December 7th, 2020 (trailer shown below, left).
Final Chapters
On April 8th, 2021, "Toward the Tree on That Hill", the 139th and final chapter of the Attack on Titan manga was published.[28]
On November 5th, 2023, the second of two specials premiered, concluding the anime adaptation (trailer shown below).
Live-action Hollywood Adaptation
On October 29th, 2018, Variety[25] reported that a Hollywood adaptation of Attack On Titan is in development at Warner Bros.. It will be directed by Andy Muschietti, best known for directing the 2017 adaptation of It. It will be produced by David Heyman, Masi Oka and Barbara Muschietti. Daily Dot[26] pondered that the adaptation may be PG-13 and potentially tone down the violence of the series. Kotaku[27] also wrote about the news, noting that the Japanese live-action adaptations directed by Shinji Higuchi released in 2015 were in their opinion "terrible." As of November 2023, the movie did not enter production.
Online Relevance
Since the airing of the anime series, Attack on Titan has garnered an international following on the web and a particularly strong presence on English-speaking communities like Tumblr[1], Reddit[2], 4chan's /a/ Anime and Manga board[3], DeviantART[10], Fanpop[4], My Anime List[5] and FanFiction.net[6]. In addition, there are a number of referential hubsites about the series, such as the Shigeki no Kyojin wiki[7], TV Tropes[8] and Anime News Network.[9]
Sink Fandom on Tumblr
In early July 2013, Tumblr users began sharing stock photographs of sinks under the tag "sink fandom,"[19] a tongue-in-cheek fandom born out of confusing "SNK," which is the English initialism for the original series title "Shingeki No Kyojin," with "sinks." On July 19th, the single topic blog Fuck Yeah Sink Fandom[18] was launched. On July 20th, Tumblr users SlipperyDipper[15] and Whovian9and34[16] posted compilations of sink images, gaining more than 49,000 likes and 56,000 likes within the first week.



Related Memes
Attack on Titan Opening Parodies
Attack on Titan Opening Parodies, locally known as Guren no Yumiya, refer to a series of remix videos and MADs based on the original opening sequence and title song of the show, which can be found on YouTube[11] and Nico Nico Douga[12].
Photo Fad
The Attack on Titan Photo Fad refers to a series of group pictures in which people re-enact scenes of skirmishes between the humans and the Titans in forced perspective. The meme originated in April 2013 after Japanese Twitter users began sharing photos of themselves staging the familiar scenes from the opening credits sequence.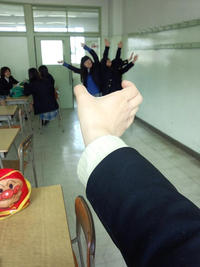 Poster Parodies
Attack on Titan Poster Parodies refers to a number of parodies involving a promotional poster used to advertise the show, featuring Eren standing in front of the Colossal Titan, which is in the process of destroying the walls. After a live-action parody was created by concept artist Kouji Tajima[14], inspired by the upcoming live action movie based on the series, a number of other parodies were made, featuring characters from other fandoms.


Is This Attack on Titan?
"Is This Attack on Titan?" is a flippant question often posted in response to screen captured images and animated GIFs that contain subjects or themes bearing vague similarities to those found in the TV anime series Attack on Titan.
"What Is It, Eren?
"What Is It, Eren?" is a memorable quote said by Jean Kirschtein in a panel from the Attack On Titan manga series.[20] Online, the panel in question has been often isolated and photoshopped as an exploitable, mainly due to the style of the drawing and the strange expression on the character's face.

Potato Girl
Potato Girl is a nickname given to Sasha Braus, a recurring character from the Japanese anime and manga series Attack on Titan, after a memorable scene in which she gets reprimanded by her drill instructor for eating a potato during a roll call.

Cleaning Levi
Cleaning Levi is a nickname given to the character Levi. He has been featured in many of fan works and parodies for this franchise.

Moe Titans
Moe Titans refers to a number of background Titans from within the show who have gained popularity within the fandom, due to looking significantly less intimidating than other titans from within the show, instead seeming more moe in appearance. These moe Titans have gained popularity on Tumblr[13], spawning a number of fan art.

Ending Reactions
Following the premiere of the last episode of the series, Attack on Titan remained a viral topic in online discussions for several days, with posts about the ending, memes, fan art and other fan labor going viral on social media. Debates about whether the ending should be considered lackluster took place on X, Reddit, 4chan and other platforms. Memes such as Eren Bird and Eren Crying saw viral popularity during that period (examples shown below).



Search Interest
External References
Recent Images 3,804 total