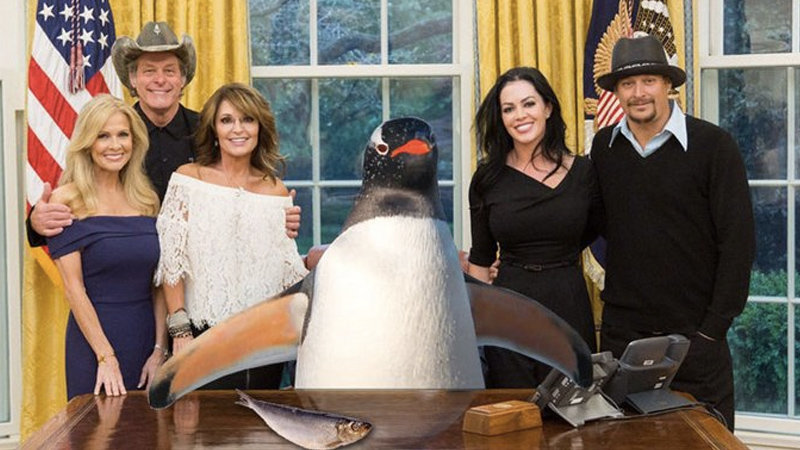 Trump Replaced By Penguin
This submission is currently being researched & evaluated!
You can help confirm this entry by contributing facts, media, and other evidence of notability and mutation.
About
Trump Replaced By Penguin is a photoshop series in which photographs of United States President Trump are edited so the president is replaced with a penguin.
Origin
On September 6th, 2018, the creator of the HBO original television series Veep Armando Iannucci tweeted, [1] "Proposal: If you take any piece of footage of Trump in a White House meeting, and replaced Trump with a penguin, the expressions on the faces of everyone else in the room would still work. Twitter, let's see what you can do." The tweet (shown below) received more than 2,200 retweets and 7,400 likes in 24 hours.

Spread
In response to the tweet, people began posting photoshops of photographs of Trump in which he is replaced with a penguin. Twitter[2] user @blogjam tweeted a photograph of Trump with recording artists Ted Nugent and Kid Rock and former Governor Sarah Palin in which Trump is replaced with a penguin (shown below, left). Twitter[3] user @ClimateAdam posted the German Chancellor Angela Merkel and Trump G7 Summit Photograph featuring a penguin. The post (shown below, center) received more than 200 retweets and 1,500 likes in 24 hours.
Over the next 24 hours, people continued to post variations of Trump Replaced By Penguin (examples below, right).
Several media oulets covered the photo swap, including The AV Club,[4] HuffPost,[5] Elite Daily,[6] BuzzFeed [7] and more.



Various Examples






Search Interest
External References
Recent Videos
There are no videos currently available.