[Unsolicited Opinions on Israel???]
About
[Unsolicited Opinions on Israel???] is an exploitable quote originally featured in the fourth issue of Marvel's comic series Angela Queen of Hel. Since its publication in late January 2016, the satirical censorship joke has come under criticism from many readers who read it as an out-of-place commentary on heavyhanded sociopolitical issues like feminism, manosphere and anti-zionism, leading to a series of photoshopped parodies and satirical jokes poking fun at the commentarial nature of the original comic.
Origin
On January 27th, 2016, Marvel released the fourth issue of Angela, Queen of Hel,[1] an ongoing comic series centered around the titular angelic bounty hunter, which features a scene depicting Angela's first encounter with Bor, the King of Asgard and her very own grandfather. Upon confronting her, Bor goes on what can only be assumed to be a politically incorrect tirade against Angela, as indicated by the author's self-censored black-bar redaction notes in (shown below).

In response, the Marvel fans quickly began criticizing the increasing presence of what they perceive as unwarranted sociopolitical commentaries within the comic series on sites, such as Reddit[3] and 8chan.
Spread
That same day, YouTuber MundaneMatt shared his own commentary on the quote in a video titled "Marvel goes full SJW with ANGELA." (shown below)
"Once again Marvel Comics kowtows to Cultural Authoritarians who have zero concept of how their narrative completely destroys the immersion factor in comics. Marguerite Bennett's ANGEL: QUEEN OF HEL #4's use of the 4th wall breaking elements proves once and for all that Marvel is as cucked as the rest of comics."
Meanwhile on 8chan, a thread was created on the /co/ board to discuss the controversial scene, coupled with other examples of the heavy-handed social commentary found in other Marvel comics. In the thread, some of the anons chimed in with parodies of the original joke by replacing the author's original redactive notes with alternative captions, while others simply inserted the quote "Unsolicited Opinions on Israel???" into illustrations from other comic series.

Soon, the edits broke out of the original thread and spread to other 8chan boards, such as /v/, as well as other major social media platforms like Twitter[4] and Tumblr[5] In these edits, the punchline from the original comic can vary depending on which censor edit is employed in the modified version (shown below), with "Unsolicited Opinions on Israel" being the most popular material featured in the edits.




Various Examples
The exploitables are used as edits replacing dialogue from other comics to change the original comic's message or to just create shock humor by having it look like the character is saying something politically incorrect. Sometimes, the exploitable is used in comics with no connections to any political opinion to mock the original joke's awkward execution. Alongside, the dialogue was quickly associated with social justice warriors by critics of the modern social justice movement.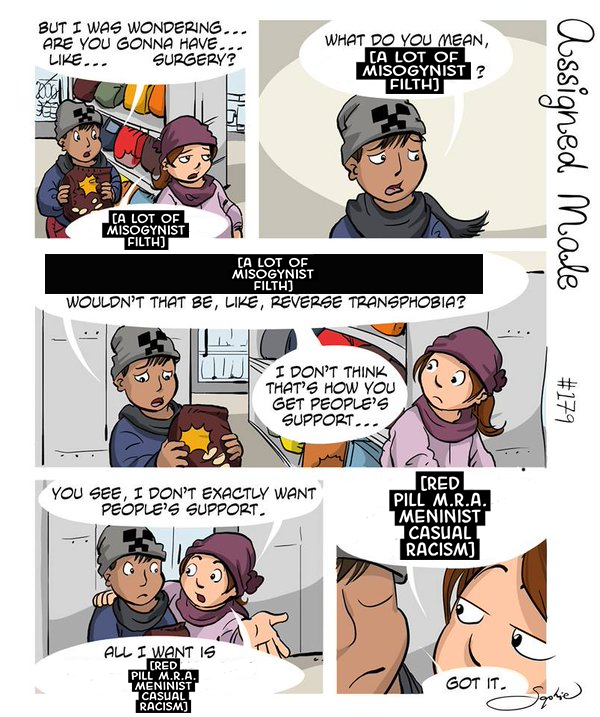 External References
Recent Videos
There are no videos currently available.