About
Deadpool is the alter ego of Wade Wilson, a mentally unstable and disfigured anti-hero created by Marvel Comics writer Fabian Nicieza and penciller Rob Liefeld.
Backstory
Deadpool was a Canadian soldier and mercenary who joined the mysterious organization Weapon X after being diagnosed with cancer. He underwent different experiments which cured his cancer, gave him an extraordinarily fast healing-factor (faster than Wolverine's), but cost him his sanity and left his entire body horribly disfigured. He was captive of Weapon X for many years until he managed to escape. He decided to return to the mercenary business using his healing powers as an advantage over competition, creating his own costume similar to those of the superheroes in comic books.[2]
Personality
In his first appearances, Deadpool's character was framed as unflappable and wise-cracking, always expecting violence, with money as his main motivation in life. Over the years, he has been depicted as insane with extreme moments of angst, bitterness and self-loathing. He has an extremely characteristic voice, and it is said to be very annoying by many characters, which along his wise-cracking personality makes him a very irritating person to be with.[3] He developed an absurd sense of humor and an awareness of being a comic book character, often breaking the "fourth wall" and talking directly to the reader.

History
Comics
Deadpool made his first appearance in The New Mutants #98 as a mercenary hired to attack the protagonists of the series. Deadpool's creator Rob Liefeld has stated that the Teen Titan villain Deathstroke served as an inspiration for the character.[1] Deadpool started appearing as a recurrent character in the series X-Force and as his popularity raised he appeared in other Marvel series. In 1993, the first Deadpool mini series launched titled "Deadpool: The Circle Chase".


In January 1997, the ongoing series "Deadpool" was released, written by Joe Kelly and penned by artist Ed McGuinness, in which Deadpool's allies and rogues gallery were firmly established. The series ran until September 2002. In November 2008, Deadpool Vol. 2 was released, which ran for 63 issues until December 2012. In January 2013, Deadpool Vol. 3 was launched. In the 45th issue of the 3rd volume, called the 250th issue due to that being how many issues of the characters entire series. The issue was called the Death of Deadpool, and the character was killed. In January 2016 the character came back and started his 4th volume written by Gerry Dugan.


Other Media
Deadpool has been featured over the years in various video games, including X-Men Legends II: Rise of Apocalypse, Marvel: Ultimate Alliance, Super Hero Squad Online, Spider-Man: Shattered Dimension, Marvel vs. Capcom 3: Fate of Two Worlds and Marvel: Avengers Alliance, he made a guest appearance in the animated movie Hulk and in an episode of X-Men: Anime.
Deadpool the Video Game
Activision, Marvel, and High Noon Studios announced a Deadpool video game[21] live at San Diego Comic-Con 2012. The Deadpool video game was released on June 25, 2013 and received mixed reviews, with some praising the humor and original story but criticizing the repetitive gameplay, controls and combat. On July 5th, 2013, YouTuber Pewdiepie uploaded footage of himself playing the game, which received upwards of 8.8 million views and 60,000 comments (shown below, right).
On September 1st, 2015, a Remastered version of Deadpool the Video Game is announced for the PlayStation 4 and XBOX One. It will be available on November 17th, 2015.
Film
On February 1st, 2010, YouTuber silverlightsaber uploaded a fan made trailer for the Deadpool film, using scenes featuring Ryan Reynolds from various films (shown below). In four years, the video garnered more than 5 million views and 6,700 comments. In July 2014, leaked test footage from a 21st Century Fox film about Deadpool was leaked online, in which the anti-hero attacks an SUV full of armed men (shown below, right).
On September 18th, 2014, FOX officially announced that the Deadpool film will get a release date[21] on February 12th, 2016, after hearing a massive amount of positive reviews and feedback.
Viral Marketing
In order to conceal the plot of the Deadpool film before its release, Fox engaged in a viral marketing campaign to promote the movie.[22] Aside from typical strategies, like employing hashtags featuring the film's title, the marketing team produced a series of different clips and campaigns that emphasized aspects of the film's release, and especially drew on the character of Deadpool as the "Merc with a mouth."[23] The first of these was a faked episode of the entertainment talkshow Extra, which featured the real Ryan Reynolds being interviewed over videolink by host Mario Lopez, while the character Deadpool (played by Reynolds) lurks in the background (below left). The clip, posted April 1st, 2015, gained 1.9 million views as of February 2016. The second clip, below right, was an advocacy campaign for a British organization called Ballboys, which encourages men to examine their testicles for testicular cancer. Reynolds, in full costume as Deadpool, diligently walks viewers through the examination in a humorous presentation; the video gained almost 500,000 views in less than 2 weeks.
The film's promotional team also engaged with the two biggest events preceding the film's release: Christmas and Super Bowl 50. For the Deadpool #12DaysofDeadpool Christmas campaign, Reynolds and others paid fanservice by releasing GIFs, hints, and other promotional material via Twitter in a partnership with DeviantArt. For the Super Bowl, the promotional team did a press junket in San Francisco, where the game was being held, and released a self-aware Super Bowl commercial (below).[24]
According to BoxOffice, these promotional efforts led to a very high rate of mentions on Twitter, topping out at more than 120,000 the day after the Super Bowl commercial, with a 19:1 positive to negative ratio, a rate that was only matched by the preceding release of "Star Wars Episode VII: The Force Awakens".[25]
Online Presence
Deadpool has been referenced in media on various different websites, including Memebase[5][6] and 9gag.[7] Images of Deadpool are often present in the comments section of Know Your Meme entries due to the "deadpool" category reserved for rejected entries. A Facebook[8] page dedicated to Deadpool has received more than 115.000 fans. The tag "#deadpool" is fairly active on sites like Tumblr and Twitter.[11] There is an official Deadpool Twitter account[12] and more than 51,000 pieces of fan art on deviantArt[14][15][16].

His popularity over the Internet inspired Marvel Comics to create various variants covers of Deadpool mashups with memes for many #1s of their "Marvel NOW!" revamp including Deadpool Call me Maybe for "Uncanny Avengers" #1, Gangnam Stlye Deadpool for "The Avengers" (Vol. 5) #1 and "Deadpool is unimpressed" for "All-New X-Men" #1.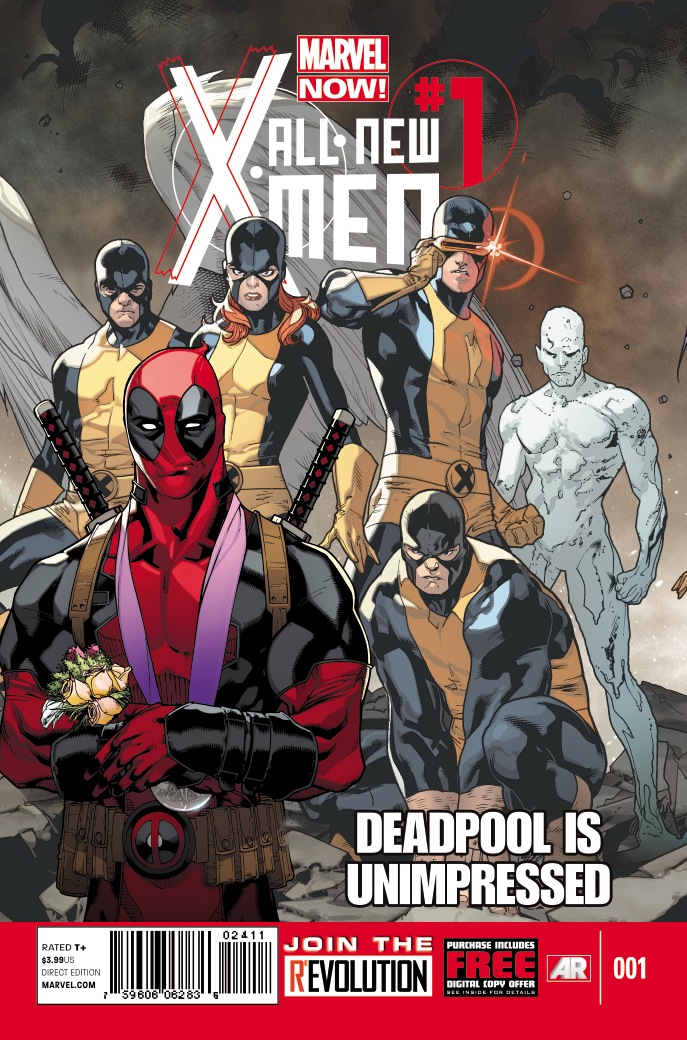 On June 29th, 2013, the batinthesun YouTube channel uploaded an episode of the web series "Super Power Beatdown," in which Deadpool battles the DC Comics superhero Batman (shown below). In the next year, that video gained over 7.3 million views and 28,000 comments.
D-Piddy
D-Piddy is one of Deadpool's most famous cosplayers. On October 7th, 2012, he launched a YouTube[16] channel that gained over 180,000 subscribers in the following two years. He is often featured in pictures from events such as Comic Con and created a music video parody of the song "Gangnam Style", reaching more than 2,300,000 views.[18]
Notable Examples




Search Interest
External References