About
#McChicken is a Twitter hashtag referring to a video of a man masturbating with a bread bun, purportedly taken from a McChicken sandwich ordered at the fast food restaurant McDonald's. The shock video was widely discussed online after it began circulating on social media in late August 2016, becoming a subject of mockery in communities like Black Twitter.
Origin
On August 27th, 2016, a 7-second video of a man vigorously masturbating between a McDonald's hamburger bun began circulating on Vine.[1] Although the original video was subsequently removed, mirrors were immediately reuploaded on a variety of websites. Additionally, a censored, audio-only version was uploaded by YouTuber TheCrazyGinger (shown below).
Spread
That evening, the video began circulating on Twitter, leading the hashtag #McChicken[7] to trend worldwide on the social networking site.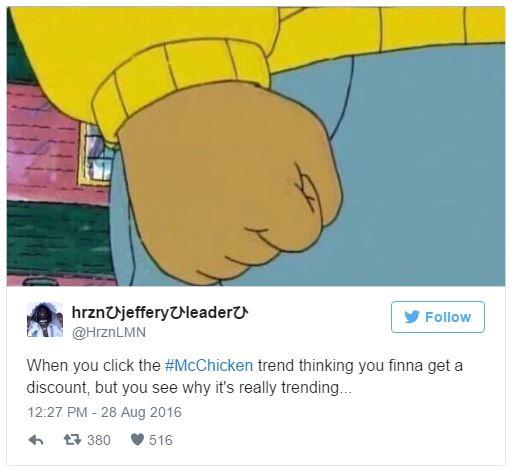 Additionally, several celebrities tweeted about the trending hashtag, including actor Seth Rogen and comedian Hannibal Buress (shown below).


On August 28th, the video was sticked to the front page of the /r/BlackPeopleTwitter[6] subreddit. Meanwhile, Twitch user FragileHedgehogVoHiYo looked up why the hashtag was trending during a live stream and inadvertently showed the uncensored McChicken video to his entire audience.[3] On YouTube, several vloggers posted reactions to the video (shown below).
Also on August 28th, Urban Dictionary[2] user A Random My Guy submitted an entry for "McChicken," defining it as "when as person takes a McChicken and starts to jerk themselves off." In the coming days, several news sites published articles about the masturbation video, including BroBible,[9] The Mirror,[10] Yahoo! News,[11] Mashable,[12] Inquisitr[13] and UpRoxx.[14]
Search Interest
External References