Warning: This page contains material that may be considered not safe for work.
About
WMAF / AMWF, sometimes also referred to as "WMAF vs AMWF", are a series of memes, discussions and exploitable images that compare, and pit up White Male Asian Female and Asian Male White Female and relationships against one another.
Origin
The first instance of an online forum openly making comparisons between WMAF and AMWF can be traced to as early as June 15th, 2011, on a WordPress blog called "Stuff Eurasian Men Like".[1] Its admin, Tenda Spencer, who became years later a lolcow, praised AMWF and "White moms" on several posts.[2][3][4] Spencer also claimed that AMWFs produced "beautiful white-looking babies",[5] which is a belief he was mocked over years later on r/Alt_Hapa,[6] an alternative version of r/hapas, his own subreddit. A meme containing various reaction images laughing at Spencer's blog was posted on the 4chan board /his/ on August 28th, 2021 (shown, below).[7]

Spread
Instances of discussion and comparisons can be found on 4chan, and on Reddit posts in Asian-male dominated subreddits. On 4chan, there have been at least 7,515 posts that contained both acronyms,[8][9][10] and on Reddit, it's usually a topic of (usually biased) discussions in communities such as r/aznidentity.[11][12][13] On October 2017, after the Las Vegas Shooting, r/aznidentity went on to praise Asian-American EMT Colby Jackson (who is married to a White woman) and condamn the shooter, Stephen Paddock, for being in a WMAF relationship.[14] r/aznidentity also created an image that potrayed the Jacksons as an example of AMWF and the Paddocks as an example of WMAF.[15] The image (shown below, left), was then reposted on 4chan over 20 times.[16][17] On November 27th, 2021, r/wmafs user Bengzin posted an image that revealed Colby Jackson to be a WMAF hapa, which is something Jackson's cousin also mentioned on the Reddit post that was linked on r/aznidentity. The post's image (shown below, right) received over 50 points in one year.[18]


More discussions, bait threads and memes on the topic of WMAF and AMWF spread on 4chan, mostly started by netizens of Asian descent who couldn't be deliberate enough on Reddit. On April 26th, 2017, a meme portraying AMWF and their offsprings as attractive and WMAF as unattractive was posted on /r9k/, and reposted 30 times on various boards (shown below, left).[19][20] A response to this meme, with a reversal of the portrayal on the interracial combinations was posted on /pol/ on August 25th, 2021, and reposted over 15 times (shown below, right).[21][22]


On January 30th, 2018, a similar meme portraying AMWF as young and good looking, and WMAF as old, was posted on /tv/, and reposted over 380 times on various boards (shown below, left).[23][24][25] A response to this newer version was posted on October 9th, 2019, on /pol/, and portrayed WMAF as an actual couple while AMWF was potrayed an Asian man browsing r/aznidentity, r/AsianMasculinity and looking at White women on his smartphone (shown below, right).[26]


On May 8th, 2021, an r/AsianMasculinity user made a tally of WMAF and AMWF couples that he saw in person while being in America and Britain. The tally numbered to 264 for WMAF and 34 for AMWF. The post received over 65 points in one year.[27] A screenshot of the post (shown, below) was posted on /tv/ on October 7th, 2021, and has been reposted over 15 times ever since.[28]

Related Memes
Asian Fetish / Yellow Fever
Asian Fetish, also commonly known as Yellow Fever, is defined as sexualised objectification or stereotypization towards people of East Asian and South East Asian descent. As a debated and analyzed phenomenon, widely considered to be problematic, it is associated in meme culture with captioned images of WMAF couples or of Caucasian and Asian males and females trying to capitalize on fetishism (examples shown, below).



Tenda Spencer / EurasianTiger
Tenda Conrad Spencer, also known by his online username "EurasianTiger":on June 15th, 2011, is an American designer, illustrator, artist, writer, blogger and former YouTuber who gained online notoriety due to his personal crusade against White Male Asian Female couples, while relentlessly promoting Asian Male White Female instead. Considered by many a lolcow, Spencer became infamous on the Internet for his slander, misinformation, bullying and harassment towards WMAF couples and their offsprings, which involved directly and indirectly, several online personalities in the process.


r/hapas
r/hapas is a subreddit in which multiracial Reddit users that have in common an Asian background share their stories, talk about themselves, their issues, experiences, families and related topics, such as hapa representation and reception in media. Originally created by Tenda Spencer as one of his main forums dedicated to bad-mouthing and shunning WMAF couples and their offsprings, the subreddit holds a commonly negative reputation and being labeled as an incel community.


Elliot Rodger
On the night of May 23rd, 2014, a 22-year-old University of California student named Elliot Rodger went on a mass killing spree near the Santa Barbara campus in Isla Vista, California, killing seven people, including himself, and wounding 13 others. Rodger, often nicknamed "Supreme Gentleman," is usually used as a strawman argument, which implied that his mixed-race background from a WMAF couple is what caused him to end up the way he did. It was used multiple times in a Twitter raid against American writer Celeste Ng.[29]


AMWF vs. WMAF Hapas Infographics
AMWF vs. WMAF Hapas Infographics are a series of exploitable images showcasing side by side actors, models, athletes, singers, celebrities and the likes that are offsprings of both AMWF and WMAF interracial couples. These infographics are used for various purposes (dedicated entry for details).

Various Examples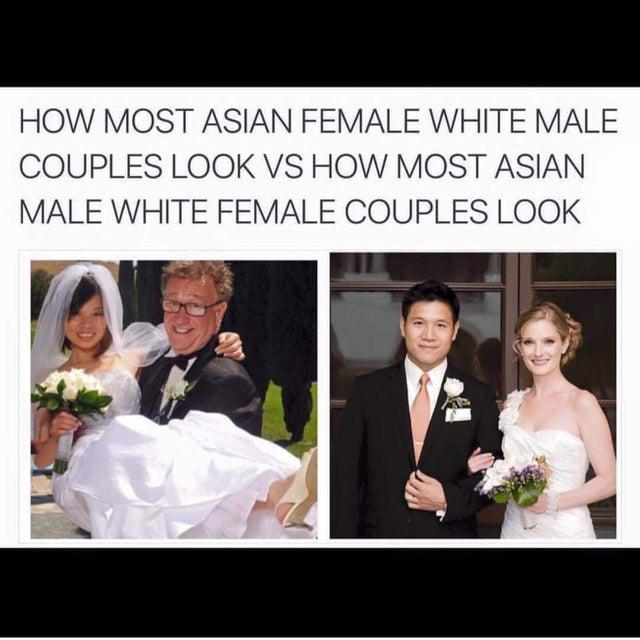 Search Interest
External References
Recent Videos 109 total
Video uploads have been disabled for this entry.
Recent Images 47 total
Image uploads have been disabled for this entry.