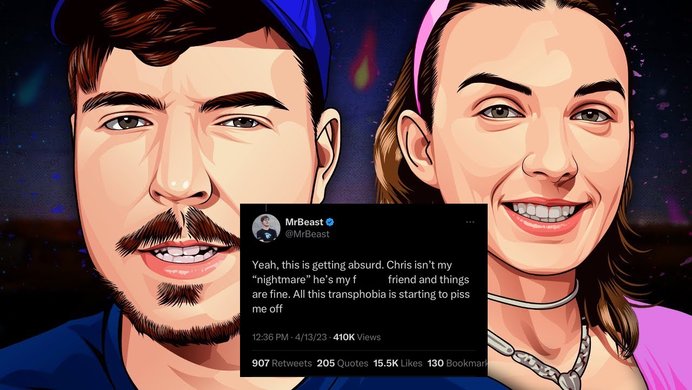 MrBeast has evidently had enough of hate thrown at his friend and collaborator Chris Tyson, who announced last week that he'd begun undergoing hormone replacement therapy, sparking a slew of viral discourse online in recent days.
This contentious discussion surrounding the topic then culminated in the most subscribed YouTuber sternly criticizing a video earlier today by YouTuber Sunnyv2 that suggested Tyson would become a "nightmare" for MrBeast.
The video goes through several negative reactions to Tyson's transitioning and suggests there's potential that Tyson's transition could become a PR headache for MrBeast. It was widely criticized by many online as hateful and mean-spirited. One such commenter, Twitter user Relolyn, wrote the video "feels really invasive for all the wrong reasons. Like why did u make this? U delved into the man's marriage and s---, it's just really offputting and unnecessary."
The tweet caught the attention of MrBeast, who agreed, writing, "Yeah, this is getting absurd. Chris isn't my 'nightmare' he's my f---en friend and things are fine. All this transphobia is starting to p--- me off."

MrBeast has been vocally supportive of Tyson (who uses any pronouns) in Twitter threads about his transitioning before, but this response appears to have garnered wider social media attention, particularly because MrBeast, generally seen as a chill guy, expressed some anger about the perceived transphobia directed at Tyson over the last week.



The general tenor of discussion surrounding MrBeast and Tyson appears to be supportive, both of Tyson and MrBeast standing by his friend, and while some have maintained that Tyson's transitioning will "hurt" MrBeast's career, it doesn't seem like the content creator is worried or cares about that.